[EN/DE] 'The Sound of the Tuba' by Edi Hila at Secession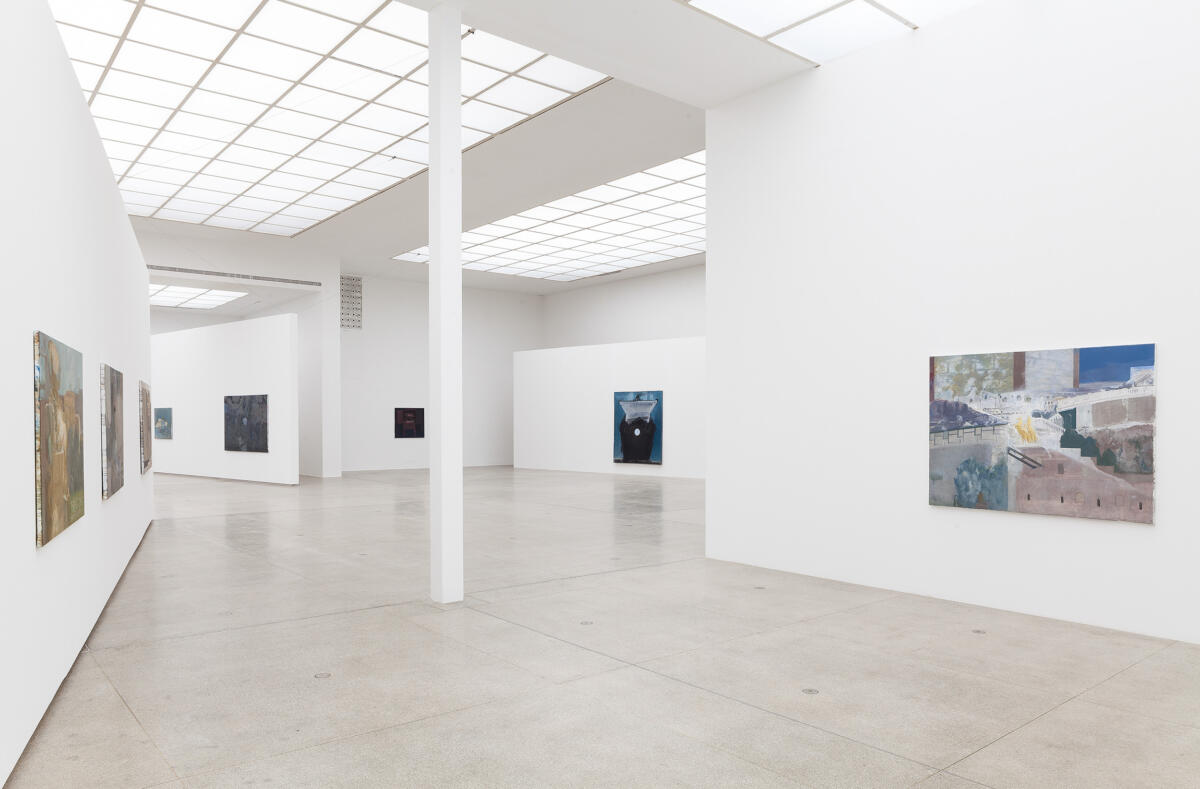 [EN]
The pursuit of artistic truth is fundamental to my painting practice. The truth, understood as presenting a reality of my surroundings as they exist, is far more important for me than any notion of beauty.*
Edi Hila
Edi Hila's career as an artist is inextricably bound up with the specific political history of Albania. In the early 1970s, the young artist was barred from exercising his profession, and almost twenty years went by before he was officially permitted to take up art again and exhibit his work. The authorities took exception to Planting of Trees (1972), a picture of a group of young people working in a reforestation program. What should have been a perfectly inoffensive depiction was judged to be excessively individualistic and inconsistent with the ideals of socialist realism, and Hila was stripped of his permission to make art.
His "second career" began after the collapse of the People's Socialist Republic of Albania (1944–1990). The works Hila created after the regime change attest to the need to reinvent himself as an artist in utterly changed circumstances, but they also document the upheavals that transformed an entire country and its people. Hila is an astute observer: his pictures are about change, about hope and frustration, about the inventiveness and creativity of ordinary people, about the fight to survive and the struggle for democracy, about social values and aspirations. Architecture and the urban environment provide him with the settings of his scenes. Many works visualize social shifts indirectly, by capturing their reflections in everyday life, in buildings, in the fabric of the city. Working in series allows him to repeat and vary a theme in order to chart it in all its facets while experimenting with different formal and compositional solutions. Earthy tones in harmonious combinations increasingly predominate in his palette; subtle nuances blend into each other and disintegrate the forms, sometimes to the edge of abstraction, lending the pictures a dreamlike and mysterious ambiguity.
In the exhibition The Sound of the Tuba, Hila presents around twenty paintings from different series he has worked on in recent years as well as a small selection from his output of the late 1990s. The presentation traces a historical arc, connecting today's global migrant and refugee flows to the major wave of emigration after the fall of the Albanian regime and politically motivated deportations in the early years of Albanian communism. Juxtaposing historic and contemporary realities, Hila's pictures render the singular features of each as well as surprisingly rich parallels between them, inviting the viewer to reflect on the present situation.
The three-part Njerëzit e të ardhmes (People of the Future, 1997) shows different views of an enormous ship. The earliest work in the exhibition, it alludes to the exodus from Albania in the first years after the end of communism. With the hopes and expectations that they had pinned on the collapse of the regime dashed, many Albanians decided to leave their country—often for Italy, across the Adriatic Sea. Created in the wake of the 2015 refugee crisis, the series A Tent on the Roof of a Car (2016) harnesses the metaphor of the tent to reflect on mobility, wrenching social changes, and political crises. The tent as the quintessential basic and mobile dwelling has provided humans with shelter for millennia. Yet its function is ambivalent: the protection it offers has limits, and it is hardly suitable as a permanent home. It is adapted to special purposes that are moreover widely diverse: some tents are designed for recreational use and sold as vacation gear, while others serve as accommodations for refugees and others displaced by emergencies such as natural disasters and wars.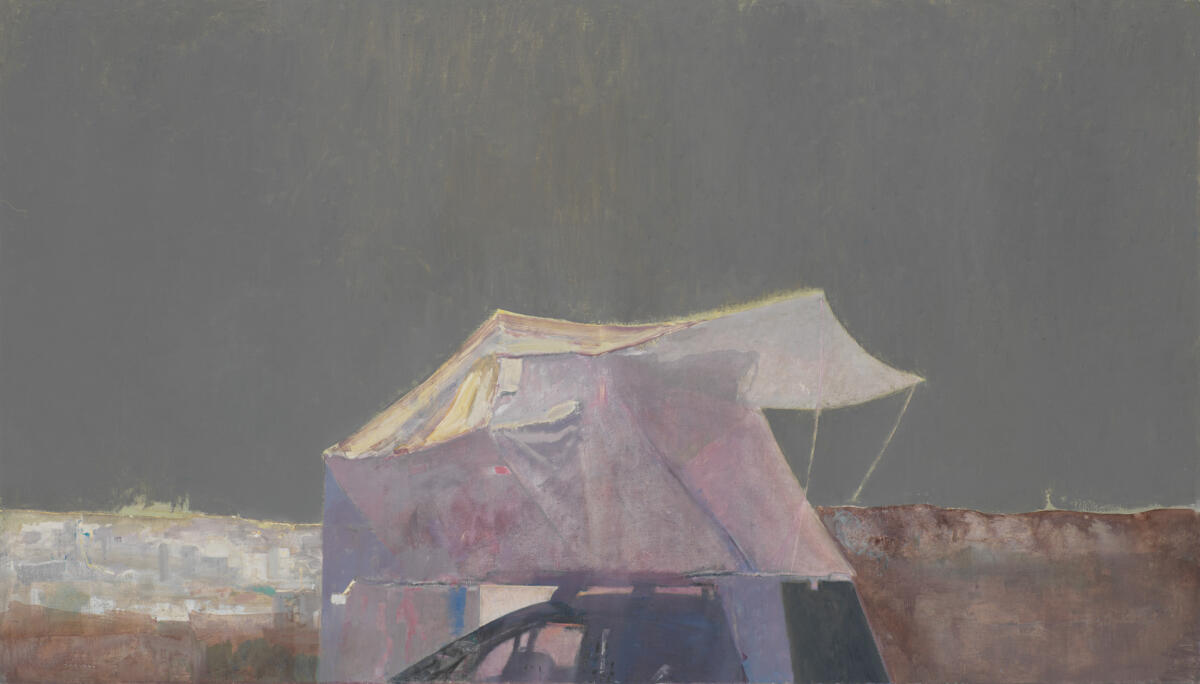 House in Korça, 1945 (2020), finally, is both the artist's most recent cycle and the one that reaches deepest into history. In pictures filled with an air of quiet melancholy, Hila commemorates the violent expulsion of people from their homes, the systematic terror exerted by a brutal regime, and the harsh punishments visited on political opponents and critics. The absence of humans is palpable in the deserted interiors and barren furniture—in the loneliness of the very rooms.
Such desolation has been a conspicuous feature of Hila's art for some time. His early work was populated by human figures and enlivened by narrative scenes, but over the years he has gravitated toward a visual language that registers complex social developments in urban sceneries and buildings. The artist himself has described the role that the latter play in his work as follows: "In my understanding architecture is an expression of society, its mentality, ways of living, and finally the tastes of certain groups in it. Observing the architecture of particular country, one can say a lot about its society."*
Hila's creative process is noteworthy in this respect: the raw material for his works consists not of sketches or drawings but of photographs, which he edits in Photoshop, obtaining a manipulated or altered likeness of reality. This approach suggests that his paintings are not intended as documentation; rather, his subjects are the fruits of extensive reflection.
In a brief preface to Maquettes, the artist's book published in conjunction with his exhibition, which presents a selection of such source images, Hila writes about the function of photography in his art: 
"[…] with the naked eye we see what we want to see and nothing more. This conclusion has affected my artistic practice greatly. By using photography as the basis for creating a piece, the process became more eloquent, one where spontaneity began to take a more prominent role, reading the photograph took on greater significance in an effort to discover, consider and interpret all the things that at first glance seem insignificant, in order to reach new creative ground, and one more abstract. Processing the material this way inspired new viewpoints of formal interpretation as well as aesthetic considerations about the work itself."
Architecture is a central vehicle of meaning in many of his works, and so he devoted considerable attention to the design of his exhibition. In collaboration with Laura Fogarasi-Ludloff and Jens Ludloff (Ludloff Ludloff Architects, Berlin) he has developed an organization of the gallery space based on three large freestanding wall elements that is both subtle and monumental.
* Edi Hila in: https://blokmagazine.com/psychology-of-balkans-edi-hila-in-conversation/
[DE]
Die Suche nach künstlerischer Wahrheit ist für meine Malpraxis grundlegend. Die Wahrheit, verstanden als Darstellung einer Wirklichkeit meiner Umgebung, wie sie ist, ist mir viel wichtiger als jede Vorstellung von Schönheit.* 
Edi Hila
Edi Hilas künstlerische Laufbahn ist untrennbar mit der spezifischen politischen Geschichte Albaniens verbunden. Anfang der 1970er-Jahre wurde er als junger Künstler mit Berufsverbot belegt, und es dauerte fast 20 Jahre, ehe er seine Arbeit offiziell wieder aufnehmen und auch ausstellen konnte. Auslöser war das Bild Planting of Trees (1972), das eine Gruppe junger Leute beim Pflanzen von Bäumen zeigt. Diese an sich harmlose Darstellung wurde als zu individualistisch und nicht den Idealen des sozialistischen Realismus entsprechend eingestuft und Hila dementsprechend die Berechtigung zur Kunstproduktion entzogen.
Seine "zweite Laufbahn" begann nach dem Zusammenbruch der Sozialistischen Volksrepublik Albanien (1944–1990). Hilas Werke nach dem Regimewechsel sind einerseits Zeugnisse eines Künstlers, der sich unter geänderten Vorzeichen neu erfinden musste, andererseits sind sie eine Dokumentation des Transformationsprozesses eines ganzen Landes und seiner Menschen. Hila ist ein feinsinniger Beobachter: Seine Bilder handeln von der Veränderung, von Hoffnung und Frustration, vom Erfindungs­reichtum und der Kreativität einfacher Menschen, vom Überlebenskampf, vom Ringen nach Demokratie, gesellschaftlichen Werten und Zielen. Architektur und das urbane Umfeld liefern ihm dafür die Schau­plätze. Häufig visualisiert er den gesellschaftlichen Wandel indirekt, durch die Spuren im Alltagsleben, in Gebäuden, im Stadtbild. Das Arbeiten in Serien ermöglicht ihm, in der Wiederholung die jeweiligen Themen umfassend und facettenreich darzustellen und gleichzeitig formal und kompositorisch zu experimentieren. Die Farbpalette konzentriert sich zunehmend auf erdige, harmonisch aufeinander abgestimmte Farbtöne, die ineinander übergehen und die Formen mitunter bis an die Grenze der Abstraktion auflösen, was den Bildern eine traumähnliche Uneindeutigkeit und Rätselhaftigkeit verleiht.
Hila präsentiert in der Ausstellung Der Klang der Tuba rund 20 Gemälde aus unterschiedlichen Serien der letzten Jahre sowie einige Werke, die Ende der 1990er-Jahre entstanden. Sie spannen einen zeitlichen Bogen, der globale Migrations- und Fluchtbewegungen der Gegenwart, die große Auswanderungswelle nach dem Regimewechsel und politisch motivierte Deportationen in der Frühphase des Kommunismus in Albanien miteinander verknüpft. Gegenwart und Vergangenheit stehen sich in Hilas Bildern gleichwertig gegenüber und trotz der unterschiedlichen Rahmenbedingungen zeigen die Werke erstaunlich viele Parallelen und laden zur Reflexion über heutige Verhältnisse ein.
Die dreiteilige Arbeit Njerëzit e të ardhmes (Menschen der Zukunft) aus dem Jahr 1997 zeigt ein riesiges Schiff in unterschiedlichen Ansichten. Es ist das früheste Werk in der Ausstellung und spielt auf die große Auswanderungswelle in den ersten Jahren nach der Wende an. Die Hoffnungen und Erwartungen, die mit dem Zusammenbruch des kommunistischen Regimes verbunden waren, hatten sich nicht erfüllt und viele AlbanerInnen entschlossen sich, das Land zu verlassen – nicht wenige davon über das Adriatische Meer in Richtung Italien. Die von der Flüchtlingskrise von 2015 beeinflusste Serie A Tent on the Roof of a Car (2016) bedient sich der Metapher des Zeltes, um über Mobilität, gesellschaftliche Umbrüche und politische Krisen nachzudenken. Das Zelt als Inbegriff mobiler, einfacher Behausung dient dem Menschen seit Jahrtausenden als Schutz. Gleichzeitig ist es in seiner Funktion ambivalent: Sein Schutz ist begrenzt und es ist auch nicht als dauerhafte Behausung geeignet. Es eignet sich für besondere Zwecke, die zudem sehr unterschiedlich sind: So kann ein Zelt einerseits Urlaub und Erholung dienen und andererseits bei Ernstfällen wie Naturkatastrophen und Kriegen als Not- oder Flüchtlingsunterkunft eingesetzt werden.
House in Korça, 1945 (2020) schließlich ist der aktuellste Werkzyklus des Künstlers, der historisch am weitesten zurückgreift. Hila erinnert darin in melancholischen, stillen Bildern an die gewaltsame Vertreibung von Menschen aus ihren Häusern, an den systematischen Terror eines brutalen Regimes, an die Bestrafung von politischen GegnerInnen und KritikerInnen. Die Abwesenheit der Menschen zeigt sich in den verlassenen Interieurs, an den ungenutzten Möbeln – an der Einsamkeit der Räume.
Diese geisterhafte Leere macht sich seit einiger Zeit in Hilas Bildern auffällig bemerkbar. Waren seine frühen Werke von Menschen bevölkert und durch narrative Szenen belebt, hat er über die Jahre zunehmend zu einer Bildsprache gefunden, die komplexe gesellschaftliche Entwicklungen anhand von urbanen Szenerien und Gebäuden festmacht. Deren Rolle in seinem Werk beschreibt der Künstler folgendermaßen: "Ich verstehe Architektur als Ausdruck einer Gesellschaft, ihrer Mentalität und Lebensweisen und schließlich auch des Geschmacks bestimmter gesellschaftlicher Gruppen. Man kann eine Menge über die Gesellschaft eines Landes sagen, indem man seine Architektur aufmerksam betrachtet."*
Bemerkenswert ist in diesem Zusammenhang auch sein Arbeitsprozess: Hila arbeitet nicht mit Skizzen oder Zeichnungen, sondern mit Fotos als Ausgangsmaterial, die er dann mittels Photoshop bearbeitet. Auf diese Weise manipuliert und verändert er die Wirklichkeit. Daraus wird ersichtlich, dass er mit seiner Malerei keine dokumentarischen Absichten verfolgt, sondern dass seine Sujets das Ergebnis umfassender Reflexionen sind.
In der kurzen Einführung zu seinem anlässlich der Ausstellung erscheinenden Künstlerbuch mit dem Titel Maquettes, das solche Vorlagen zur Malerei zeigt, schreibt Hila über die Rolle der Fotografie in seiner Arbeit: "[…] Mit bloßem Auge sehen wir, was wir sehen wollen, und sonst nichts. Dieser Befund hat meine künstlerische Praxis zutiefst beeinflusst. Die Verwendung von Fotografien als Grundlage für Arbeiten führte zu einem artikulierteren Prozess, in dem Spontaneität eine wichtigere Rolle gewann; entscheidend wurde die eingehende Betrachtung eines Fotos, der Versuch, all die Dinge zu entdecken, unter die Lupe zu nehmen und zu deuten, die auf den ersten Blick belanglos scheinen, um neue schöpferische Möglichkeiten und einen höheren Grad der Abstraktion zu erschließen. Diese Arbeit mit dem Material regte mich zu neuen Gesichtspunkten der formalen Interpretation wie auch zu ästhetischen Erwägungen zum Werk selbst an."
Architektur als Bedeutungsträgerin spielt in vielen von Hilas Werken eine tragende Rolle und entsprechend große Aufmerksamkeit widmete er der Gestaltung seiner Ausstellung, für die er in Zusammenarbeit mit Laura Fogarasi-Ludloff und Jens Ludloff (Ludloff Ludloff Architekten, Berlin) eine gleichermaßen subtile wie monumentale Organisation des Raumes aus drei großen freistehenden Wandelementen entwickelte.
* Edi Hila in: https://blokmagazine.com/psychology-of-balkans-edi-hila-in-conversation/
Imprint
| | |
| --- | --- |
| Artist | Edi Hila |
| Exhibition | The Sound of the Tuba |
| Place / venue | Association of Visual Artists Vienna Secession, Vienna, Austria |
| Dates | 18 September 2020 – 7 February 2021 |
| Photos | Oliver Ottenschläger |
| Website | www.secession.at/ |
| Index | Edi Hila Vienna Secession |
See also