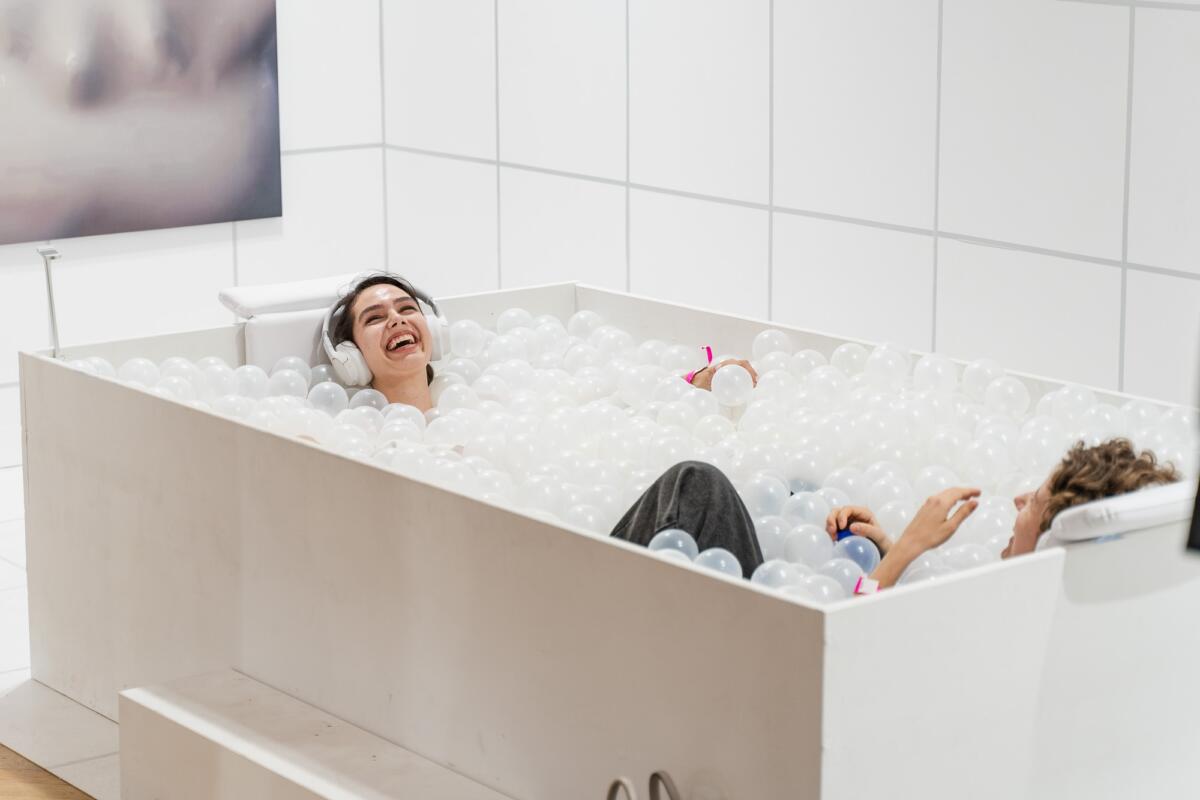 This year's viennacontemporary Fair opened its doors for the second time in the beautiful 19th century Kursalon Hübner ballroom, this time with some changes. For example, the section for young artists under 40 from Austria ZONE1 was moved to the first floor, and the fair itself expanded its space with a tent overlooking the Stadtpark. We spoke to artistic director Boris Ondreička and curator of ZONE1, Francesca Gavin, to discuss the Viennese art market, the new plans for the fair, and the highlights of this edition. 
What is the main focus of this year's viennacontemporary art fair?
BO: The main focus is to bring good artists, good collectors, and make big sales! (laughs)
But one can see that there is a lot of technology involved. For instance, there is this project with Meta. Is it some direction you are exploring right now?
BO: Our focus is contemporary arts, so we are following its trends, also in relation to what commodity it is today and what it will be transformed into tomorrow. The digital in all of its extension is a very integral part in the production of contemporary art. What is great for us is that it is getting less new. It is becoming the new normal. We are happy that digital meets oil paintings, and what concerns the younger generation of artists, you can observe an extreme liberalisation of the media. It is also productively introduced into the elderly generation of collectors.
Would you say that Viennese, or rather Austrian, collectors are more conservative in their choices? How do they approach new media?
BO: It is very ad hoc. For example, I personally guided an Austrian collector, who is only buying young art. On another occasion I had a chance to work with a family of collectors, whose collection ranges from works by Egon Schiele to contemporary artists, and their interest lies within paper works, drawings and painting. Sometimes, people can be focused on just one medium they collect, for instance, works on paper. So it is very different.
How do you choose galleries to participate in the fair? Do you have certain criteria? 
BO: We are by invitation only, so already inviting means that we follow certain parametric desires. We have – and would like to keep – 25% of emerging art, for the future maybe we will extend it further. Obviously our original base is Vienna, Austria, which is a stable market. But I believe that this stability of the Austrian art market has already reached its limits. There are, of course, future collectors and new clients, but in terms of revaluation of particular places on the market we have focused on the international market, which is essential for us. We believe that viennacontemporary is strong enough in Vienna. We are more and more engaged in the Austrian regions, not only because of great production of arts, but because of amazing collectors. In our work we also would like to balance the so-called former East and former West. Vienna has, on one hand, the geographical privilege of being on the periphery of the Western world. But at the same time it has a close relation to its neighbours. If you get in the car, in a couple of hours you can cross four countries with four different languages and cultures. Me, coming from Bratislava, I perceive Vienna as a region, not as a city. Vienna also has an extreme dynamics of migration and commuting, similar to Frankfurt, where a lot of people come in the morning and leave the city in the evening. Vienna as a city is multicultural, and there is a great symbiosis of different cultures coexisting together. All of this diversifies the local art market and shapes it. 
FG: Vienna has indeed a very unusual geographic location. When I first came here, looking at those amazing 17th century iced cupcake buildings, I was deeply impressed. The fair is growing, and after the moment of recalibration, including the change of ownership and the post-COVID situation, viennacontemporary continues to expand. Geographically Vienna has a lot of opportunities it can explore further.
Francesca, how did you pick the galleries and artists for ZONE1?
FG: I was living in Vienna for 2,5 years; I moved here at the height of the pandemic in July 2020, so during that period I have been really invested in the art scene here! I attended all the gallery shows, all the project space shows. I have gotten to know a lot of people from the academy, the art scene in Vienna is incredible. So when viennacontemporary approached me about curating ZONE1, I was really interested in doing it. Also because three of the galleries in ZONE1 are working with their artists for the first time – it gives them a chance to take a risk, to do a show or a presentation with an artist without doing a gallery show with them.
As for the artists, a lot of them I picked because they are working with the sculpture. I wanted to resist the emphasis on painting and highlight how much is done in the other media. I was also searching for artists under 40 and that are in some way related to Austria – who studied or lived here, or have done long residencies here.
Viennacontemporary art fair is considered to be a platform for the Eastern European art market. What are the main challenges of this position?
BO: The biggest challenge is that there are no physical borders anymore, but still there are economical borders, as well as different traditions in collecting. In the Eastern block the traditions of collecting art were destroyed, so the base of collectors in the former East is weaker. However, there is a lot of financial prosperity and a lot of interest and desire for art, which means that there we can find our future collectors. The biggest challenge is to find and cultivate the environment for them.
And how do you plan to achieve it? 
BO: The only way to do it is through subtle and interpersonal relations and working together, for example, through physical meetings, discussions, showing things, enlightening people.
Is the Viennese art market different from other cities like Paris, New York, London?
FG: Yes, 100%. And it comes down to logistics – artists in this country have space and time. It is a much longer process to study in Vienna, they can afford studios and apartments. If you look at London or New York, existence is a much more paralytic experience, finding art studios is very hard. Artists really have to focus on creating works which are very market-centric. Many artists cannot afford studies beyond their BAs, unlike here where people can study for seven years, and that is kind of a norm. And I think this creates different opportunities for the emerging art market and gives space to develop their art practices. 
Do you believe this can also influence the representation of the young Austrian artists at the commercial art fair? 
FG: Of course! In terms of my approach, I wanted to highlight that my choice of artists, many of whom are women and people of color, was intentional. Because contemporary issues are about race, class and identity. There is a growing contemporary shift in who is actually making art in the city, who is buying art in the city, and that the collectors here are becoming increasingly more sophisticated because of those shifts.
Talking about this year's venue, we are in the heart of Vienna right now, sitting on the beautiful terrace of the Kursalon. What do you like and not like about it? Is it challenging to curate an art fair in a city center?
BO: We are in the late 19th century ballroom, with chandeliers and plaster decorations. On one hand, it is obviously a burden to work with the contemporary architecture of the fair and to place contemporary art in such conditions. But on the other hand, it is also self-selling, especially for the international crowd. It is slightly kitsch, but of high quality. So we love it, and many people give us the same feedback. Being in the city center also means that many of our collectors stay within walking distance, so it is super comfortable for them. And for us, it means that they come to the fair many times. They come three or four times and have enough opportunity to consider, digest; to appreciate different art works. First they develop an interest in something, then they take a break, then they come back to see it again. So the process of buying is more enjoyable for collectors. An extreme minus, though, is the architecture of the rooms – the height of the ceiling etc. – does not allow us to show as much as we want. So we are forced to change the location, also because such a small-scale fair is not financially sustainable. We preserve an intimate relationship with galleries and listen to their wishes and pleas, but we have to broaden it a bit. 
FG: The physical location of this year's viennacontemporary is amazing, we are here in the middle of the city center, 10 minutes from all the major museums, which is amazing. But obviously it brings certain challenges due to the architecture of the buildings here. I was very lucky with my section being moved to a pretty prime location of the first floor. So we could work with the architecture of Kursalon in a very simplistic, clean way. And it has its benefits and its drawbacks in it – you are having a beautiful historic building in the middle of the city, but as a result of that creating a flowing conversation between the artists is challenging. That is why this year a tent was added to the main space of Kursalon. So there is a reason why art fairs mostly happen in traditional cubic spaces somewhere on the outskirts.
So are you excited for the new space?
BO: Yes, the new hall is really beautiful and spacious, Kursalon is 3.300 sq m, and the new space is 9.000 sq m, which fits our needs. And we can be really provocative and more experimental, even in the architecture planning of the fair. But I will miss Kursalon. It has quality, the terrace we sit on is unbeatable. 
What is your favourite booth?
BO: I cannot tell you! (laughs)
FG: Oh, it is a very tough question for a curator! (laughs) I really love the booths when artists treat them as exhibition space, for instance Christiane Peschek. Or Anthony Akinbola's Monty Hall Game, when you enter, you get a ticket and you get to choose a box and either find nothing or find an object which you fill with meaning, it is a free-interaction, totally experimental. For me it is an amazing metaphor for our relationship with looking at artwork – you find something and you create a relationship with it. What a great poetic entry. And I love things that mess with the format of the market. 
Did you play?
FG: Yes I did! (laughs) And I really won something – a little, sort of modernist white chair. 
What would you like to wish for future editions of the fair?
FG: Clarity and expansion. Collaboration with the "curated by" festival, with so many international curators in town, it is a spectacular opportunity. Vienna has an incredible potential to become the next experimental center for contemporary art. I have seen how Berlin's art scene has shifted, I have seen how art fairs, such as Frieze, transformed London. What I wish is that Vienna fulfills its promise and has a chance to grow. 
BO: There are several realistic predictions. And several constructions to do. Our business is based on reputation, but it cannot be achieved by being synthetically attractive or by seducing others. Our clients – galleries and collectors – really know what they are doing. They are intelligent people, but also people counting every penny. So this reputation has to be based on serious deeds, actions and data. So I see ourselves as a fair of 90 really great galleries, being specific in cultivating the former East and very active in neighboring countries. And having lots of visitors and sales!
After this interview was conducted, it was announced that Francesca Gavin is to be appointed as the new artistic director of the viennacontemporary art fair.
Boris Ondreička is an artist, curator, artistic director of viennacontemporary and is currently based in Bratislava and Vienna. He has co-curated multiple exhibitions at TBA21 (Vienna), shows The Question of Will (Bratislava) and Empire of the Senseless (Meetfactory, Prague); Being The Future, (Palast der Republik, Berlin) and was a co-curator of Manifesta 8 (Murcia, Cartagena) etc. 
As an artist he participated at Bergen Assembly 2019, Manifesta 2 (Luxembourg), and Venice, Taipei, Athens, Kyiv, Jakarta biennials; his works have been shown in many museums, among which are MoMA PS1 and New Museum (NYC), BAK (Utrecht), Smak (Gent), Badischer Kunstverein (Karlsruhe), Würtembergischer Kunstverein (Stuttgart); HKW (Berlin); Secession, Mumok, Kunsthalle (Vienna). He is the former director of tranzit.sk (Bratislava). 
Francesca Gavin is a curator, writer and editor based in London and Vienna. She is an editor-in-Chief and co-founder of EPOCH; contributing editor at the Financial Times' HTSI and Art Editor at Twin and Beauty Papers. Francesca is the author of ten books on visual culture including Watch This Space, 100 New Artists and Hell Bound: New Gothic Art. She was a co-curator of Manifesta 11 in Zurich and also the curator of international exhibitions including The Art of Mushrooms (Fundação de Serralves, Porto), Mushrooms (Somerset House, London), The Dark Cube (Palais de Tokyo, Paris), and The New Psychedelia (Mu, Eindhoven). She hosts a monthly radio show about art Rough Version on NTS Radio.
Anna Ignatovich is a journalist and art manager based in Vienna. She has worked as managing director of the Neuer Kunstverein Wien, in the marketing department at Kunst Haus Wien, and has contributed to the publication of the book "The Art of Museum Management" by Gerald Matt in Austria and abroad. Since 2020 she is the producer of the TV & You-Tube program for Austrian art magazines PARNASS and EIKON, covering local and international art events including Art Basel, Paris Photo, Venice Biennale, and doing artist interviews with emerging and established artists such as Marina Abramovic, Valie EXPORT and Brigitte Kowanz. Since 2023 she has had an art column in the Viennese magazine VORmagazin.She is a founder of the Vienna Collectors Club, a local network of collectors, and organizes events and exhibitions with local artists. 
Imprint
See also