Blue for Distinction, Red for Correction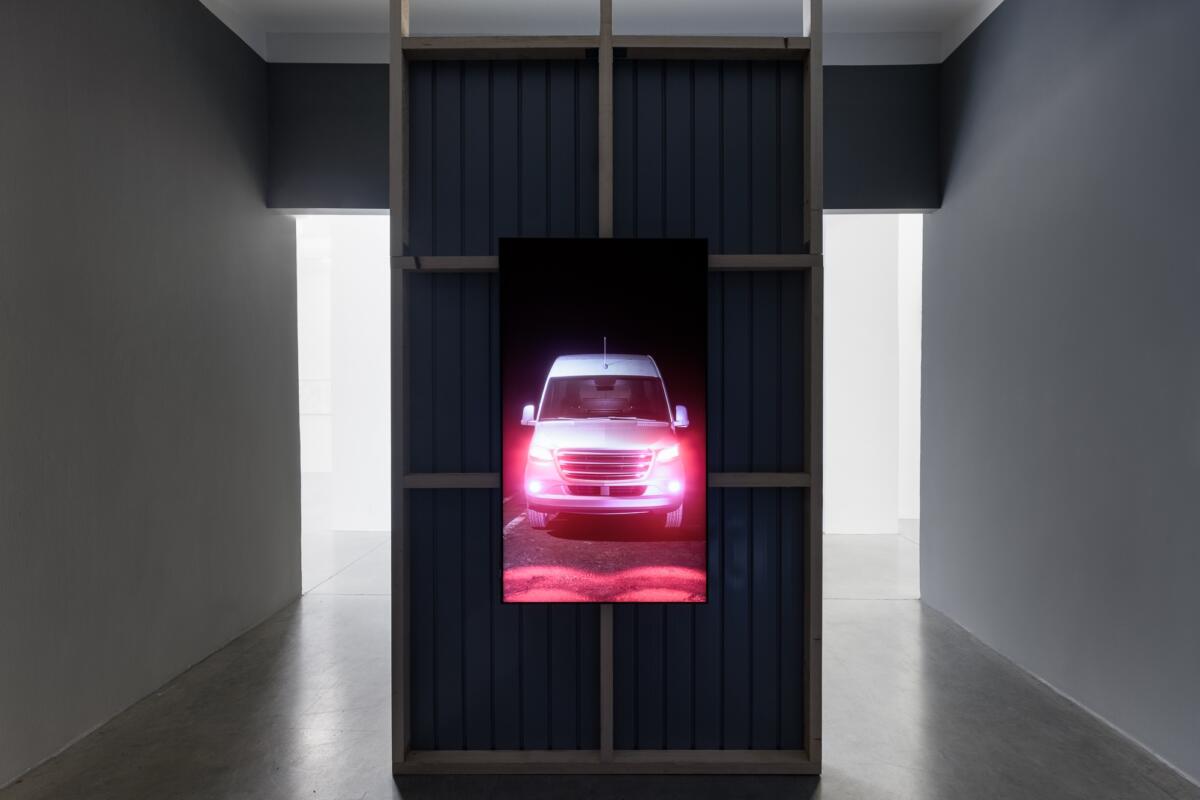 During his lectures at the Collège de France Roland Barthes shared with students an anecdote: Once, after buying sixteen various bottles of Sennelier inks, he accidentally spilled one of them. It was a bottle of Neutral ink that broke. The punch line of this story was his disappointment with the Neutral colour when he recognized that »the unclassifiable is classified«. Reading his collected lectures, which served as the impulse for the curated by exhibitions, compels one to adopt a strategy of »nuanced tact« to interpret cultural codes and production. According to such a method, artworks are classified into four pairings—Imprints, Perceptivities, Hyperreality, Reciprocity—to emphasize the relations between the different practices of the participating artists. The exhibition is a distant echo of Barthes's obsession with (writing) materials, and his sensitivity to colour. »We are afraid to sign our messages with it«, he says, »that is why we write black; we only allow ourselves well-ordered, flatly emblematic exceptions: blue for distinction, red for correction.«
Imprints
Resting Shapes (2016), a series of drawings by Alicja Bielawska, and the sculpture Equating Experience (2022) by Gizela Mickiewicz derive from similar notations of the body. Both artists carefully observed choreographic movements, or in this case, stillness intentionally performed on stage (Bielawska) and unconscious everyday behaviour (Mickiewicz). Modelling Shapes (2016), another of Bielawska's drawing series, emerged as a byproduct of her collaboration with the Lithuanian dancer Kristina Aglaja Skaldina. During the performance, Skalinda investigated the choreographic potential of soft sculptures by folding, stretching, and crushing a fleshy piece of cloth with her body. The imprint of human presence is also investigated by Gizela Mickiewicz who combines deeply personal experiences with basic »universal« emotions into one shape. She also examines daily habits and routines (e.g. Future of Decreasing Differences, 2020). Both artists look at the body's relationship to its environment while avoiding its direct representation.
Perceptivities
A shared feature of the work of Thilo Jenssen and Agnieszka Grodzińska is their use of industrial paints and resins, discovered for the arts in the 1960s. These materials are not only useful for achieving the intended effect, they are also of value to art history. Another similarity is how they build their installations of found materials—Grodzińska repurposes abandoned objects, while Jenssen works with the intangible, such as songs, lyrics and philosophical references. Both choose materials that allow for the construction of an artwork of many layers, physical as well as interpretative. Jenssen partially uncovers the surfaces under coats of industrial paint, and is open to being guided by the material and to make mistakes. Agnieszka Grodzińska pours a resin solution on protective gloves and on a protective glass divider to preserve the narrative potential of found objects by creating monuments of social distancing. Their works also reflect an interest in perception—Jenssen admits to being influenced by the Light and Space movement, while Grodzińska has conducted her own research into the psychology of vision.
Hyperreality 
A sci-fi lover as a teenager, Agata Ingarden populates her sculptural constructions with bestial shapes and likenesses of (un)natural phenomena. She has used found pieces of sequoia wood and mirrored glass to create a solid sculpture of an ephemeral event. The lightning of the title represents a loaded cultural and historical symbol, but for Ingarden the piece connects rather with inner thoughts and feelings. Moreover, the artist has shaped a flash of light as a simplified dragonfly, an insect associated with rebirth or transition. Ingarden often seeks inspiration in architecture, stages her vacation house, or repurposes garden furniture. Her sculptures play with what feels familiar and eerie at the same time. The artworks of an evolving series by Alona Rodeh exist in multiple versions with different endings. CITY DUMMIES, as she calls her body of work created with gaming engines, is reminiscent of vacant movie sets at night, haunted by the animistic presence of service devices. Within the generated cityscape, Rodeh registers barely the noticeable traces of offscreen human activity, such as smoldering cigarette butts (Bollard as Ashtray, 2022/23). The blocks of colour from the rear lights of a Mercedes-Benz van prepared for an undetermined task (Gearing Up, 2022/23) have a strong painterly quality, although the work is primarily cinematic in its set-up.
Reciprocity
Kuba Stępień is focused as much on the process as he is on the effect. He meticulously plans and determines the set of what he calls a »performative reinterpretation of events«. Collaborative performances are the basis for his single- or multi-channel film works. The piece titled All the Stories I Have Ever Told You Were Fiction (2023) is a result of improvised actions undertaken by five participants. Through montage, Stępień draws from historical examples of performing for the camera, especially the practices of artists associated with the Łódź Film School, such as the avant-garde filmmaker Józef Robakowski. Making his film in 2023, he focuses on different qualities of image and body-camera relations—while Robakowski executes his self-therapeutic reenactments alone, Stępień, dressed in tactile costumes, joins playful collective actions. Tangibility is also an important quality of the paintings by Ania Bąk. In her works she combines light transparent tulle with heavy linen canvas, layers of paint, and found materials e.g. press clippings, zircon gemstones or zippers, to give form to emotional states and observed relations. Bąk's intimate yet multisensory canvases are generated through reconstruction and gestural painting. Her process resembles the modern painterly experiments of Joan Mitchell (with masses of pulsing and dynamic colour) and the sensory collages of the neo-avant-garde artist Teresa Tyszkiewicz (who stitches »canvas« fragments).
This exhibition takes place within curated by – The gallery festival with international curators in Vienna. 
Imprint
See also