[EN/DE] 'Jimmie Durham | 1948' & 'Honza Zamojski' at Christine König Galerie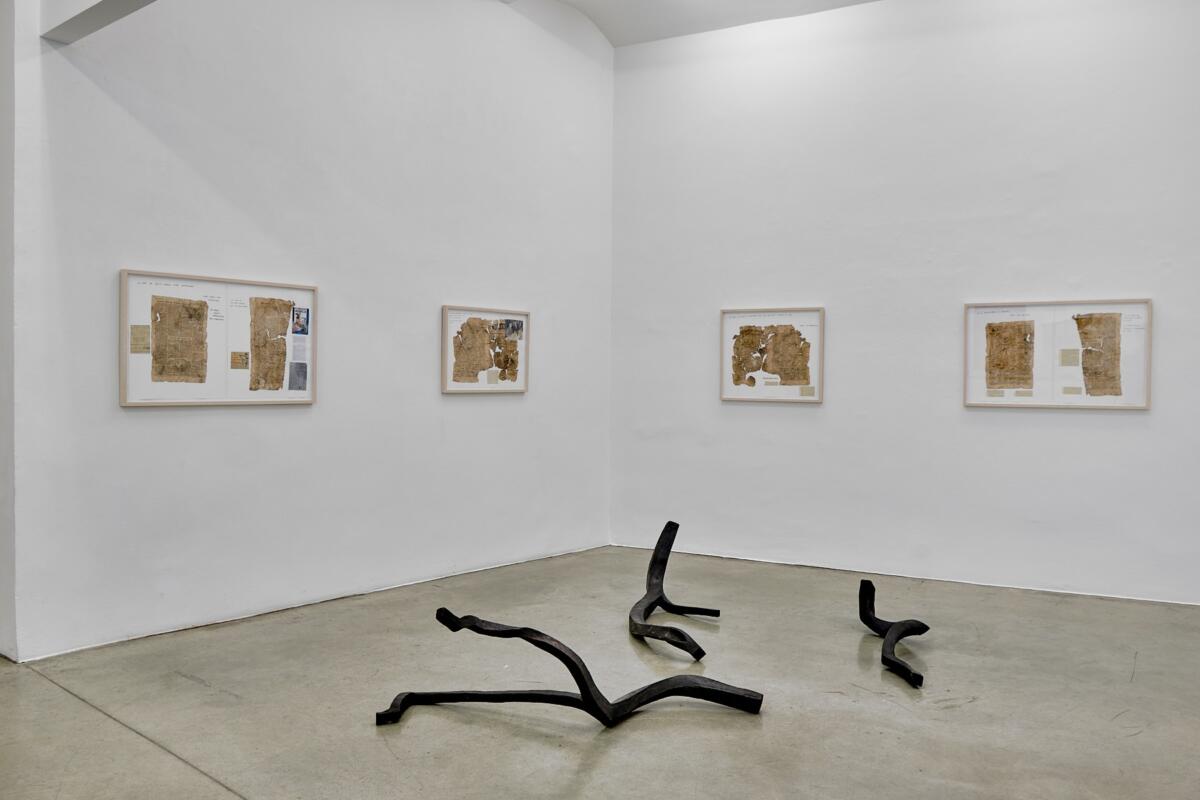 [EN]
Jimmie Durham | 1948
Jimmie Durham, born in the USA in 1940 and based in Europe since 1994, is one of few contemporary artists to have hands-on experience of political work. In the 1970s he was an activist in the American Indian Movement and the representative of the International Indian Treaty Council to the United Nations.
Jimmie Durham's fourth solo show at Christine König Galerie reflects his seriousness and wit, his aesthetic and political engagement, his inventive resistance to architecture. All this is part of his uncompromising commitment to what he calls "humanity's thinking process." Many of his ideas and images recur in different forms at different stages of his career.
Durham, also a poet and a prominent essayist, uses all the components of what is today called visual art. Images and words may be nailed or glued or painted onto objects. His work is "sculpture" in the widest sense: material appearances in space. The materials range from wood and stone and bone to plastic tubes and printed text. Durham also works with drawing, painting, and video. His many-faceted practice is an inspiration for many artists, curators, and theoreticians today, not least of the younger generation. He does not make "art about art" but work that is open to the world outside art.
(quot. Anders Kreuger)
Honza Zamojski
Honza Zamojski approaches words playfully, yet paying close attention to the interludes between form and content. In this sense his works and exhibition settings are methodically constructed stories, derivative of poetry, literature, pop and rap culture. They are rich, humorous, self-critical and absurd at once. Evoking Czech Poetisms of the 1920s in the same breath as late American rapper MF Doom's lyrics he unfolds extraordinary chains of association while simultaneously gaining tools for manipulating his audience. By channeling his narratives through different outlets, be it books, works or exhibitions, Honza Zamojski allows for a recycling, upcycling and cycling of ideas, forms, words and contents to ultimately become edited versions of our reality.
Honza Zamojski, born in Poznan in 1981, lives and works in Poznan, and is a visual artist, curator, author of artbooks, and publisher. His works were recently published in Vitamin D3 – Today's Best in Contemporary Drawing, 2021, Phaidon Editors, London and New York.
[DE]
Jimmie Durham | 1948
Der 1940 in den USA geborene und seit 1994 in Europa lebende Jimmie Durham ist einer der wenigen zeitgenössischen Künstler, die praktische Erfahrungen mit politischer Arbeit haben. In den 1970er Jahren war er Aktivist in der Amerikanischen Indianerbewegung sowie Vertreter der Organisation von Indigenen Völkern in Amerika (International Indian Treaty Council) bei den Vereinten Nationen.
Jimmie Durhams vierte Einzelausstellung in der Christine König Galerie reflektiert seine Ernsthaftigkeit und seinen Witz, sein ästhetisches und politisches Engagement sowie seinen einfallsreichen Widerstand gegen Architektur. All das ist Teil seiner kompromisslosen Verpflichtung gegenüber dem, was er als »Denkprozess der Menschheit« bezeichnet. Viele seiner Ideen und Bilder kehren in verschiedenen Formen in unterschiedlichen Phasen seiner Karriere wieder.
Durham, der auch als Dichter und herausragender Essayist tätig ist, verwendet all die Komponenten dessen, was heute als visuelle Kunst bezeichnet wird. Bilder und Worte können auf Objekte genagelt, geklebt oder gemalt werden. Sein Werk ist im weitesten Sinne »skulptural«: materielle Erscheinungen im Raum. Die Materialien reichen von Holz, Stein und Knochen bis hin zu Plastiktuben/Plastikrohren und gedrucktem Text. Durham arbeitet auch mit Zeichnung, Malerei und Video. Sein facettenreiches Schaffen stellt heute für viele Künstler, Kuratoren und Theoretiker nicht zuletzt der jüngeren Generation eine Inspiration dar. Erschafft keine »Kunst über Kunst«, sondern Werke, die offen sind für die Welt außerhalb der Kunst.
(zit.n. Anders Kreuger)
Honza Zamojski
Honza Zamojski nähert sich Worten spielerisch, schenkt jedoch den Interludien zwischen Form und Inhalt große Aufmerksamkeit. In diesem Sinne sind seine Werke und Ausstellungsszenarien methodisch konstruierte Geschichten, die sich von Dichtung, Literatur, Pop- und Rap-Kultur ableiten. Sie sind amüsant, humorvoll, selbstkritisch und absurd zugleich. Indem er den tschechischen Poetismus der 1920er Jahre im gleichen Atemzug mit den Songtexten des kürzlich verstorbenen amerikanischen Rappers MF Doom evoziert, legt er außergewöhnliche Assoziationsketten offen und gewinnt gleichzeitig Hilfsmittel zum Manipulieren seines Publikums. Indem er seine Schilderungen über verschiedene Ventile kanalisiert, seien es Bücher, Werke oder Ausstellungen, ermöglicht Honza Zamojski die Wiederverwertung, Wiederaufarbeitung und Verbreitung von Ideen, Formen, Worten und Inhalten, die letztlich zu aufbereiteten Versionen unserer Realität avancieren.
Der als bildender Künstler, Kurator, Autor von Kunstbüchern und Verleger tätige Honza Zamojski wurde 1981 im polnischen Posen geboren, wo er heute auch lebt und arbeitet. Seine Werke wurden jüngst in dem bei Phaidon (London/New York) erschienenen Buch Vitamin D3 – Today's Best in Contemporary Drawing, 2021, publiziert.
Imprint
See also