[EN/DE] 'Darwins Polyethylen' by Rainer Noebauer-Kammerer at MAERZ Gallery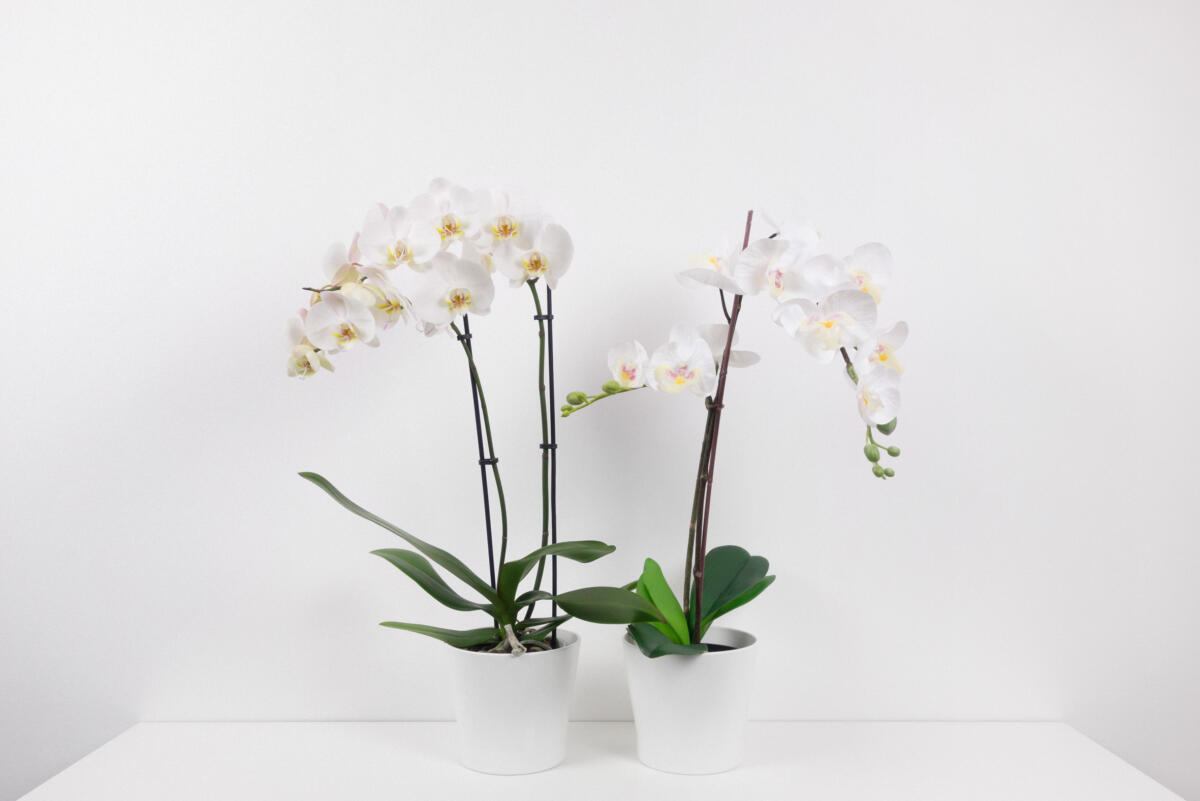 [EN]
Tropical beauties – imperishable home accessories.
text: mag. art. Dagmar Schink, Managing Director, VALIE EXPORT Center Linz
When orchids gained popularity as house plants in Europe in the 18th century, they could not yet be cultivated, but were imported from their countries of origin. Thus, they were an extremely exclusive luxury product. It was to take another 150 years or so before the growers successfully developed methods of propagation. As a result, the supply of cultivated hybrids increased rapidly. And what is more, the evolution of the orchid is not yet complete.
Having developed from a rare exotic to a decorative item that you can buy at an affordable price in discount grocery stores and DIY superstore chains, a genus made of thermoplastic material has joined the ranks in recent years. Rainer Noebauer-Kammerer explores this development in his work titled "Darwin's Polyethylene," which analyses the phenomenon of the proliferation of artificial manifestations in human habitats.
A photographic long-term study shows a comparison between an orchid plant and its exact plastic copy. The timeline of this observation marks the course of the natural decay of the plant. Based on this study further comparative experiments were carried out which can also be seen in the exhibition.
[DE]
Tropische Schönheiten – unvergängliche Wohnaccessoires
text: mag. art. Dagmar Schink, Managing Director, VALIE EXPORT Center Linz
Als in Europa im 18. Jahrhundert Orchideen als Zimmerpflanzen an Beliebtheit gewannen, konnten sie noch nicht gezüchtet werden, sondern wurden aus ihren Herkunftsländern importiert. Ein äußerst exklusives Luxusprodukt. Es sollte noch rund 150 Jahre dauern, bis die von Züchtern entwickelten Methoden der Vermehrung Erfolge brachten und das Angebot an Kulturhybriden rapide ansteigen ließen. Und die Entwicklungsgeschichte der Orchidee ist heute noch nicht abgeschlossen.
Von einer raren Exotin zu einem Ziergegenstand avanciert, den wir in Lebensmittel-Discountern und Baumarktketten zu einem erschwinglichen Preis kaufen können, gesellt sich in den letzten Jahren eine Gattung aus thermoplastischem Kunststoff. Dieser Entwicklung geht Rainer Noebauer-Kammerer in seiner Arbeit "Darwins Polyethylen", einer Analyse des Phänomens der Verbreitung künstlicher Erscheinungsformen in menschlichen Lebensräumen nach.
Eine fotografische Langzeitstudie zeigt eine Orchideen-Pflanze und ihr exaktes plastisches Abbild im Vergleich. Der Zeitraum dieser Beobachtung markiert den Verlauf des natürlichen Verfalls der Pflanze. Aufbauend auf dieser Untersuchung erfolgten weitere vergleichende Experimente, die in der Ausstellung zu sehen sind.
Imprint
See also