Weekly Roundup (22 February 2018)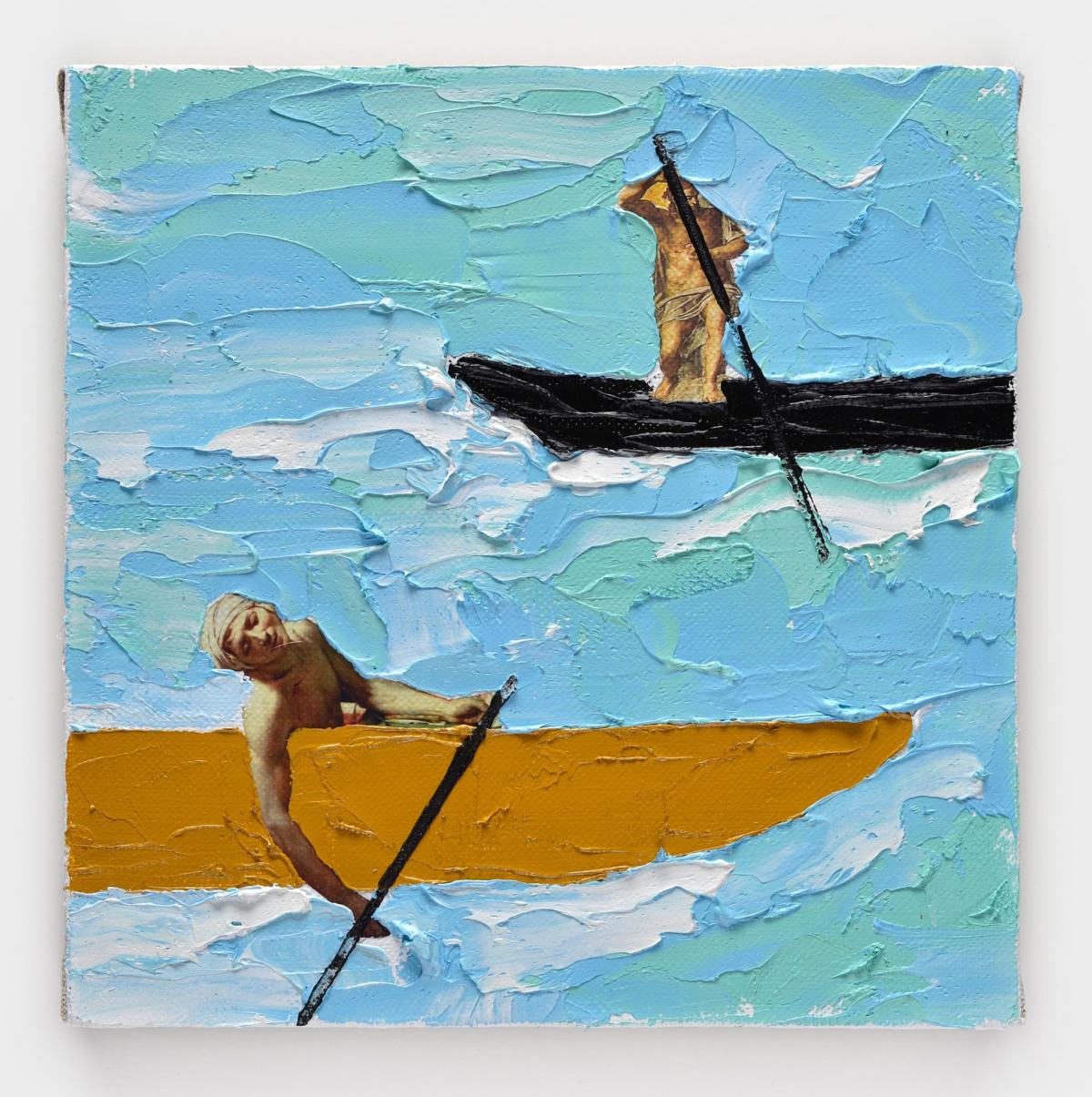 Weekly is published every Thursday morning CET, looking forward to the week's upcoming art events across Central Europe, links to deadlines for open-calls, residencies, commentary, photos and happenings of the past week worth revisiting.
BLOK'S OPENING WEEK PICKS
February 22
Bucharest, Romania: Reflective surface, or first notes in the file. The inaugural exhibition at Cazul 101, a new independent artist-run center in Bucharest, opens with a show featuring the work of Jesse James, Emil Cristian Ghiță, Veta Jones, Robert Băjenaru. Curated by Simona Abagiu, the exhibition explores " current realities and question the mechanisms of producing meaning today, leaving behind the artist's statement for the instruction manual, for each individuality to be easily appropriated." On view at Cazul 101 until 25 March.
Budapest, Hungary: Schuller Judit Flóra: Memory Theatre. "The starting point of the exhibition is the artist's family archive and the descendants' relationship toward this rich material. The artistic research project Memory Theatre examines how the artist – as the representative of the third generation – can deal with this topic and what kind of personal approaches she can formulate the archival heritage." On view at Labor Bp until 3 March.
Krasnodar, Russia: Yulia Kazas, Neotectonics: after all. Yulia Kazas's is dedicated to the apocalypse and global catastrophe,  combining objects made and found to tell about the paranoid idea of salvation and humanity's attempt to build a refuge to circumvent it. On view at the Typography Center for Contemporary Art until 27 March.
Moscow, Russia: Opening of the exhibition "MANNA." Hero4Hero Grouping. The Moscow Museum of Modern Art together with the
ZARYA Center for Contemporary Art and the Free Workshops of Mmoma (Freeworkshops Mmoma) present the exhibition of Hero4Hero (Roman Ivanishchev and Ksenia Frolova) "MANNA". The MANNA research project is an artistic reaction to the fall of the Sikhote-Alin meteorite, one of the ten largest meteorites in the world, which in 1947 was dispersed as an iron rain in the western part of the Sikhote-Alin in Primorsky Krai. The project considers a meteorite as a conductor of a person to outer space and at the same time as an economic and social factor of changing the environment of the place of its fall. On view at the  Moscow Museum of Modern Art Gogolevsky until 25 March.
Warsaw, Poland: Reclaim,recode, reinvent Urban art and activism in Eastern Europe. An event hosted by Coordinate System, Krytyka Polityczna and Heinrich-Böll-Stiftung, celebrating the launch of a new book that brings together artists and curators from Eastern and South-Eastern Europe describing their "subversive" strategies for redeveloping urban spaces.
February 23
Cluj, Romania: Decomposed Polenta. In 2008, artist Ghenadie Popescu walked from Chișinău to Iași, dragging behind him an oversized replica of a polenta. A student walked along with him, filming the performance. The exhibition examines the artist's ongoing performative legacy. On view at RAFT Cluj until 20 March.
Vienna, Austria: Chris Reinecke | Vernissage #BEvienna. The show presents participatory works and actions the artist made in the 1960s, which are among the most interesting and relevant positions of German post-war art. On display at Beck & Eggeling International Fine Art until 21 April.
Warsaw, Poland: Sławomir Pawszak / Laniakea. Curated by Lech Stangret, Sławomir Pawszak will be showing new works created on photographic paper. Sławomir Pawszak's photograms, created almost a century on, fit genetically into the stream of experimentation using 'drawing', or to be precise, 'painting with light.' At Foksal Gallery until 6 April.
Warsaw, Poland: The Future Will Be Different. Visions and Practices of Social Modernisation after 1918. "An exhibition devoted to the interwar period in Poland, with a narrative built around the key social ideas that were born after the country regained its independence in 1918. The modernizing ideas, focusing around the needs of previously underprivileged social groups — women, children, workers and ethnic minorities — will be shown through the perspective of the broadly understood visual culture of this time (from architecture and design to the most modern medium of the time, film)." At Zachęta National Gallery of Art until 27 May.
Warsaw, Poland: The Girl May Seem Strong but Inside She Barely Holds On. Taken from a quote a popular internet meme, the exhibition aims to reframe how girls interpret and use new media to create alternative narratives of the self. Curated by Zofia Krawiec, the exhibition presents the work of Coco Kate, Alicja Gąsiewska (existinamoeba), Monika Kozdroń, Nola Karamazow, Agata Zbylut, Iwona Demko, Karolina Suboczewska, Sonia Milch, Zuzanna Janin. On view at Lokal 30 until 14 April.
February 24
Iasi, Romania: Jens Haaning: Light fitting from the House of the People. The unveiling of a new permanent installation by Jens Hanning, which will take place at Tranzit.ro/iasi, "displaces a light fitting from the Bucharest House of the People in order to install it permanently in the tranzit.ro/ Iaşi space. This object is not – as many of us would be tempted to assume – a valuable chandelier, custom-made for the building, but instead a humble light fixture (one of the dozens of thousands we are not used to see or to mention in our remarks regarding this building)."
Warsaw, Poland. Przemek Matecki's exhibition at Raster. "In his latest series of paintings, which he worked on nonstop for the past year or more, Przemek Matecki takes on the vastness of art. A tangible symbol of its fecundity is the heavy piles of superfluous exhibition catalogs and art magazines which the artist browses through in search of inspiring material for his own work." On view at Raster Gallery until 30 March.
Berlin, Germany: From Breadth to Matter #3. A series exploring the voice as medium somewhere in between performance, dance and new music. Curated by Jule Flierl and Alessio Castellacci, in collaboration with THE WORLD IS SOUND (TWIS) and Kunsthaus Kule, the event features two performances by Irena Tomažin and Justin F. Kennedy featuring Balz Isler Opus. At Kunsthaus Kule on 24 February from 20:00-23:00.
February 27
Prague, Czech Republic: Fabio Santacroce: If the poor stopped reproducing, the rich would create them artificially. "The exhibition of an Italian artist, curator and organizer, also known as the 63rd-77th steps, opens up a notorious, but non-ghostly, theme of social origin. Iconography abstracted from cheap decorations typical of the lower south-Italian strata, and often associated with rituals dividing life between everyday misery and celebration time, at the same time constituted traditional gender and family roles, duties, and failing privileges." On view at Futura until 15 April.
Prague, Czech Republic: Gallery Evening at MeetFactory. The opening of the exhibition Placed into Abyss by Rodrigo Arteaga and the exhibition Someone Walking Around, presenting the work of nine artists of different generations, connected by both sensitivity and the ability to focus. During the evening, visitors will be allowed onto the residence floor together with curators Lucia Kvočáková and Piotr Sikora. From 18:00.
Moscow, Russa: Anton Bundenko's exhibition Futureisnown. The Futureisnown project seeks to create a public discourse and form critical thinking in the perception of surrounding processes. An open and reciprocal link between technology, man and socio-political institutions in solving ethical issues of interaction between technology and society. On view at the Vladimir Smirnov Foundation and Konstantin Sorokin until 2 March.
OPEN CALLS
Open call for Re-Directing: East Curatorial Seminar and Residency "HOSPITALITY" at the Ujazdowski Castle Center for Contemporary Art in Warsaw. Re-Directing: East Curatorial Residency is a platform for carrying out research and meetings between curators, representatives of the most interesting grass-roots initiatives, and people in charge of organizing artistic events from all over the world. Open to curators both from within Europe and abroad. Deadline to apply: 25 February 2018
Open call for projects during PQ 2019 in Prague. One for architects, dancers and choreographers called "Formations" for practitioners "concerned with the patterns we encounter in nature, urbanism and architecture," and one for "Fragments" seeking "national curators to select only one item (an object, a model, sound or lighting file or a costume) designed by one of the most celebrated designers whose work keeps inspiring new generations of artists and audiences." Deadline to apply: 28 February 2018

Guest Room Maribor, Slovenia. An open call for projects that "form explicit relations with the specific social, historical, political, etc. context of Maribor and/or the local community (participatory, site-specific art projects, interventions in public space, etc.), are dealing with the power relations and tactics of domination in current neoliberal social context question engagement of art, it's position in society and relations between art and politics. Deadline to apply: February 28
International Festival Odessa Photo Days Open Call 2018: "The festival is a non-profit platform for photographers and anyone interested in this media. In the course of three years, with the efforts of our team, volunteers and photographers, the Odesa / / Batumi Photo Days festival has become well-known in different parts of the world, appeared on the international map of photo events and has implemented a number of special projects, both in Ukraine and abroad." Deadline to apply: 1 March 2018
International Curatorial Residency in Sofia, Bulgaria. Open call for curatorial residency for non-Bulgarian emerging curators, regardless of their age or country of origin. Curatorial experience of at least two years or at least three realized curatorial projects are required, as well as good command of English. Supported byArt Affairs and Documents Foundation, Goethe-Institut Bulgaria and Credo Bonum Gallery. Deadline to apply: 10 March 2018
Urban Program, the International Festival of Film and Urbanism 86.As part of its Urban Program, the International Festival of Film and Urbanism "86" invites up to 14 urbanists, architects and artists via an Open Call to spend four weeks in the town of Slavutych (Ukraine) from April 18 to May 13, 2018. During their stay, residents are asked to reflect on the historical development as well as potential futures of the 14 districts that make up the city. Deadline to apply: 7 March 2018
Call for residency applications 2018–19 and 8th Inter-format Symposium on Rites & Terrabytes at Nida Art Colony in Lithuania. The residency programme at Nida Art Colony of Vilnius Academy of Arts (NAC) is open for emerging and experienced artists, designers, architects, curators and researchers. NAC is one of the largest art, residency and education venues in the Nordic-Baltic region. It provides the opportunity to live and work in the Colony's contemporary architecture, situated in a coastal pine forest. Since 2011 over 350 artists and other culture professionals have stayed at the Colony. Deadline to apply: 15 March 2018
Artists in Residence program at Club ElectroPutere. A fully-funded residency at Club ElectroPutere, a contemporary art center based in Craiova/Romania. Since 2009 CEP has been devoted to establishing close cooperation between artists, curators, researchers, and other cultural actors through interdisciplinary programs and residencies. The center's activity focuses on producing and researching contemporary cultural manifestations. Deadline to apply: 22 March 2018
Cemeti – Institute for Art and Society and Goethe-Institut Indonesia. A well-funded residency for artists living in Germany to work and study in Yogyakarta Indonesia, alongside one Indonesian artist, who will be in residence for the same period.Visual arts, with a specific interest in arts and social practice; duration of stay: 3 months from September through November 2018. Deadline to apply: 31 March  2018
Open call for rejected proposals. Open call for visual artists, curators, galleries for rejected papers, applications, proposals and projects. We accept past papers and applications, which were sent for competitions, scholarships and open calls, which were then rejected. Send us your rejected project proposal now! Share your failures and transform bad fortune into critical energy. It could release your art practice from a scheme of hierarchical thinking. All submitted proposals will be shown as part of an art installation in Poland. Deadline to apply: April 22 2018
ART NEWS FROM AROUND THE BLOK
Jana Shostak's artistic research on the word nowak (Polish for "newcomer"), has started a debate about how Poland talks about migration. As per Calvert Journal: 
Originally from Belarus, now studying in Poznań and based between Warsaw and Rotterdam, Jana's work comes from her own experience of being a newcomer. 

This experience led Jana to begin her long term project nowacy (the plural of nowak), a mission which has taken her from art school graduate to national television. Often facing fierce opposition, she continues to work towards breaking down barriers in language and meaning that she sees as so central to the issues facing refugees in Poland today. Her artistic practice is grounded in an understanding of the power of language: she sees her work as a form of "hacking", in which she exploits loopholes in the system that can be used to undermine and subvert it. As the project has developed, this has often involved employing mass media and interventions in both public discourse and public space, making visible major prejudices at the heart of Polish society.

But nowacy doesn't just aim to draw attention to the issue. After the initial impetus, Jana undertook research into the term "refugee" across different languages, seeking to uncover a shared etymology. She discovered the origin of the term in Polish and Russian referred to a person who lived somewhere temporarily, a nomad who moved frequently. When it was first used, nomadic modes of living were the norm, and the term did not carry the same connotations it does today. As Jana says, contemporary understandings of nationhood and belonging don't consider those who move frequently to be "normal"; it took decades for the word "gypsy" to be changed to "Roma" in Poland in the 1970s, but the pejorative term still persists in common usage.

In 2017, Shostak swapped the word refugee (uchodźca) for newman (nowak) in a board game she made made entitled Girls Dilemma from the 70s 

Inviting a group of language experts, esperanto linguists, sociologists, poets, artists and "newcomers" together, Jana set herself the task of finding a more positive word for "refugee" in the Polish language. Her ultimate ambition became to officially register a new term in the Polish dictionary, one that had the potential to move beyond the stigma. The group collectively decided on the term nowak, which also happens to be the most common Polish surname (the closest equivalent in English is "Newman"). Through the association of the two terms, Jana sought to challenge the perception of refugees as something Other. At the same time, the term allows refugees to identify themselves with a common signifier of being Polish. In fact, the original etymology of the name Nowak can be traced back to foreigners who settled in Poland, highlighting the one-time "newcomer" status of a large part of the population.Early in 2017, Jana began spreading the new term nowak across social media channels. She was invited onto national television, as a guest on the show Polish@PolishDictionary, where she had the opportunity to talk to the most famous linguist in Poland, Professor Jan Miodek. Impressed by her ambitious undertaking, he gave his support to the project but warned Jana of the difficulties she would face. Following her participation on the show, other media outlets began asking Jana for interviews; in the space of just a few months, the project had been covered by over 20 newspapers and numerous radio programs. In June, on World Refugee Day, she staged an artistic intervention in a shopping mall in Warsaw, taking over 67 TV screens with footage of the project. This symbolic duplication was designed to give a sense of the scale of the problem, demanding the attention of the thousands of typical consumers walking through the store that day.
Blok is committed to providing coverage of under-reported art events, news, and exhibitions from across Central Europe and beyond, including artists and curators from the region working or exhibiting abroad. If you have an event, opening or breaking news for us to cover, please email us at: editor@blokmagazine.com
Imprint
See also