Weekly Roundup (1 February 2018)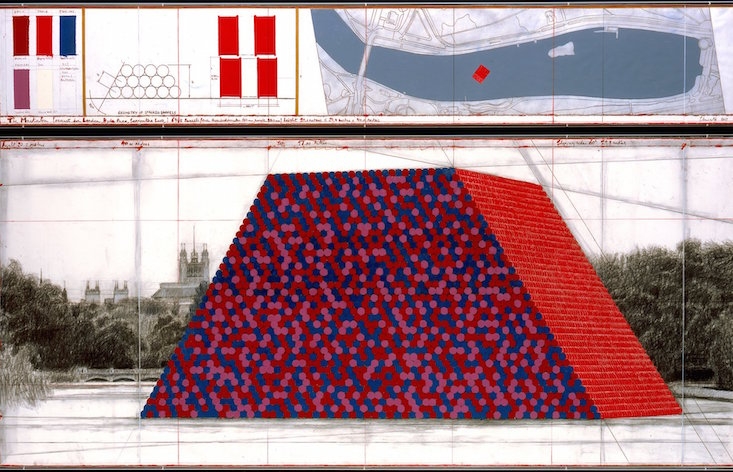 Weekly is published every Thursday morning CET, looking forward to the weekend's upcoming art events across Central Europe, links to upcoming deadlines for open-calls, residencies, commentary, photos and happenings of the past week worth revisiting.
BLOK'S OPENING WEEKEND PICKS
February 1
Berlin, Germany: Transmediale the eponymous festival and year-round project that draws out new connections between art, culture, and technology opens on the night of January 31st, but continues through to February 4th. This year's edition features a main exhibition called Territories of Complicity at HKW – Haus der Kulturen der Welt, that explores "the free port as referential starting point to explore how covert systems, technological infrastructures, and zones of exception shape our economic, socio-political realities." With all the talk these days about tax evasion and large-scale finance in contemporary art, we're interested to see what new information (if any) this exhibition brings to light.
Budapest, Hungary: Dénes Farkas's solo exhibition, entitled Darkness Visible, opens this weekend at Molnár Ani Galéria (opens January 31). The exhibition raises questions about the present and future possibilities and actual positions that can be determined by the practice of adaptation, documentation and archives. For the project, the artist photographed the visual material at four various seed banks, which can be found in different points of the world. At the Global Seed Bank in Svalbald, the N.I.Vavilov Research Institute of Plant Industry in St. Petersburg, Russia, the International Center for Agricultural Research in the Dry Areas in Terbol, Lebanon and the seed bank of the American University of Beirut in Lebanon.
Kraków, Poland:  The Politics of Too Many Dinner Parties presents a series of works developed by Michała Sosna while frequenting watering holes and participating in forms of banqueting. The exhibition opens at F.A.I.T. and will combine forms of the artist's research into visual clichés and historical references into forms of merrymaking the world over.
Poznan, Poland: A new solo-show by Agnieszka Grodzińska, entitled Second Shower, opens at Rodríguez Gallery. The show will invite viewers to speculate on mechanisms of constructing the value of a work of art and the role of galleries in this context.
Moscow, Russia: Opening of Yuri Gordon's Talking with the Vanguard of Poetry at Gallery Na Shabolovke. The exhibition will explore recurring themes within the artist's work, such as myth, dialogue, and poetry, continuing to examine Gordon's fascination between the written word and image.
February 2
Berlin, Germany: Left Performance Histories opens at NBGK, which is slated to show Eastern European action art from the 1970s and its ongoing importance in the present. Some of the more than 25 featured artists may well trust connoisseurs of the alternative cultural scenes of the former Eastern Bloc, while others will find a new discovery for themselves. Certainly worth checking out.
Berlin, Germany: A new exhibition by Martin Kohout called Slides opens this weekend at E X I L E in the German capital.  As the recent recipient of Jindřich Chalupecký Award, the show will present Kohout's film that examines a near-future fiction of a couple separated by time and space. Check out Blok's recent interview with Kohout here.
Brno, Czech Republic: Something Something opens this weekend mapping out spheres of influence in the work of Dalibor Chatrný. Curated by Barbora Klímová and Filip Cenek, the exhibition sheds light on Chatrny's wide ranging influence over an inter-generational set of artists and other personalities.
Daugavpils, Latvia: A new exhibition called Looking Outside, Looking Inside opens at the Daugavpils Mark Rothko Art Center, which joins together six Latvia artists who "scrutinize the interconnections between experience, memory and forgetting, considering those as both a collective phenomenon and an element of private life." Featuring: Arnis Balčus, Ieva Balode, Ieva Epnere, Romans Korovins, Līga Spunde, Alnis Stakle.
Kraków, Poland: I see that you do not cope a new exhibition by Paweł Susid opens at Henryk Gallery. The exhibition builds on Susid's of commentary-rich socio-political paintings and works.
Łodź, Poland: A new exhibition at the Muzeum Sztuki w Łodzi uses two three-channel video installations: "Assemblages" and "The Life of Particles" to pose video essay responses to the thought of French psychoanalyst Felix Guattari, presenting his work through a filter of new thoughts and contexts. Assemblages by Angela Melitopoulos and Maurizio Lazzarato is an audio-visual research project dedicated to the anti-authoritarian, revolutionary practice of psychiatry, philosophy, aesthetics and anthropology of the French thinker.
Moscow, Russia: MMOMA and the Museum of Vadim Sidur present Maxim Spivakov's exhibition 1/2 (one second). The exhibition, designed by the artist specifically for the museum of Vadim Sidur, will present a project dedicated to the problem of the image, to the practitioners of its denial, and to the politics of appearances and contradictions unfolding in the history and modern manifestations of iconoclasm. The Russians always do it best.
Saint Petersburg, Russia: The opening of Anna Tereshkina's exhibition The Illustrated Nasreddin at Rosa's House of Culture. The joint project of migrants and artists of St. Petersburg. He appeared in 2014 as a result of weekly meetings-competitions for the best joke in the spirit of Khoja Nasreddin. After a long break, we are happy to present a new edition of the newspaper about love and family in the era of mass labor migration. A fresh issue, entitled "Together separately", is published in Russian, Uzbek and Armenian.
Warsaw, Poland: A new exhibition by Adam Rzepecki entitled Nowe Prace / New Works opens at Galeria Dawid Radziszewski. The exhibition is set to explore the status of an artist, about politics and about male-female relations.
Vilnius, Lithuania: Luminous Shadows the first solo-show of the Thai filmmaker and artist Apichatpong Weerasethakul opens at Contemporary Art Center (CAC), his first exhibition in the Baltic states. The exhibition is part of a larger project 'Luminous ShadowsSelecteded Installations & Film Retrospective of Apichatpong Weerasethakul'. It will feature a concurrent retrospective of the artist's films.
February 6
Budapest, Hungary: Glassyard Gallery presents a new exhibition called Zones of Visibility by artists from the gallery and by invited guest artists, in a context that represents artistic reflections on the global socio-economic crisis of recent years. The exhibition and the connected events are part of the Risk Change – international collaboration project.
OPEN CALLS
Rijksakademie residency 2019 : "The Rijksakademie offers some 50 artists a residency place (for 1 year, with extension to 2 years) with the aim of providing space for research, experiment and production. In addition to facilities such as its own workshop, work budget and stipend, there is an adequate research and production infrastructure. There is no fixed program, dominant style or ideology. The Rijksakademie offers time, people and opportunities." Deadline to apply: 1 February 2018
Curatorial Program for Research has several fully funded research programs available for emerging curators. "The Curatorial Program for Research (CPR) is pleased to announce its open call for curators to participate in CPR 2018: Dimming the Northern Lights. In this program curators will travel to the Nordic region, visiting Faroe Islands, Finland, Iceland, Norway and Sweden. CPR's sixth fully-funded research program will take place from August 2 – 27, 2018." Deadline to apply: 15 February 2018
Open call for projects during PQ 2019 in Prague. One for architects, dancers and choreographers called "Formations" for practitioners "concerned with the patterns we encounter in nature, urbanism and architecture," and one for "Fragments" seeking "national curators to select only one item (an object, a model, sound or lighting file or a costume) designed by one of the most celebrated designers whose work keeps inspiring new generations of artists and audiences." Deadline to apply: 28 February 2018

Guest Room Maribor, Slovenia. An open call for projects that "form explicit relations with the specific social, historical, political, etc. context of Maribor and/or the local community (participatory, site-specific art projects, interventions in public space, etc.), are dealing with the power relations and tactics of domination in current neoliberal social context question engagement of art, it's position in society and relations between art and politics. Deadline to apply: February 28. 
International Festival Odessa Photo Days Open Call 2018: "The festival is a non-profit platform for photographers and anyone interested in this media. In the course of three years, with the efforts of our team, volunteers and photographers, the Odesa / / Batumi Photo Days festival has become well-known in different parts of the world, appeared on the international map of photo events and has implemented a number of special projects, both in Ukraine and abroad." Deadline to apply: 1 March 2018
International Curatorial Residency in Sofia, Bulgaria. Open call for curatorial residency for non-Bulgarian emerging curators, regardless of their age or country of origin. Curatorial experience of at least two years or at least three realized curatorial projects are required, as well as good command of English. Supported byArt Affairs and Documents Foundation, Goethe-Institut Bulgaria and Credo Bonum Gallery. Deadline to apply: 10 March 2018. 
Call for residency applications 2018–19 and 8th Inter-format Symposium on Rites & Terrabytes at Nida Art Colony in Lithuania. The residency programme at Nida Art Colony of Vilnius Academy of Arts (NAC) is open for emerging and experienced artists, designers, architects, curators and researchers. NAC is one of the largest art, residency and education venues in the Nordic-Baltic region. It provides the opportunity to live and work in the Colony's contemporary architecture, situated in a coastal pine forest. Since 2011 over 350 artists and other culture professionals have stayed at the Colony. Deadline to apply: 15 March 2018. 
REARVIEW MIRROR
Last week, the Bulgarian-born artist Christo revealed a massive floating sculpture outside Hyde Park in London. The 82-year-old artist made the work from 7,506 oil barrels in red, white and blue, representing the British Flag. According to the artist quoted in the New York Times, the colors represent a "royal mauve," which is timed to coincide with a special exhibition at the Serpentine Gallery exploring works he created with his late-wife and artistic partner, Jeanne-Claude.
Imprint
See also