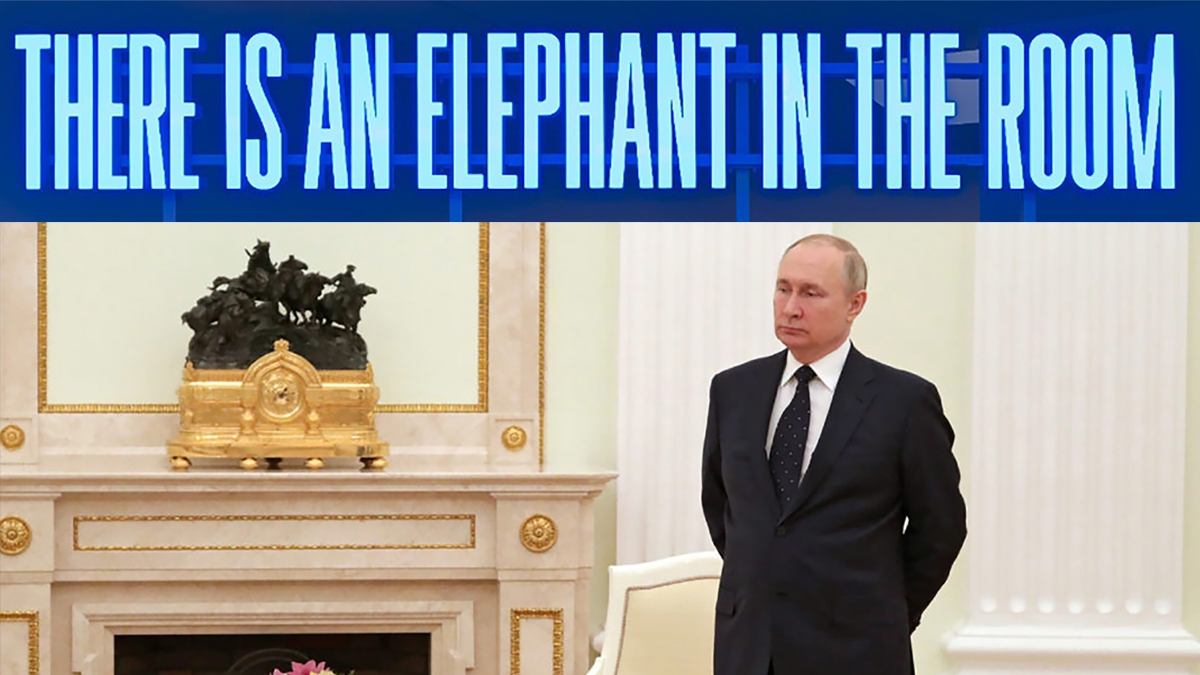 This year, the Riga International Biennial of Contemporary Art (RIBOCA), founded and organised by Russian citizens, returns to Latvian and European art life with René Blok's exhibition Intermezzo at Kunsthal 44Møen in Denmark and SUPERFLEX's exhibition, bearing the unimaginably cynical title, The Elephant in the Room, which was planned to open in Riga in August. Since the biennial's first run in 2018, it has attracted a lot of controversy and criticism, especially due to its colonialist rhetoric and relation to Russian funding. RIBOCA3 was supposed to take place in Riga last summer, but with Russia's full-scale invasion of Ukraine, the organisation announced that they would postpone the event, saying that "the war set out new priorities for everyone. We simply couldn't continue working toward an exhibition rooted in mutual respect and cooperation, while these unthinkable crimes were being committed in Ukraine."[1] The sheer speed of the announcement raised many eyebrows, as it was made on February 25, merely one day after the Russian campaign began. Only later did the organisation explicitly condemn Russia's aggression, and, there was no official announcement about the withdrawal of Russian funding until very recently, but these new statements neither provided any evidence, nor disclosed any financial reports. For us, the authors of this text, the reasons given by RIBOCA for postponing the event do not seem credible – the war in Ukraine started in 2014 and continues today, in 2023. What are the reasons why the biennale couldn't take place in 2022 but can take place now, in 2023, when Russia continues to rage war in Ukraine? Is it ethically permissible for a Russian-funded cultural event to take place in a European country while a senseless and deeply consequential Russian war unfolds?
On 7 July, RIBOCA announced that it was cancelling the event in Riga because "it appears that the heritage of our executive members, which includes Russian among Lithuanian and Latvian nationalities, is something too significant to overcome as the Russian attack on Ukraine rekindles tensions of an occupied past."[2] As representatives of the local art community, we would like to point out that nationality has never been at the heart of RIBOCA's critique. It was and still is about the organisers' close ties to the Russian elite, not their origin. The attempts to disguise the critique of Russia's soft power as a local community's Russophobia is yet further proof that in times of war, any cultural contact with Russian cultural representatives is dangerous, especially in the Baltic States, Russia's closest geographical neighbour. For these reasons, we would like to inform the international contemporary art community about the origins and unscrupulous practices of the individuals behind RIBOCA.
The context
For half a century, the Latvian cultural environment was influenced by Soviet ideology and censorship, hindering its natural development and significantly limiting the freedom of expression that was possible in the West. Therefore, any connections with Russia carry significant complexity and sensitivity within the local cultural context. Admittedly, the post-Soviet space has been somewhat open towards establishing friendly ties with and receiving financial support from Russia. Prior to Russia's invasion of Ukraine, Latvia received significant investment from Russia, including in culture. For example, a classical music festival in the resort town of Jūrmala was predominantly funded by Pyotr Aven, a Russian billionaire who is currently subject to international sanctions. The festival was cancelled after the outbreak of the war, however recent events suggest renewed efforts to reestablish Russian influence in the country.[3] 
In light of these developments, we wish to underscore the problematic nature of  RIBOCA's presence in the Latvian cultural landscape. RIBOCA uses the name Riga in its title to create the impression that it's a Latvian organisation, but we wish to inform the international art community that it has always been an event organised by Russian citizens operating in Latvia. RIBOCA has never had any genuine connection to the local Latvian art environment or its ecosystem.
Comrades from the East, questions about funding sources
The Riga International Biennial, known colloquially as RIBOCA, was founded in 2016 by Agniya Mirgorodskaya, a Russian-Lithuanian citizen and daughter of Russian tycoon Gennady Mirgorodsky. Mirgorodsky owns several businesses in Russia, including RusKhim, a chemical company, and fishing companies such as Arkhangelsk Trawl Fleet (ATF) and Northwest Fishery Consortium (SZRK). SZRK has previously been favourably supported by people close to Putin,[4] while RusKhim, where Mirgorodsky holds a 25% stake, has plans to construct a chemical refinery in the Arkhangelsk region,[5]. The names of Agniya Mirgorodskaya and her father appear in the founding statutes of the biennial, along with other influential figures such as Sulev Seppik (the son of Ain Seppik, former Interior Minister of Estonia), Alexander Gafin (former Vice President of Alfa-Bank, the largest private bank in Russia), and Yemelyan Zakharov (head of Triumf Gallery in Moscow). Sulev Seppik's name has more recently been associated with a money laundering scandal in Estonia, resulting in indictments against both him and his family.[6] Interestingly, RIBOCA does not publicly disclose the names of its founders other than Mirgorodskaya, nor does it provide much information about her father's businesses. It should be noted that the biennale was also originally associated with other Russian cultural patrons, including the well-known oligarch Pyotr Aven, who until last year was the head of Alfa-Bank, and was also seated in the front row as Putin announced the "special military operation" in Ukraine on February 24, 2022. Aven became one of the first persons to be sanctioned by the West, and is believed to be a member of Putin's inner circle and one of Putin's closest oligarchs. In 2016 his foundation asked the Latvian Culture Ministry to support the biennale, revealing a very personal interest in promoting RIBOCA.
Mirgorodskaya has been one of the largest and one of the very few benefactors of the biennial, having donated more than €9 million to RIBOCA since 2016. In recent public statements published in international media outlets such as artnet.com, RIBOCA representatives have stressed that they have cut off Russian funding since last year,[7] however, the biennale's non-profit report for 2022 shows that the largest donation – €700,000 – still came from Mirgorodskaya herself. The sources of her personal income is unknown and has never been disclosed. Mirgorodskaya recently stated that the biennale is now being backed by Monolith Capital, the company of her husband, Robert William Pokora, which is operating in the US. The Biennale has not provided any other data related to the sources of its funding and, apart from unsubstantiated statements, has been reluctant to comment further on the origins of its funding.
RIBOCA has had issues regarding transparency for some time, particularly in terms of not disclosing the total budget of the festival and by spreading falsehoods about its funding sources. They have claimed in interviews that the biennial would be solely financed through private funds,[8] presenting it as a "gift to Riga."[9] However, it was later revealed that they also sought funding from the Latvian Culture Ministry and the Latvian State Culture Capital Foundation (SCCF), thereby also creating unfair competition with local art institutions which are operating on much smaller budgets. To compare, SCCF's annual budget for the visual arts, which is intended to cover the entire Latvian visual arts sector, amounts to approximately €1 million. Between 2017-2022, RIBOCA received a total of €10 million through private funding, including €13,040 in 2020 from SCCF. 
A gift to the "periphery" 
This operating budget is unusually large for the region, and has provided an opportunity to attract attention from the international art community, which has had positive effects related to the promotion of Latvian contemporary art, this cannot be denied. The generous salaries for artists and managers, the impressive production budget and the opportunity for local artists to be exhibited among global stars have led many in Latvia (and across the Baltics) to turn a blind eye to the origins of this funding. Unfortunately, the financial support has been accompanied by rhetoric marked by colonialist attitudes and arrogance, positioning Latvia to the international audience as a backward periphery to which "friendly" neighbours "gift" contemporary art.[10] Already in 2018, when curator Katerina Gregos was invited to be the chief curator of the biennale, a rhetorical question was addressed to RIBOCA: "Is it at all possible to organise a biennial in Riga in any way or form entirely funded by private Russian money which would not feel like a burden instead of a gift?"[11] This year,  as RIBOCA announced the Biennale programme to the international media, their press release highlighted that the Latvian government is limiting the cultural influence of its neighbours (meaning Russia) in Latvia.[12] The biennale thus employs tactics akin to propaganda and ideological power by playing the victim and attributing Russophobia and xenophobia to anyone who dares to question the ethical aspects of the event. RIBOCA attempts to undermine legitimate inquiries regarding its funding structure by dismissing them as "biased criticism" and "unfair scrutiny"[13]. Similarly, two weeks after the Russian war broke out in Ukraine, RIBOCA set up a non-profit called "Common Ground", which was created as a centre for social initiatives to "provide assistance to those who have lost their homes and have been forced to flee".[14] RIBOCA announced that it would channel its funds to support Ukraine.
Unfortunately, according to RIBOCA's official funding statements there were never any donations made to this centre, suggesting that "Common Ground" was merely used as a PR stunt to feign solidarity with Ukraine and to divert attention from the organisation's links with Russia.
What do art lovers from Russia want? 
The case of RIBOCA is not a unique story in contemporary art. Patronage and private art initiatives in the West are often associated with financial machinations that attempt to obscure ethically questionable wealth, business models, nepotism, and investments. In early 2022, one of the largest scandals of recent years took place in Germany, when Berlin art professionals protested against the funding policy of Kunsthalle Berlin, an exhibition space in the former Tempelhof airport, in which funding from Russian elites, including Vladimir Putin, played a major role in the group exhibition Diversity United.[15] Activists called for boycotting the institution and demanded the stopping of all public funding for the art space. The criticism of Kunsthalle Berlin in the protest letter also applies, to a large extent, to Riga's "elephant in the room", as here too "(…) art is instrumentalized to turn public money into private events for networking entrepreneurs and politicians. At the same time, this is a way of sanitizing the reputation of dubious corporate networks from the arms, real estate, and oil and gas industries. (..) we cannot exclude the possibility that such networks are involved in money laundering and tax fraud, since they lack even a modicum of transparency. The upgrading of problematic economic relations with China or Russia in these fields through supposed "cultural diplomacy" is part of the system too."[16]
Since February 24, 2022, RIBOCA's existence raises questions about the viability and functioning of Russian culture not within Russia, but outside of it. As Ukrainian artists and theoreticians Lia Dostlieva and Andrii Dostliev have pointed out: "If their [Russians who oppose the Putin regime] messages are directed to their compatriots in Russia, then why do they need a platform in the "civilized" world, where surely few – if any – Russians would hear them? Instead, why not concentrate efforts on spreading anti-war/anti-regime messages inside Russia? Or, maybe, the real target audience of these statements are Western cultural institutions and universities, grantors, curators, collectors, – all of these people who have been providing for the happy lives and career developments of Russian artists and scholars?"[17] In the case of Riga, it may also be a question of "laundering" the reputation of Russian businessmen through culture.
Since its inception, RIBOCA has focused not on the nourishment of the Latvian art environment or its processes, but rather on finding a platform in the post-Soviet environment that is favourable enough to serve as a springboard for gaining international visibility and establishing a position within an exclusive art elite, using colonial methods. RIBOCA serves as a playground for dabbling in "culture", all the while having very opaque funding schemes, which may very well be a front for money laundering. This serves as a prominent example of how culture is often instrumentalized to serve economic and political interests.
The Ukrainian Minister of Culture, along with numerous other cultural figures from Ukraine, have urged the West not to cooperate with Russian cultural representatives until the war concludes. They emphasise that art is also a form of power, and that Russian artists and art managers are its 'agents of influence'. RIBOCA, located in Riga, enables representatives of the aggressor state to continue their activities unhindered, falsely claiming to represent Latvian culture in the West and on the global stage. While culture alone cannot end wars, art professionals can diminish Russia's ideological influence by refusing to collaborate with Russian institutions and representatives of Russian culture.
We kindly request the Western art community to distance themselves from any association with RIBOCA based on the following points of concern: 
The Biennale has financial and cultural ties to Russia, a terrorist state. 
RIBOCA displays a colonial mindset and rhetoric towards the art and cultural environment in Latvia. 
Given the ongoing war in Ukraine, any cultural relations with Russia are to be deemed unacceptable. 
In the above mentioned press release on artnet.com, RIBOCA announced that the central project of the biennale, titled There is an Elephant in the Room, curated by SUPERFLEX, includes 25 women artists addressing subjects they see as urgent, taboo, or controversial, such as the ongoing war in Ukraine.[18] 
The public communication of RIBOCA and its invited curators hypocritically exploit the war in Ukraine to divert attention from their own colonising practices in the Baltic region. 
We would like to emphasise that the war in Ukraine is not a matter of controversy but a brutal and bloody reality for countless people. It involves countless war crimes and ongoing acts of genocide.
[1]https://www.facebook.com/RigaBiennial/posts/pfbid02NyKyMXotmX7EJd7fsxJGuor57xy1Lhw9a8gYrYyq8K5ewJp36fmrXGAqtQfJLeJkl
[2]  RIBOCA statement on July 7 https://rigabiennial.com/en/riboca3-statement
[3] An exhibition of Aven's porcelain collection was planned to be held in the Ogre Museum of History and Art by the head of the municipality, but was cancelled after museum employees objected. There was strong suspicion that the exhibition was an attempt to restore the reputation of the aforementioned sanctioned billionaire. Unfortunately, protesting museum workers were forced to leave their positions following the voicing of their dissent. https://baltics.news/2023/02/06/action-to-restore-the-reputation-of-the-sanctioned-aven-culture-shock-in-the-behind-the-scenes-of-the-exhibition-planned-in-ogre/
[4] Evgeny Vovchenko "Russia Sea Catching beat out in bid for Arkhangelsk Trawl Fleet." IntraFish https://www.intrafish.com/news/russian-sea-catching-beat-out-in-bid-for-arkhangelsk-trawl-fleet/1-1-646169
[5] Atle Staalesen "Russians offer Chinese oilmen a taste of Arctic methanol". The Barents Observer https://thebarentsobserver.com/en/industry-and-energy/2021/08/russians-offer-chinese-oilmen-taste-arctic-methanol?fbclid=IwAR34_UBRy9folfHDG9f1QZiyTzK1_AzuJ-g50ewHPTIpzTmOhH7QUb59FIE
[6] Meinhard Pulk, Raul Ranne "Crushing bankruptcy proceedings corrupt Seppik family". Postimees https://news.postimees.ee/7425218/crushing-bankruptcy-proceedings-corrupt-seppik-family
[7] Jo Lawson-Tancred "Latvia's RIBOCA Biennial Shut Down Its Third Edition When War Broke Out in Ukraine. Now It's Back—Without Russian Funding", artnet news https://news.artnet.com/art-world/latvias-riboca-biennial-shut-down-its-second-edition-when-war-broke-out-in-ukraine-now-its-back-without-russian-funding-2293886
[8] Inga Lāce "Inga Lāce in conversation with Katerina Gregos", echo gone wrong https://echogonewrong.com/inga-lace-conversation-katerina-gregos/
[9] Диляра Теляшева "Агния Миргородская — о том, как подарила Риге биеннале современного искусства", Tatler https://www.tatler.ru/heroes/agniya-mirgorodskaya-o-tom-kak-vyrastila-v-rige-biennale-sovremennogo-iskusstva
[10] Диляра Теляшева "Агния Миргородская — о том, как подарила Риге биеннале современного искусства", Tatler https://www.tatler.ru/heroes/agniya-mirgorodskaya-o-tom-kak-vyrastila-v-rige-biennale-sovremennogo-iskusstva
[11] Inga Lāce "Inga Lāce in conversation with Katerina Gregos", echo gone wrong https://echogonewrong.com/inga-lace-conversation-katerina-gregos/
[12] Jo Lawson-Tancred "Latvia's RIBOCA Biennial Shut Down Its Third Edition When War Broke Out in Ukraine. Now It's Back—Without Russian Funding", artnet news https://news.artnet.com/art-world/latvias-riboca-biennial-shut-down-its-second-edition-when-war-broke-out-in-ukraine-now-its-back-without-russian-funding-2293886
[13] https://www.instagram.com/p/CtMIOvoscg0/ (initial Open Letter's text with accusations towards local art community (published on RIBOCA's webpage) has been edited and modified lately)
[14] Common Ground, Riga International Biennial of Contemporary Art https://www.rigabiennial.com/lv/projects/about-common-ground
[15] "Berlin's Art Scene Boycotts Putin's Funded 'Diversity United' Exhibition, Corruption Research Network https://corruptionresearchnetwork.org/berlins-art-scene-boycotts-putins-funded-diversity-united-exhibition/
[16] Open Letter: Who Owns The Public? e-flux Notes https://www.e-flux.com/notes/450384/open-letter-who-owns-the-public
[17] Lia Dostlieva, Andrii Dostliev "Not all criticism is Russophobic: on decolonial approach to Russian culture", Blok https://blokmagazine.com/not-all-criticism-is-russophobic-on-decolonial-approach-to-russian-culture/
[18]  Jo Lawson-Tancred "Latvia's RIBOCA Biennial Shut Down Its Third Edition When War Broke Out in Ukraine. Now It's Back—Without Russian Funding", artnet news
Imprint
See also