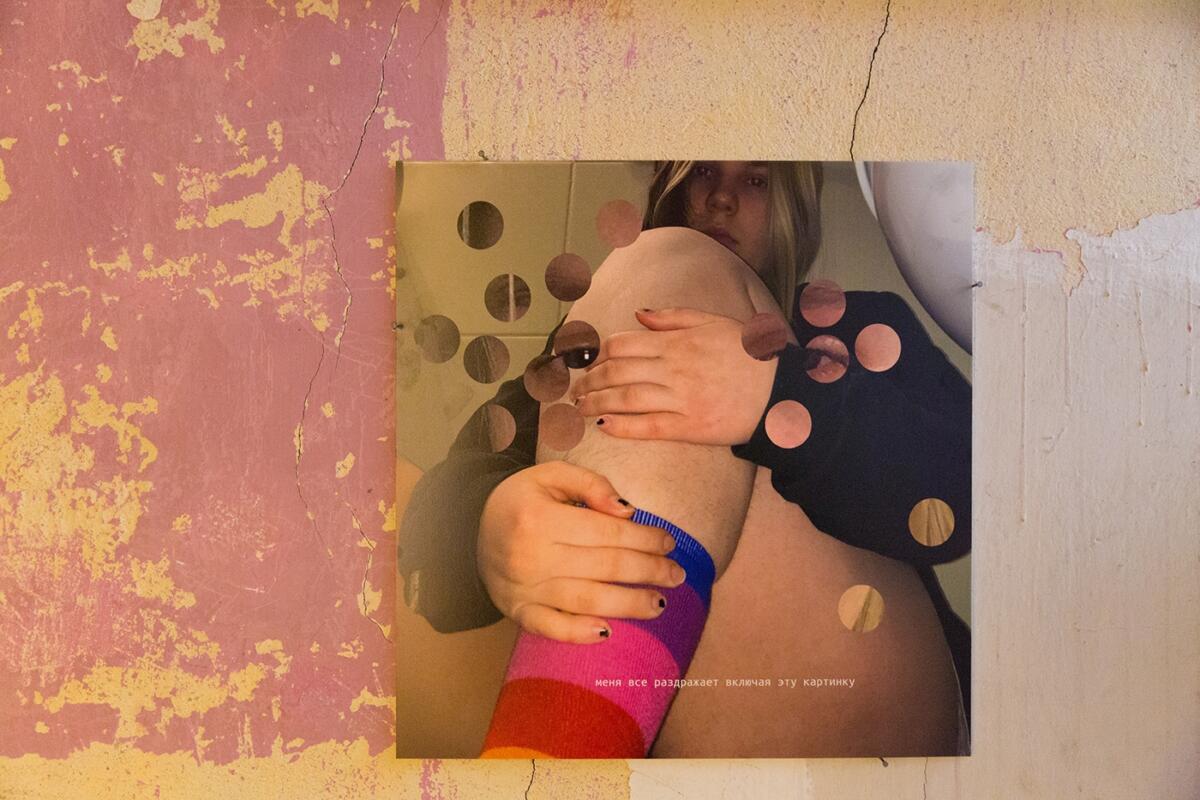 The exhibition Unlearning (07.10-03.11.2021) at DOMIE art space in Poznań shows us what the future of contemporary art exhibitions in Poland can and should be like. They should be independent and shaped by non-institutional means, as official institutions become more and more subjected to the Polish nationalistic ideology of the ruling Law and Justice party. Moreover, it is difficult to find a more critical slogan than "unlearning", at a time when the Polish Minister of Education and Science is a religious fundamentalist, acting deliberately against the values of democratic education.
Unlearning not only follows the model of independence necessary in this current time, but also shows how to carry out such non-institutional projects, i.e. outside of official Polish art institutions. The key to freedom is international cooperation and at the same time, the the local, alternative places outside the center. This is why the curatorial team, consisting of Aleksei Borisionok, Raman Tratsiuk and Vera Zalutskaya, is international. They are Belarusian curators and artists who live and work outside of Belarus, and because of their backgrounds, are very sensitive to the issues of freedom and the unification of people. That is why in their curatorial text they write that they want to propose other new models of happiness, participation, and life.
The invited artists that teach us how to "unlearn" are Anna Baumgart, Patrycja Cichosz, Lia Dostlieva & Andrii Dostliev, Vika Grebennikova, Uladzimir Hramovich, Kafe-Morozhenoe media activist collective, Annette Kraus, Marina Naprushkina, Agnieszka Polska, Ala Savashevich, Sergey Shabohin, Olia Sosnovskaya, Masha Svyatogor, Raman Tratsiuk and Honza Zamojski. Equally important is the exhibition space – the non-institutional art space of DOMIE, a social, artistic, architectural, and economic experiment of collective care. DOMIE was founded in 2018 by Katarzyna Wojtczak and Martyna Miller to combine activism with art, collective practices, and international collaboration. The premise of DOMIE is to create a space that not only showcases art but also creates interpersonal connections and a sense of belonging within the place itself. It is located at 53A Św.Marcin Street, which the founders received from the city, to support DOMIE they raise funds for their projects from various sources. 
The exhibition was funded by The Rönne Foundation, a Berlin-based international foundation committed to promoting democracy and civil society participation, implements projects in the fields of art and culture, education and sustainability. The Rönne Foundation has focused support for artists and curators from Belarus.
For the Unlearning exhibition, the space was beautifully renovated by the exhibition designer, curator, and one of the artists, Raman Tratsiuk, who gave the space a new aesthetic look. An equally important actor in the creation of Unlearning is the research platform KALEKTAR.org, run by the Belarusian curator and artist Sergey Shabohin, who currently lives in Poznań. KALEKTAR is a tool for archiving, analyzing, and popularizing contemporary Belarusian art. It is no coincidence that most of the artists in the exhibition come from Belarus or Poland. These two countries are very close nowadays. Many oppositionists from Belarus now live in Poland as it is the closest neighbouring country in the European Union. Many Belarusian artists are in Poland, e.g. the aforementioned Sergey Shabohin, because they could not create freely in Belarus. At the same time, Poland is getting dangerously close to Belarus in terms of ideology; it is not yet a murderous dictatorship but it is a country where the government introduces anti-democratic authoritarian laws and actions, and suppresses civil society. The Polish and Belarusian governments are united in their inhuman treatment of refugees on their shared border.
This is exactly why artists from Poland and Belarus promote unlearning, to escape the established systems of knowledge, which, as we know from Michel Foucault, are also systems of power. They see from the official policy of their countries, which undermines human rights, that inherited and learned systems of values lead only to increased discipline, control, and order mandated by their rulers. Thus, we can observe in the displayed art a struggle with tradition, with old ideologies and inherited values. The artists seek new independence but are burdened with the baggage of the past, which they try to undermine, transform, or to rediscover forgotten forms of resistance.
Raman Tratsiuk's work Sickles (2020-21), which dominates the exhibition space, is symptomatic of the coping with traditions of knowledge and ideology. It is a large rectangular composition made up of many small oil paintings that show a black and white pair of sickles against a red background. The sickle, one of the primary symbols of communism, is transformed into a decorative motif. For the artist, however, this is a work with a feminist dimension, as sickles were used mainly by women in rural work; their colorful ornamental and monumental density is a tribute to the hard and invisible work of women. In his piece, the artist transforms the sickle as a sign of violence and ideology, reduces its meaning to the level of rural work, and affirms the forgotten millions of female peasant workers. While visually striking, his painting also leads to deeper reflections on gender and class.
Many of the works in the exhibition refer to art history or more specifically, to the history of art schools, undermining their authority according to the motto of unlearning. In her video, How the Work is Done (2011), Agnieszka Polska recalls a forgotten event from 1956, a protest by the students of the Academy of Fine Arts in Cracow who occupied a ceramics and sculpture workshop, refusing to work. The artist recreates the materiality of the sculpture studio in a state of unproductivity and chaos. The film Conquerors of the Sun (2011), by another Polish video artist, Anna Baumgart, work, tells the story of a lost propaganda train that supposedly traveled from Moscow to Berlin in 1920 to promote revolutionary ideas through avant-garde artworks, including abstract paintings by Kazimir Malevich. Sergey Shabohin, on the other hand, in his series of collages Social Marble: Patches (2021), takes on the subject of the renovation of the Vitebsk People's Art School, famous for the history of the Russian avant-garde. The current management of this school-museum is carrying out a historical reconstruction, turning the artistic language of the avant-garde into kitschy marble decorations. In his works, Shabohin superimposes forms from El Lissitzky's geometric abstractions created in Vitebsk onto photographs of the building's renovation. In another form of grappling with and transforming tradition, also with reference to academic education, Ala Savashevich has made a spectacular felt sculpture entitled When the Monument Becomes a Landscape (2017). It is a recreation of the mantle that Yakub Kolas wears in his monument in Minsk. Yakub Kolas was a Belarusian writer and poet feted during the Soviet era. Savashevich hangs the felt version of his coat on an easel, on which she also placed a small photograph of the Kolas' monument. Her sculpture thus refers both to the Soviet past of Belarusian culture but also to the practice of academic teaching in Belarus, which is still based on the traditional form of learning to paint by copying from nature.
The projects of unlearning artistic traditions dominate the exhibition, but they are also accompanied by works relating to contemporary activism. These include, for example, placards, banners, wall tags, stickers, and graphics created by Patrycja Cichosz, which are an example of artivism and a direct anarchist commentary on current social and political events in Poland. While a series of photographic self-portraits Symptomatology Project (2021), by Vika Grebennikova, deals with her psychological experience of everyday life as a lesbian in the homophobic Belarusian system. Thus, the unlearning proposed by the curators addresses multiple dimensions of knowledge transfer related to both the artistic past and current state-sanctioned gender ideologies.
The most important element of this exhibition is its demonstration that it is possible to create an ambitious, international exhibition outside the official state control of cultural institutions and art financing in Poland. It is therefore a lesson in free curatorial strategy, based on international and local creativity, independent spaces, and pro-democratic foundations. This is the greatest achievement of the project: unlearning the dependence on central governmental funds. It is a strategy, not coincidentally, developed by a team of Belarusian curators who have learned from their country that the state cannot be relied upon for free creativity. In Poland, we are facing this situation more and more; there are fewer and fewer institutions that are free from the control of the Ministry of Culture and National Heritage, which pursues the agenda of nationalism and religious fundamentalism. The most interesting culture is now created outside of the ministerial framework. For years we have been learning how to use state money, now it is time to unlearn this and at least in Poland, to seek cultural freedom from the financial control of the government. Unlearning shows us one of the ways out, it is a survival strategy for the coming hard times.
Imprint
| | |
| --- | --- |
| Artist | Anna Baumgart, Patrycja Cichosz, Lia Dostlieva & Andrii Dostliev, Vika Grebennikova, Uladzimir Hramovich, Kafe-Morozhenoe media activist collective, Annette Krauss, Marina Naprushkina, Agnieszka Polska, Ala Savashevich, Sergey Shabohin, Olia Sosnovskaya, Masha Svyatogor, Raman Tratsiuk, Honza Zamojski |
| Exhibition | ODKSZTAŁCENIE / ДЭФАРМАЦЫЯ / UNLEARNING |
| Place / venue | DOMIE Poznań |
| Dates | 07.10–03.11.2021 |
| Curated by | Aleksei Borisionok, Raman Tratsiuk, Vera Zalutskaya, Coordination: Pavel Preobrazhensky, Sergey Shabohin |
| Website | domie.pl/ |
| Index | Agnieszka Polska Ala Savashevich Aleksei Borisionok Anna Baumgart Annette Krauss Honza Zamojski Kafe-Morozhenoe media activist collective Lia Dostlieva & Andrii Dostliev Marina Naprushkina Masha Svyatogor Olia Sosnovskaya Patrycja Cichosz Pavel Preobrazhensky Raman Tratsiuk Sergey Shabohin Uladzimir Hramovich Vera Zalutskaya Vika Grebennikova |
See also