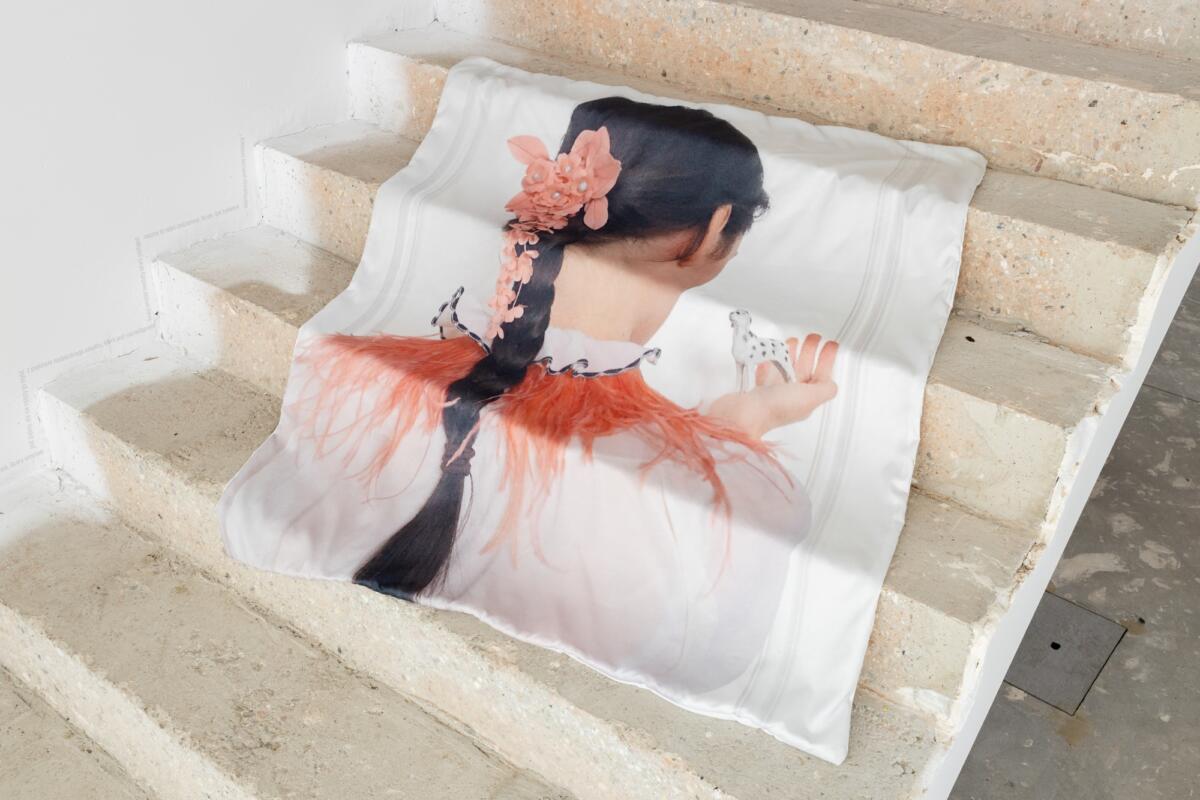 Vera Zalutskaya: Your recent exhibition at Krupa Gallery in Wrocław was called "I Don't Wanna Wake Up From This Tonight". Why don't you want to wake up? And what happens in this dream?
Veronika Ivashkevich: The title of the exhibition is a quote from a song by Lana Del Rey. Sleeping is a very important theme in life. It is the only place where one can hide from everyday life. Very often, when I wake up, I catch myself thinking that I want to go back to oblivion. And I don't think I'm alone in that.
So your works are mostly about oniric space?
A space in between, I would say, between dreaming and reality. I know that in some people's dreams there are completely different worlds, scenes of the apocalypse and so on. I don't go into that area, sci-fi isn't really my thing. The dreams you see in my works depict reality, or the past, but in a slightly altered form. It often happens in my life that I suddenly lose my sense of reality and everything seems not to be real. It's like a light inebriation.
This is your way of living life.
Yes, but at the same time there is a kind of universality in my works themselves: people often tell me they've seen something similar in a dream or in a movie.
Which films in particular are you referring to? Of course I immediately think of David Lynch or even Andrei Tarkovsky. Those are the kind of directors who consciously refer to visual art in their work. But it's the opposite with you, you use scenes from films in your paintings.
I've often heard about Lynch. But I wouldn't use his films as a starting point for my work, they are good in and of themselves and are quite recognizable. It's much more interesting to rework something that's imperfect, let's say. I'm attracted to random scenes from little-known or mediocre films that I try to get the most out of. I make screenshots, save them in folders, rearrange, analyze them, and then understand what the work will be based on.
And what is the meaning of your paintings? Is meaning made present through the figure?
I start from the form and the process itself is very important to me. The content is secondary and often the meaning is only formed at the end of the work. I believe that a painting does not need to be connected to a verbal narrative but can be based on an experience or phenomena that have not yet taken the form of words. A painting is often something autonomous that cannot be fully controlled, it is as if it creates itself. For the last three years I have had the feeling that I am creating my own endless series. The same goes for the exhibition: it's as if you start watching the series from the middle. But a sensitive and attentive viewer who is willing to take a little time usually understands and feels everything (just like with the series: if you wait a bit and endure, it becomes obvious what kind of relationship the characters are in).
Your works look like scenes from everyday life and are impressionistic in form. At the same time, surrealistic elements like an egg in a flower appear in them. How do you feel about surrealism in general?
I've always liked multiples. The daily observation, staring into reality, is my way through the here and now. Surrealism, in my opinion, has become a major trend of our time. In the 20th century, it was a reaction to the First World War. The idea emerged that it was bourgeois rationalism that led to the horrors of war. Hence the rejection of logic, canons, standards, and systems. Today we again live in an age of change and can see how rational thinking leads to a dead end. At the same time it turns out that surrealism is the most logical and easiest way of work for contemporary artists. I would call my work syncretic.
In that case, is it in some way a reaction to the context in which you find yourself? The experience of living in Eastern Europe (in your case, Belarus, Russia and Poland) for us, the generation of transformation has always been quite problematic, here it is impossible to live outside of politics. At the same time, the world of your work is quite idealized, a kind of endless French cinema.
Placing yourself in an overtly political discourse in art leads to the use of labels and clichés. I always want to get away from specifics as much as possible, to break through to the space where chance has its decisive role. That's where everything starts to work on some other level. My best works are accidental coincidences. It's hard to explain the peculiarity of combining the elements of a piece, but intuitively we always understand why one thing  works and another doesn't. Total control kills the raw magic of art. I am engaged politically as a citizen, not as an artist. Treating painting as a conductor for political meanings is utopian. Visual art has no power for that in today's world. But you are right that it is impossible to live outside politics, so even my work with a bourgeois interior from French cinema has a connection to politics in the sense that it is an attempt to create a safe space in the insecure context of the contemporary world. This is the kind of contribution I can realistically make as an artist. We used a quote from Dumas' autobiography in the exhibition space: "And what is Dumas crying about? Dumas is crying because Dumas has tears."
Imprint
| | |
| --- | --- |
| Artist | Veronika Ivashkevich |
| Exhibition | I don't wanna wake up from this tonight |
| Place / venue | Krupa Gallery, Wrocław |
| Dates | 10.06 – 31.07.2022 |
| Curated by | Anna Stec |
| Photos | Alicja Kielan |
| Index | Vera Zalutskaya Veronika Ivashkevich |
See also