Uncanny Simultaneity of Intimacy and Distance. Tobias Zielony in Conversation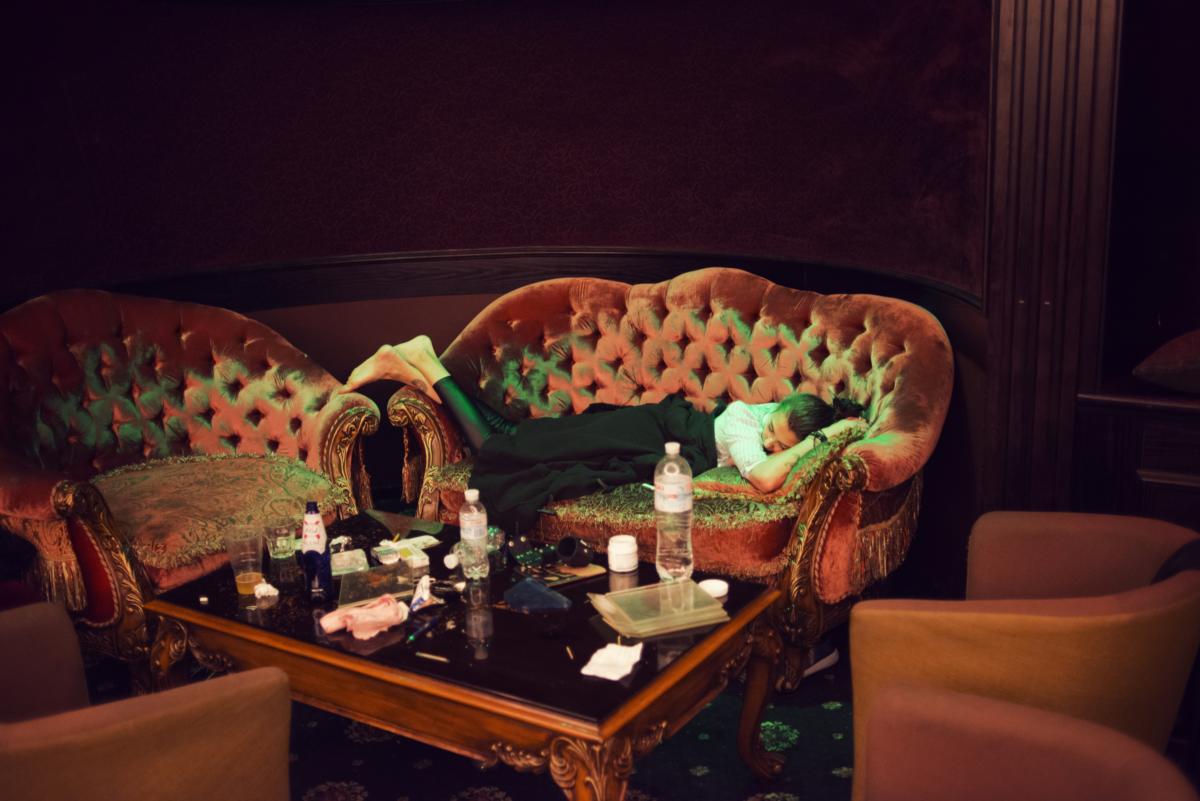 I think it is problematic that most documentary works try to create certain images, often signified by anxiety, distress, poverty, and all these things. But from my experience all the places I've visited are quite different. When you look at a situation from the inside to the outside, and not the other way around, you realize people are not anxious 24/7
Dobrosława Nowak: Your photographic project "Maskirovka" was realized in 2016 and 2017 in Kyiv. "Maskirovka" means "masking". In the military field, it indicates a doctrine developed in the Soviet Union since 1920s, based on measures of camouflage, denial and deception to confuse the enemy. Recently, the term has been used to indicate Russian policy towards Ukraine, the military operations in Crimea and the hybrid state of war, never officially declared, which followed the protests of the Maidan in 2013 and which are still ongoing. In the series of photographs you investigate the life of young people in Kyiv during this time, especially their relationship to the techno and queer underground scene, in the context of the current Ukrainian crisis. How long did you stay in Kyiv?
Tobias Zielony: Not long at all, I was only there for two months.
Did you make any meaningful friends?  How did you feel about your time spent there?
If you look at the photos they are so intense that a lot of people wonder how I could make them in such a short period of time. I became close friends with Tasia who helped me a lot with the project. She's in the video, on some photos you can see her in the background. She also came for the opening of my work at the Museum in Wuppertal, Germany. So far I haven't been able to go back to Kyiv yet because I've been too busy. I've been planning to go back for a while, and I would like to show the work there too even if it's just in a club or place like that.
What was your role in their community?
I was older than most people. Actually, I think I am older than all the people in my photos. They said: there is an artist and photographer. At first I came with Tasia and through her I met more and more other people. For a little while, I became a part of the community. I made two parties myself where people came by and later I photographed them and after a few weeks I became their friend. People wanted me to be there, to take photos, when they did something. Obviously, since I'm not living in Kyiv, it didn't last like this forever. Mostly through Instagram I now stay in touch with the people I met there. They see what I'm doing and I see what they do. On my phone I see the people from Kyiv everyday, but I wish to go back as soon as possible.
It's not the first documentary project you have worked on. You are known for photographic depictions of juvenile minorities in suburban areas. After your first project "Behind the Block" (2004) you extended your research to four European cities, to observe adolescents in public spaces. Photographs referred to migration, drug abuse, sexwork–as in "Big Sexyland" (2006-2008) and "Jenny Jenny" (2013). For "Manitoba" (2009-2011) you spent time with adolescents of indigenous origins, living in Winnipeg and the province of Manitoba, Canada. In the "Trona" series you photographed a derelict landscape that is home to an economically disadvantaged population. In "La Vele di Scampia"(2011-2012) in northern Naples, you documented z futuristic housing estate, designed in 1970 and its present occupants. "The Citizen" (2015) dealt with the life of African refugees in Berlin. The project was then presented in the German Pavilion at the 56th Venice Biennale. For "Maskirovka"(2016-2017), you integrated with Kyiv's LGBTQI scene.

(T. Z. is trying on the rabbit and teddy bear filter from Facebook app)

I will ask you about it later. (shared laughter) There are many aspects of your work, but is there anything that they all have in common? Besides that they are all about marginalized, young people?
For a little while, I became a part of the community. I made two parties myself where people came by and later I photographed them and after a few weeks I became their friend. People wanted me to be there, to take photos, when they did something.
First of all, I don't think that they are documentary projects. I wouldn't use this term. It is used a lot to describe my work because it has a lot of features from the documentary field. I use a camera, I go to a foreign place and my work is often related to bigger political issues. But I think that the way I work, and the way I show my work, is questioning the documentary idea and going way beyond it. There were a lot more projects you didn't mention, in Germany and France, in Poland, England and so on. In the late 1990s I was really thinking that there are common issues and things that the people themselves couldn't see at the time, when I started. There was a connection through pop culture in general. I was wondering what links the lives of these young people in very different places. They had similar kind of dress-codes, shared gestures taken from films and music videos. Where was this coming from? And what were the political and economical dimension of those developments? Now we are very used to it or just call it simply globalization.
So we're used to the common language fashion today?
Absolutely! When you look at Instagram, the fashion of some young people in my hometown in Germany–these kind of cool kids–are more or less the same as in Kyiv, Riga, or in London. There is this kind of instant link now and people look at what others are doing in real time. When I started in the nineties, it wasn't so much like this. Politically it was the time the social-democratic model finally collapse in the western world, working class communities started to disintegrate in terms of identity and a shared political will, instead consumer culture took over. For me. something similar happened in countries like Poland and Ukraine, just a lot faster and more violent.
In the album "Maskirovka" published recently by Mousse Publishing you interview four current inhabitants of Kyiv: Tasia, Vicky, Maria and Natasha. What they say seems very logical, but I sometimes find it internally contradicting. I feel that there is an urge to take rational control over a situation that hardly allows it. Do you think that for them creating a second reality of an EDM scene is a psychologically efficient way to cope?
I don't believe in one reality, rather in lot of them. I would say these people create their own world somehow. Of course it's also a way of coping with the violence and crisis. At the same time it is way of resistance to what's happening. I think it's a weird mix of party, hedonism and political activism.
I'm asking because people on your photographs seem so relaxed. Melancholic, but not anxious. Is it your choice, or is it the way you see them?
I think it is problematic that most documentary works try to create certain images, often signified by anxiety, distress, poverty, and all these things. But from my experience all the places I've visited are quite different. When you look at a situation from the inside to the outside, and not the other way around, you realize people are not anxious 24/7. There can be normality even in the most dangerous or precarious situations. You might have a general deal of instability or uncertainty, but we still try to have a life. I think that's what's confusing to a lot of people because it doesn't fit into what they think they already know.
I agree. So you contradict the popular view on documentary photography, but you approve your idea of making it?
No, I disagree, I'm not a documentary photographer. To be political means to decide on having an opinion, working one way or the other. But I don't want to hide behind some kind of documentary dogma. I'm putting myself out there and I try to be as true as possible to what I experience. And I feel some kind of responsibility to the people that I photograph because they can identify with my images and video works. I don't want to do something that they would totally disagree with.
Are you familiar with the psychological term "gaslighting"? By using persistent denial, misdirection, contradiction, and lying, it attempts to destabilize the target and delegitimize the target's belief. This tactic of manipulation usually ends up in severe mental disturbances among victims. "Maskirovka", as a military tactic, presents a very similar kind of emotional abuse.

In your interviews with Vicky for example, a psychotherapist, she compares the present political situation to "sitting at home, witnessing the end of the world and feeling nothing, because, you have already gone through this hell before". She says: "You think, here I have my heater, here I have my rifle, that's it, I will drink tea and see it happening". She says that her clients describe the sound of a shelling as an alarm clock to wake them up. She confirms that post-traumatic stress and exhaustion is already omnipresent among her clients, especially in Kyiv. Tasia mentions a couple getting engaged at the party, and other people entering with guns.

You already said that you don't think that there is one reality.
That's a very complicated question because we as artists were the ones who kept on proclaiming that there is not one reality, that there is no clear boundary between fiction and reality. Especially as photographers, we are operating a lot on the borderline between these two worlds. The problem is that politicians and parts of the media have themselves started to blur this distinction. So, in a sense, we as artists or as responsible political subjects should try to figure out some kind of shared idea of reality, what is actually going in the world, and don't leave it to the authorities and powerful private companies. It's a complicated situation. Trump, Putin and Berlusconi, all these populists and autocrats use tactics you could call "gaslighting" or "maskirovka" maybe.
How do you perceive the mental stability of the people in your photographs? Actually, of the people whom you've met there? I don't know if you can judge it, I think it would be so much easier if the situation was clear. It's hard to find any semblance of "normality."
I can give you an answer even if it's not to your question. I think the problem is that educated or sensible people are more aware of ambiguities and contradictions, they don't simplify things easily. This can make you feel powerless since you know there is no clear right and wrong, no black and white. At the same time, fascism might appeal to people who have a desire for simplifications, even of course for the price of believing lies. It's a kind of dangerous mix of ideology and stupidity. And, of course, threat. I mean, even if you know you are wrong, but you are threatened to do, think or say something, it's the same outcome.
Sometimes I feel like a catalyst, not only in a sense of what people tell me, but also what they do in front of the camera. People start acting, or performing. It's way beyond what I would call observing, it's kind of interaction and creating something new together for the camera.
In Kyiv, you weren't a journalist, yet you wanted to listen to the people's stories. Sometimes, when you go through hard times you just need someone to listen. So when someone like you comes you open to that person, and you easily spill out all the emotions you have.
Yes, that's true. Do you imply, that I'm kind of exploiting this kind of situation or them?
On the contrary. I'm asking if you as a photographer but also as a person were a kind of psychologist for them? In the case of being unprepared, even a kind of a trash bin for unwanted emotions like anger, sadness, frustration.
Yeah, it's a good question. My work can be very intense. Not only because I am listening to other people's stories. The difference, however, is that since I'm not their best friend, I can also go out of the situation at some point. So I'm going home at some point. It's a bit like a psychologist who has to learn how to keep up a boundary to protect themselves. I try to make myself open but I also need time for myself, to spend alone and so on. Sometimes I feel like a catalyst, not only in a sense of what people tell me, but also what they do in front of the camera. People start acting, or performing. That's actually what I'm interested in. It's way beyond what I would call observing, it's kind of interaction and creating something new together for the camera.
I've recently researched artists such as Józef Robakowski and the Workshop of the Film Form. Their works didn't have exactly the same meaning in the time of communism which they have now, in the light of less oppressive times, when we are more distanced to it.
Oppression is coming back, in Poland and many other places.
That's true. When you are inside a difficult political situation and you make art, it gives you relief. But if you look at the same situation from the outside, it may seem very intense, even suffocating. How do you see your project in that light?
I think your observation is very interesting. If you create some kind of normality within an oppressive situation let's say through art, or parties for example, it doesn't mean that you ignore the political circumstances. But when you look at it from the outside or back into the past, you might lose half that  perspective. I know a woman who worked in the GDR for the cultural radio program. She said: 'When we were doing stuff in the eighties, people at the radio were listening to every word we said, because every word could have meaning, it could mean resistance or opposition. Now, we can say whatever we want, but nobody listens really.'
Are you often compared to Nan Goldin?
Yes. I wouldn't say compared, but I'm often put in this line of people: Larry Clark, Nan Goldin, Wolfgang Tillmans. Since I love all their works, I'm very happy with it. But there are others, like the work of the German photographer Michael Schmidt that I love a lot and that had a big influence on me. He was a Berlin based photographer who sadly passed away four years ago. There are some photos in the "Maskirovka" work, that actually are probably the closest I have ever been to Nan Goldin, in terms of imagery and subject.
She also had an exhibition in Milan a few months ago, did you know?
Yeah, she probably has exhibitions all the time, everywhere. I know she had one in Triennale. I grew up with her photos, she was very influential. I think the main difference is that she was a actual part of the community. She photographed her own friends mostly, for a long time.
I think that her objective was to be very direct and intimate.
Yes, her work is more direct, less distant on some levels. I made a long interview with Nan Goldin for Camera Austria magazine. You can find it online. She was working in a very different period of time. And really revolutionized many aspects of photography. Photographers, especially male photographers hated her for what she was doing.
Maybe for me the camera is also a tool of protection. You could even say I'm hiding behind it sometimes.
During the conversation at the opening of your exhibition in Lia Rumma in Milan you said two things: that "camera gives you both intimacy and distance" and that "masks are showing and hiding at the same time." Could you elaborate?
This uncanny simultaneity of intimacy and distance is something that people have observed about my work. Maybe for me the camera is also a tool of protection. You could even say I'm hiding behind it sometimes. And masks are similar in a sense–they hide your physical face, the skin, and at the same time, they show another face. Masks can provoke very disturbing emotions. With a mask you have some kind of presence, but it's almost ghost like. It is very different to photograph a person with a mask and one without a mask. But they are also just to protect people against tear gas or recognition by the authorities for example. A lot of people have a good reason to wear masks in certain situations. Even if it's make-up or sunglasses. I think the idea of masks and "Maskirovka" was very productive when working in Kyiv. There are some pictures with actual masks, but it's the notion of maskirovka and masking that runs through the whole project.
Why is it so hard to get to you? No site, no emails online, Facebook account under different name. Are you hiding because of popularity?
I'm not hiding. When I started a long time ago I decided not to have a website for some reason. A lot of young people reach me though Instagram nowadays. They find me on Instagram and they write to me. People also get to me through the gallery. It's already a lot of people and I have no time to react to all the requests. Maybe I'm hiding, but if you really want to find me, I think it's possible.
Imprint
See also