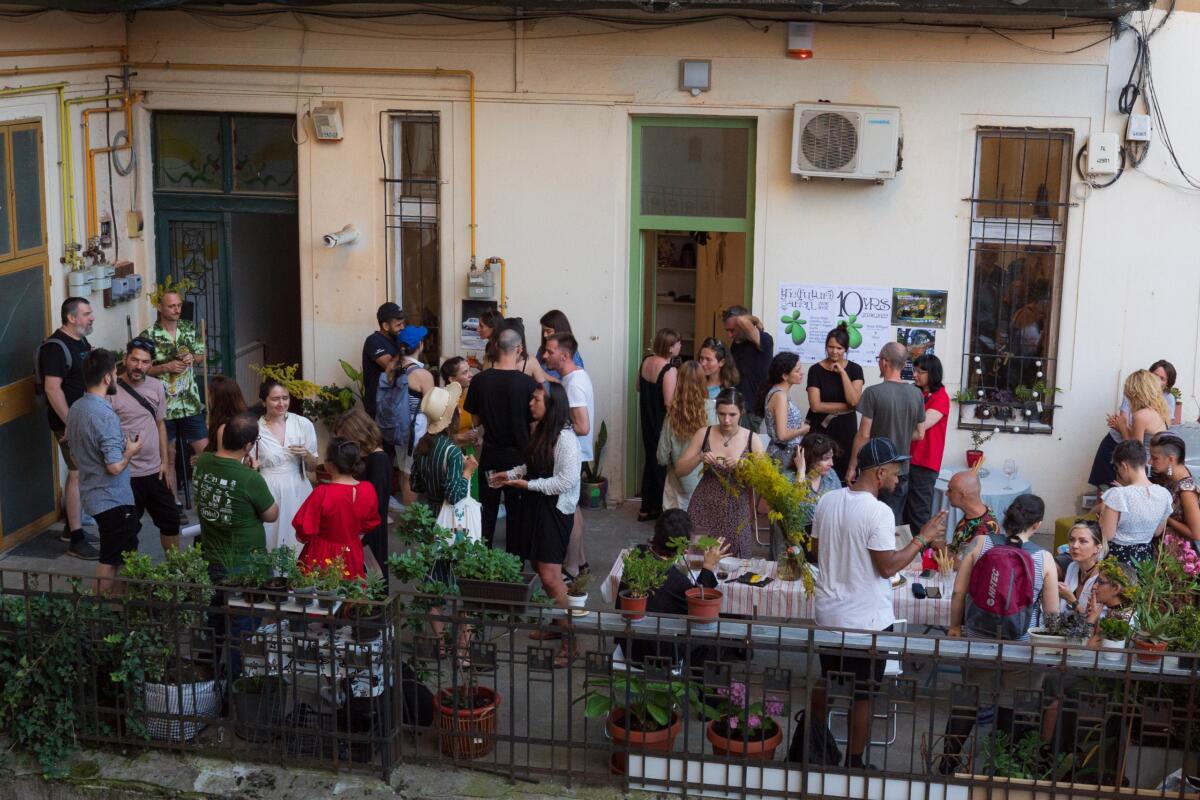 The Q&A column began in July 2020 as a platform devoted to the independent, artist-run spaces and projects, or otherwise difficult to define initiatives that exist across East and Central Europe. It is a space devoted to platforming the critical and often under-recognized role that these projects, collectives, spaces, and people play in the biome of the contemporary art world. [#Off Space Q&A]
Indecis is an independent art space in Timișoara, Romania, founded in 2020 by Mimi Ciora and Sergiu Sas. It is a non-profit organization with a voluntary board, run by an artist and an engineer, that aims to promote and create dynamic relationships between art and artists through exhibitions, new commissions, publications or other cultural events. Indecis lives in symbiosis, sharing the same location with The Secret Garden bookshop and Minitremu NGO.
***
https://www.facebook.com/IndecisArtistRun
https://www.instagram.com/indecisartistrun/
Was it a good idea?
We are still undecided about that. But now that we are in it, it's not easy to just stop. 
Who/what has held you up?
The connection between us. We are partners (aka wife and husband) also in our personal life.
Is there a limit?
We are defining our own limits all the time, but always try to push for more. Not always succeeding though, but it's fine, we are only human.
What do you need?
More time, more energy, more comic books, more plants, more cats. 
What has been given and what do you take?
Not much has been given, materialistically speaking. Maybe we should be happy/grateful for the affordable, rented apartment in the city center where our space is located. Other than that, we take (read: work hard for) everything.
Is it sustainable?
Financially speaking, no. Sometimes we do have financed programs/exhibitions/whatever and that helps of course. But most of the time we contribute with our own resources. Mimi teaches art to children, mostly drawing but other things too. Sergiu is also an engineer and has a full time job at an IT company. 
What is the shape?
It's a three room apartment in a historical building in the city center. Indecis occupies two rooms while one belongs to our friend and partner, The Secret Garden Bookshop. We also have a large terrace where we sometimes throw parties (thank you neighbors for not calling the police!). And there's also a kitchen where we cook mostly vegan food, and make dinner parties for friends, or artists that are in or passing through Timișoara. And yes, we know that "historical building" and "city center" sounds a little posh. But the truth is that it was a combination of factors that brought us here, the most important being the lower than the average rent. We were previously involved in another artist-run space which was located towards the edge of the city and we were happy there too. 
Does it fit?
I guess it does. There are not many independent spaces in Timișoara, a rather surprising fact for a city that will be the European Capital of Culture next year. We are filling (or trying to fill) a void and a need for such a space, where younger artists with less visibility can exhibit.
Future or Past?
We were almost tempted to write some words of wisdom like "one must know the past so it can shape the future", but since we are die-hard sci-fi fans, the answer is probably the future. With no other explanation.
Kin?
Our flatmates, The Secret Garden Bookshop and our neighbors Minitremu. Our friends. Our many cats (seven at home and three at the space). Our plants. Our gut bacteria. 
What do you measure?
The fulfillment we get from our activity. The reaction we get from others. And in the past two years, the body temperature, from time to time.
Digital or physical?
Both. They are not mutually exclusive but rather complementary. Also, digital is an ubiquitous part of our world right now, they are intertwining so much that it feels pointless to draw a line between them.
Why do you stay?
We are asking ourselves this quite often but we don't have a very good answer for now.
Maybe because it's addictive.
Is it enough?
No, it is not. We do not want to grow in a capitalistic sense of the word. But we would like to collaborate more with artists and other spaces, we would like to be able to pay the artists all the time, we would like to not need other jobs, etc.
In acknowledgement of the continuing Russian war on Ukraine: do you have anything you would like to share?
This is such a tragic and big scale event with so many implications all over the world, that we feel that anything that we might say is meaningless. But nevertheless, we express our solidarity with the Ukrainian people and we hope this will be over soon. 
Imprint
See also