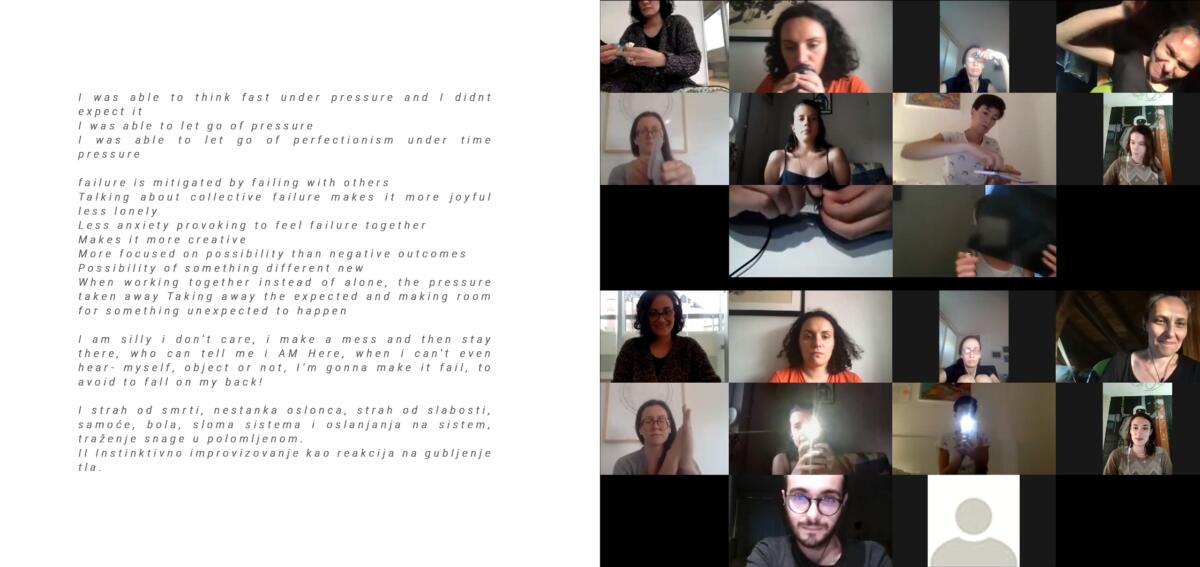 The Off-Space Q&A column began in July 2020, as a way to highlight and connect the independent, artist-run spaces and projects, or otherwise difficult to define initiatives that exist across East and Central Europe. It is a space devoted to platforming the critical and often under-recognized role that these projects, collectives, spaces, and people play in the biome of the contemporary art world. [#Off Space Q&A]



HEKLER is an artist-run platform and transnational community of artists, educators, and cultural workers that foster the critical and experimental examination of hospitality and conflict, merging artistic, pedagogical, publishing, and organizing strategies. Our practice centers collaborative and collective practice in which we explore the role of art in shifting socio-political landscapes and the liberatory potential of cultural work. We weave together transnational feminist positions, knowledges and radical imagination towards life-affirming futures.
We come from a range of geographies as many of us are immigrants, with a collective core being based between the US and Serbia. 



All answers provided by, but not limited to: 
Jelena Prljević, Ioannis Andronikidis, Joshua Nierodzinski, Nataša Prljević 



Was it a good idea?
I don't believe in bad ideas, but rather a process of finding solutions to questions we inherently impose by living within co-created structures. Curiosity feeds growth and deeper understanding of mechanisms we build into meanings that help us feel each other and breathe together. Always learning. 
Hekler was created with the intention to celebrate collaboration and collective work. It is because of the belief in life that grows from community care that we continue to organize, archive, and educate.
Standing for justice, love and revolution is always a good idea. 
Who/what has held you up?
Common-spirited kinships have held me up; common understandings of 'collective' as seen in everyday life have held me up; presence has held me up; writers, artists, practitioners unsettling canonical narratives have held me up; this right now is holding me up.
Fierce fragility of our faces, of people we encounter,  with whom we co-create, with whom we continue feeding the belief in non linear change and collective healing. 
I interpret this both as what has supported and what has restricted our history and growth. I think the answer is the same. Interpersonal relationships. The dynamic relationships we form as we work together is both the glue and guardrails.
Is there a limit?
Encountering the notion and materiality of 'limits', or 'limitations', could turn out to be a useful tool in reevaluating what is to be done. A thought-question that springs to mind as I am writing, bearing in mind the limits set by the margins of this heretofore blank page, for example, is the interstitial relationship between words/language and struggle; the struggle to enunciate, uses of particular words—restrain restrict restriction—demarcating limits to be taken into ac-count: bodies in exile, circles in chalk, full names announced instead of numbers and statistics. Using fewer words: acknowledgement as a polyphonic remedy-praxis to limits. 
Yes, there are many limits; time, money, and sometimes, patience but never conviction that our work is valuable.
What do you need?
We need the support of passionate people.
We need an end to singular genius propaganda. 
We need acknowledgment of collective knowledge as commons. 
We need an end to bullshit jobs.
We need distribution of wealth towards communities and community-centered initiatives.
We need an end to capitalism and war.
We need a just and dignified life for all. 
We need to be prolific, interconnected and interdependent. 
What has been given and what do you take?
Compassion, tolerance and recognition of diverse capacities.
Energy and Love
A lot of time, labor, knowledge, experience, and commitment
Many lessons about boundaries and different capacities to hold space and show up for others.
Is it sustainable?
It can be. It sustains itself in different ways because the value is in constant flux and shifts depending on what gets measured. More voices brings more values and dialogue continues. 
Yes, absolutely. But can it grow?
As long as we can sustain trust and joy in ourselves and each other. 
Depends on the aspirations and the framework of praxis. Yes, as long as we commit to studying and practicing solidarity economy acknowledging that the responsibilities, time and labor invested will be disproportionate. There are no sustainable precarious situations even when there is much passion and shared values. As many workers within arts and culture understand well there is a fine line between commitment and self-exploitation. Collective work often flattens class and power dynamics that need to be acknowledged. All these are relevant questions to take time to unpack, they are contextual and liberating. 
What is the shape?
A series of concentric circles abrading each other: a breathing core, familial kinships, converging affinities, heklerke trans(re)lating ways of being together, instituting an archive of feelings.
A Rhizomatic Quantum Hologram
Does it fit?
Depends on who's wearing it.
It ferments. There are many containers, within and between them many critical connections. Some stay dormant, others continue to proliferate.
Future or Past?
As present uncertainty compulsively belies both past destructions and future finitudes, what if we were to turn to Louky Bersianik's Kerameikos (1987)? To the instability of words, to the continuous rebirth of pluralities, to acts of resistance here and elsewhere, to evocations 'Ruins of the Future', to where "you suddenly become the living presence of voice", to "wait               I have almost forgot the taste of fears". 
Both, but always just the present.
Kin?
We are a family in many ways. Both by blood and by choice.
Fear is collective commons, such is conflict. We cultivate kinship that follows the principles and commitments to understanding the complexity of what it takes to be alive with dignity, as humans and non humans. 
What do you measure?
Got tired of measuring and just stopped at some point. Quite a liberating experience.
The care that we give or deny each other.
Boundaries. 
Digital or physical?
Everything felt becomes physical experience. Digital takes over the control, creates noise and interrupts the space. It's not accessible to many, but simultaneously it gives the access. How present one can be to feel like breathing?
Phygital
Why do you stay?
I need people and presence of other voices to disturb and redirect the linearity of imposed structures in everyday life.  It feels like an urge to contribute to not self-contained narratives and plurality of choices. It's an addiction to challenge that feeds the unknown and celebrates unpredictable outcomes of the relationships we build when collaborating.
Because it is home.
We don't stay, we are invited to move and be moved. 
Is it enough? 
Learning as we go.
Yes, it is enough and overflows.
In acknowledgement of the continuing Russian war on Ukraine: do you have anything you would like to share? *This last question was added in April 2022: 
I believe in peaceful resolution of conflict therefore I am opposed to the invasion of Ukraine by Russia, in the same way as any occupying force, be that Israel in Palestine, China in Hong Kong, the English in America, and America throughout the world. 
As feminists we are against repressive system – war, extractivism, dehumanization, ethno-nationalism, and white supremacy. This also includes Fortress Europe, its cultural and political imperialism. If we are to condemn wars, we need to question individual and collective responsibility in normalizing abuse of power by replicating colonial, capitalist, and patriarchal relations. Art world is a profitable branch of the military industrial complex. Instead of normalizing this, or refusing to acknowledge it when engaging in art and cultural production, we have an opportunity to strategize how to leave and redirect our attention. 
We stand for radical hospitality, sharing, freedom to feel, move, imagine and act towards collective wellbeing.



IG/FB/Vimeo @heklerke 
Referenced in images:
01 HEKLER Medium: War, Memory, Protest. De-Construkt [projekts], Red Hook, Brooklyn. Photo by Fran Tirpak


02 HEKLER Host: Francis Estrada and Ramyar Vala. De-Construkt [projekts], Red Hook, Brooklyn. Photo by Fran Tirpak


03 HEKLER Host: Francis Estrada and Ramyar Vala. De-Construkt [projekts], Red Hook, Brooklyn. Photo by Fran Tirpak


04 HEKLER Residency: Sahar Sepahdari performs in a group exhibition Hybrid Narratives, Hybrid Histories curated by Nadežda Kirćanski at U10 Art Space in Belgrade. Photo by Igor Ripak


05 HEKLER Host: Yugotopia with Dj Drugari. At our house, Gowanus, Brooklyn. Photo by Fran Tirpak


06 Clear-Hold-Build, group exhibition curated by Shimrit Lee, Joshua Nierodzinski and Nataša Prljević. Twelve Gates Arts, Philadelphia. Photo by Sahar Irshad


07 A People's Tribunal: 28 Exhibits, Twelve Gates Arts, Philadelphia. Pictured are performers Hussein Smko, Dena Al-Adeeb, Amina Ahmed, and Maryam Jahanbin.


08 Clear-Hold-Build, image shows artwork by Bisan Abu-Eisheh. Twelve Gates Arts, Philadelphia. Photo by Sahar Irshad


09 HEKLER Host: Sara Wentworth performs at Y Project & Click, Pop, Hiss. At our house, Gowanus, Brooklyn. Photo by Aleksandar Kostić
10  HEKLER Host: Y Project & Click, Pop, Hiss. At our house, Gowanus, Brooklyn. Photo by Aleksandar Kostić
11 Map of Anxiety, Anti-Fear Workshops, Youth Biennial: Common Language, Footnote Centre, Belgrade


12 Jovana Đjajić, Jelena Prljević, Miloš Bojović and Milica Grbić, Youth Biennial: Common Language, Footnote Centre, Belgrade


13 Anti-Fear / Protiv Straha, Youth Biennial: Common Language, Belgrade. 


15  Rebuild, Ljubanje. Reconstruction of old family houses and build of the physical space that will be used to host future Hekler Summer Schools and Residency Programs. Pictured Miloš and Jelena Prljević. Photo by Joshua Nierodzinski
16 Sites of Convulsion, Eurothanasia, 13th Issue Arts of the Working Class. 
17 Bojana Knežević's performance conducted during HEKLER online events organized in support of the group exhibition Among Women: Contemporary Art from Serbia curated by Rachel Klipa.
18 Youth workshop facilitated by Jelena Prljević & Jovana Jovana Đjajić in collaboration with Zeleni talas, Čačak. Kako izgleda kolektivnost čiji deo želimo da budemo? / How does collectivity which we wish to be a part of look like? 
19 HEKLER Assembly 2021: Infrastructures of Care, Publication cover designed by Jelena Prljević 

20 HEKLER HOST: Visit to Kadinjaca Memorial Complex during 2019 artist residency in Užice, Serbia
Imprint
See also