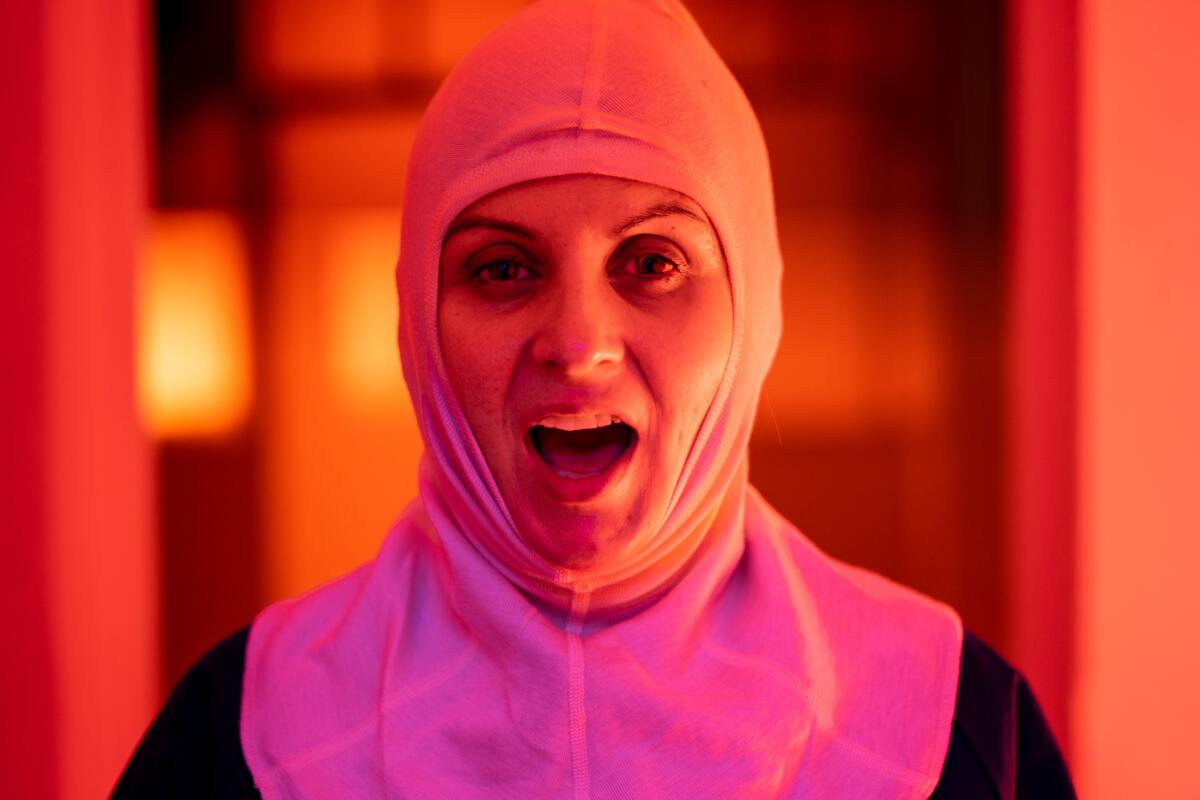 A Polish art critic once wrote after their visit to Arsenal Gallery that Bialystok is "still a day trip". I must admit that it is only since I moved to Podlasie that I have been wondering about the people who live here. What is not visible from the center? Is there anything going on here in the field of contemporary art other than institutional exhibitions? And above all, what is the artistic community of Podlasie; who are they and where do we find them?
The project "Vacation from Hell", directed by Katarzyna Hertz, is based on a network of regional relations (human and inter-species). This sensorial work was staged across three days and premiered in the cool (during very hot days), post-industrial building which is a former power station. Katarzyna Hertz's work is an experience more reminiscent of participation in a film set than a visual arts space. There are no objects carefully arranged in the space or intellectual puzzles adorning the walls. A map placed at the entrance to the gallery directs you to the places where particular rituals are performed. Participants can move freely between the stations and experience the treatments offered, becoming a part of the creation. A few small yellow dogs wander throughout the exhibition space. The monumental main hall is filled with dry mulleins and the filmic effect is intensified by the spotlights with color filters scattering red, orange, blue, or purple light into smaller, peripheral rooms.
Performed by people dressed in costumes reminiscent of habits, we can take advantage of many different rituals and treatments. In the main hall there is a frame of a sweat lodge and a workstation of a manicurist who will perform beautifying treatments on our nails, including adding acrylic tips. At the entrance we pass a brewer, sweating, with labored movement, pouring a mysterious beverage into many different containers in a soothing, rhythmic loop. We can also take part in a meditative yoga session to the rhythm of relaxing music. The small room, filled with blue light, is full of the smell of cut lilies. The most pleasant experience is probably an intimate, poetic, ASMR sound massage, during which the healer "discovers your inner plants" and teaches us to look after them. The most energetic element of this project is the tuner – a strange nun who taps her heels, sings, makes animalistic noises and interacts with visitors. Traditional burial rituals, which are still carried out by at least one local whitch for a large fee, is represented here by a grave-like mound of earth, into which the gently moving windmills were stuck.
The co-creators of "Vacation from Hell", who lead us through the various elements of the project, are to a large extent the people with whom Kasia Hertz is connected with in Podlasie. The artist's family comes from the region, her grandfather was born in Lida – a town located within the borders of today's Belarus – graduated from schools in Vilnius, where the part of the family remains. Hertz has lived in Podlasie for over three years. "Vacation from Hell" is a part of the process in which she tries to better understand and identify with the regional culture. She came here from Berlin – as she says – in search of her own history and identity, tired of existing in a crowd of similarly uprooted people, desperately trying to fit in with the invented standards for artists. She claims that by abandoning the world of overstated ambition, rivalry, excessive rent and winter weltschmerz in favour of rural life, closer to nature, she has gained an immense amount of creative and intellectual freedom. In Podlasie she has met people from both within and outside of the relatively small artistic community. Localness is a critical aspect of "Vacation from Hell". So painter Justyna Kisielewska from Narewka, a graduate of Poznań University of Arts, plays the role of the brewer. The tuner is Natasza Topor – local shaman, singer and music producer. Choreographer Ewa Hubar is responsible for the dream opening session in turns with poet Michał Łukaszuk, both are from Białystok. The meditation is led by Magda Siemaszko, an activist and anthropologist who has recently moved to Teremiski near Bialowieza. The yellow dogs also came to Bialystok with Magda. The sound massage is performed by multimedia artist Weronika Lewandowska. Hertz works intuitively, allowing for the creation of natural relations between the invited performers. She focuses on sisterhood – the project is co-created almost exclusively by women, and the subjectivity of each of them is an essential part of the whole.
The performative situations do not have the feeling of being directed, which creates the pleasurable experience of being involved rather than the more oppressive force of being a participant. It is up to us, the extent to which we engage. Refrigerium, as Katarzyna Hertz and Olga Cielemęcka call the exhibition in the accompanying text, is a place of temporary consolation. No one needs to be convinced that we need consolation after these past few months. The outbreak of a pandemic, quarantine, economic uncertainty, attempts to restrict civil liberties, elections, domestic violence, further attacks on the LGBT+ community; sometimes it is only when they let us rest that we begin to realize how tired we are. For the first time in a long time I feel like I am taking part in a project that seems to have been created with the user in mind. You are welcomed into a temporary community and are allowed to breathe. When was the last time you really relaxed during a contemporary art exhibition or, even more difficult, during the vernissage? The only film presented in the exhibition can be watched by taking a seat on comfy pillows. Through a narrow frame, a little girl with markers, paints on the body of a woman lying in a garden. You can see only the next shapes appearing on the skin, you can hear bits of carefree conversation. Similar to the overall experience of the project, watching this piece results primarily in the effect of relaxation.
The possibility of an experience that elicits an authentic response is due to its peripheral location. In Białystok, the artists and the audience have managed to achieve something that wouldn't have been possible on an art scene like the one in Warsaw. The concept of creating this kind of space may be rooted more in something like the newly created regeneration site for activists in Teremiski, where Hertz, accompanied participants of the "Camp for the Forest", who were protesting the deforestation of Białowieża. A similar approach could also be seen in the project "Żyjnia" which was exhibited in the Design Gallery of Wrocław's BWA. However, the sleek aesthetics produced by BUCK studios were a stark contrast to the apocalyptic vibe of Galeria Arsenał.
There is a concrete reason why the esoteric present here does not become unbearable. The project, although it refers to a cliché portrayal of the region, is full of irony, a sense of humor, and references the state of the global world. "Vacations from Hell", despite all inspirations, does not romanticize Podlasie. The seemingly incompatible orders are mixed here: the spa, the beauty salon, a post-industrial space, yoga studies, regional mystical practices, and news from international media. After all, the manicurist is not a figure belonging to local mythology. She will only do one nail and place a warning sign on it, for example, "toxic substances" or "imminent danger". After meditating for a while, we realize that the sounds of the background music also include excerpts from statements by Greta Thunberg, Donald Trump and Arnold Schwarzeneger…..
(…)
It's untrue. I like the truth.
I just try to ignore it.
You only work well when You really work Your ass off.
We have it totally under control.
We just have to motivate everybody.
This is people's issue.
So… it's gonna be just fine.
The consumers have never been so rich.
We have tremendous potential.
I wanna know who are the people that buy.
I wanna know who are the people that buy.
I want this dollar to be strong. I want it to be so powerful. I want it to be great.
It is like… too much impressions. Too many impressions.
I want to take a few steps back.
(…)
Here, a sweat lodge is just a skeleton, a promise. We do not participate in this cleansing ritual, although the artist knows how to perform it. The smell of lilies can also be associated with a funeral parlor, and the costumes of nuns can also have strong associations with oppression. Even the beverage spilled into the cups by the brewer overflows, and through holes in the table it is collected by a clear container underneath, leaving the viewer with an impression of oversaturation. The dreamy atmosphere created here, detached from everyday life, was infiltrated by fragments of the global reality, combining with elements of the local world and its imaginations in seemingly absurd constellations. This dimension of the event was also connected with manifestations of pandemic reality. The healer sits behind a huge plexiglass window and the staff and participants move around the gallery in masks that cover their faces.
Although Herz, in conversation, refers to Podlasie as a timeless place, it is precisely its location in the present that is the value of the whole undertaking. Two decades ago Dipesh Chakrabarty explained in "Provincialization of Europe" how historicism, based on the ideology of development, has enabled European domination over the world. He positioned modernity as globalization over time, as it began in Europe and then spread beyond. Other places in the world later produced versions of the same narrative based on a structure that was "first in Europe and then elsewhere," replacing Europe with a locally constructed center. Here, the inhabitants of the provinces were assigned a place "elsewhere" in this temporal structure, considering their practices of life anachronistic. One of the researchers quoted by Chakrabarti called it "the denial of simultaneity". The strength of "Vacation from Hell" meanwhile lies precisely in the acceptance of the simultaneity of the existence of Donald Trump, Greta Thunberg, and the gardner, preacher, and tuner, who are not seen here as remnants of the past but as equal subjects of the present, where a biography that begins with the words "shaman and music producer" is possible. In his well-known book, Chakrabarty also argued that gods and other supernatural forces steer the present through practices of so-called "superstition", and are nowhere near extinct. He argued that they are existentially contemporary to people and that the question of being human includes the question of coexistence with them. These rural, secularized practices, which recognize the work of supernatural forces, are simultaneously exposed by Hertz who links them to current events of global politics, preventing them from being inscribed into a romantic narrative of a return to an idealised past. Instead, she creates a network of relations in which Arnold Schwarzenegger and Podlasian whisperers exist side by side.
The practices of a community, of building local relationships, and care, may give hope in such apocalyptic circumstances, but the artist does not try to prove that local rituals are an alternative to global lifestyles. It is difficult to say if Hertz wants to convince us that we can learn something from Podlasie. In a process that is stretched out across time she rather seeks ways of communication between different communities. So we can rest here for as long as we want, but we will be constantly made aware that escapism will not solve our problems. "Vacations from Hell" does not let us forget that the possibility of escaping from global threats in magical Podlasie is an illusion. It offers, as the artist writes, only temporary consolation. Well, anyway, I'm grateful for it.
I would like to thank Kasia Hertz and Magda Siemaszko for the talks that helped to write this text.
Imprint
See also