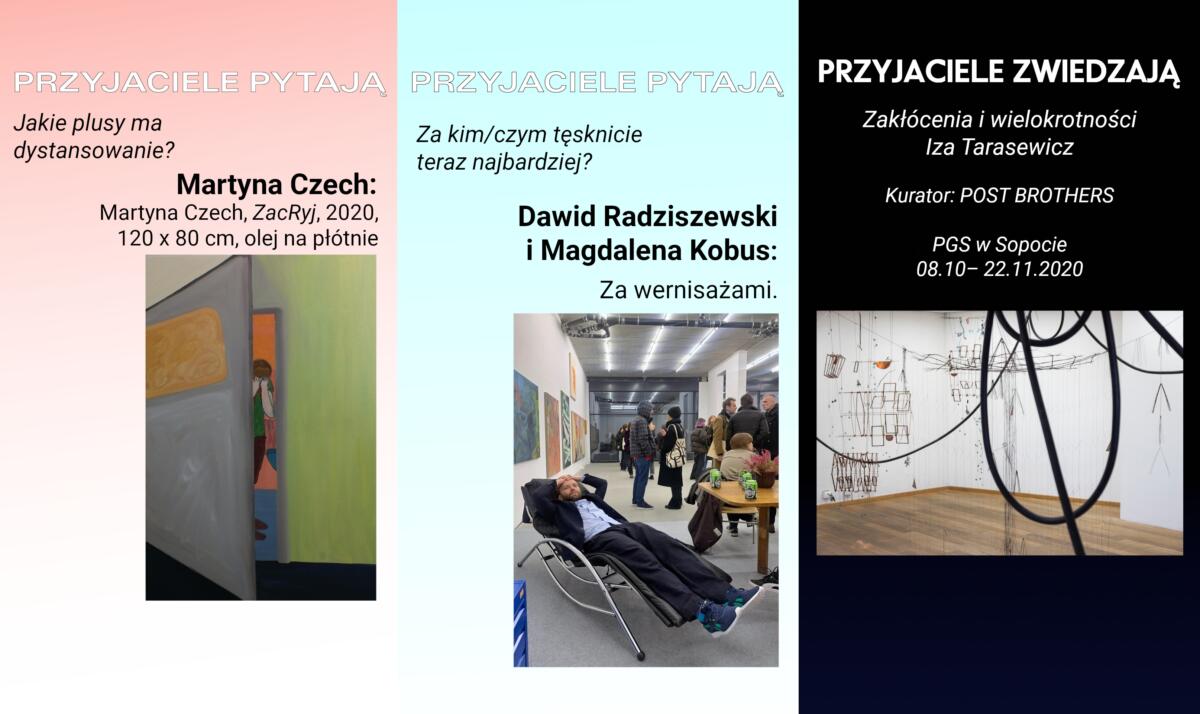 The year 2020 has already been given many epithets including "challenging", "uncanny", "unprecedented", "precarious", "troublesome" and "uncertain". We are all aware that 2020 has been especially cruel to artists around the world. We also realize that this is not the first, nor the last challenge that the artistic communities will have to face – it appears that the year 2021 won't be any easier. In order to promote mutual collaboration and to emphasise the importance of supporting the arts and the artists during and after the COVID-19 pandemic, we decided to ask art collectors, art supporters and representatives of public and private institutions from the Central – Eastern European region, about their initiatives and elements of their programming aimed at supporting the local art scene. To spread the news on how we can help each other, these responses will be published gradually in an ongoing column at BLOK. We hope that some of the statements and the models presented will encourage our readers to think about new ways of supporting the arts or adapting the existing ones to different contexts.

For the second iteration of our "New Realities" column, we asked Helena Czernecka and Maria Blasie Prokesz, representatives of the Friends of the Museum of Modern Art in Warsaw to the describe their activities.

To see all contributions follow the hashtag #NewRealities.

Ewa Borysiewicz
***
Maria Blaise Prokesz
Friends of the Museum of Modern Art in Warsaw, Coordinator
As Friends of the Museum of Modern Art in Warsaw, our two main goals are supporting the Museum financially and building a community of philanthropists, collectors, artists, and art-lovers. In 2020 we especially focused on maintaining close bonds with our members and promoting artists' activities. Of course, we still supported Polish artists financially by selling artist editions and supporting the growth of the Museum's collection, but here I would like to focus on the community-building and educational aspects of our initiatives in 2020.
Our first project was "Przyjaciele pytają" (Eng. "Friendly Queries") – a series of interviews with our members, Museum staff and curators, and artists. This initiative was particularly significant at the beginning of the pandemic as we were creating a platform for people to share their strategies of coping with the situation or promote their work. Within the questions, we aimed for a balance between funny or comforting – asking about their everyday heroes or recipes for comfort food – and creating a medium where our interviewees could promote their activities or initiatives like webinars and online exhibitions. We have been publishing the interviews on our Instagram stories, so they are available in their entirety for 24 hours, and then we pin some of the answers to highlights creating our own Frankenstein's monster of advices, recommendations, and invitations.
We also formed a partnership with "Adres prywatny" (Eng. "Private Address"), a photography project created by Cezary Wierzbicki, which explores the relationships between artists and their studios. In order to give visibility to artists, their workspaces, and creative processes, we have been featuring one online studio visit a week on our Instagram stories. Apart from helping artists gain visibility, the project illustrates how integral and fascinating studios can be in the context of considering an artist's works. The primarily visual nature of the project offers the viewers an enjoyable aesthetic experience; though the project always provides an opportunity to find out more about specific artists or their creative processes as well.
Towards the end of 2020 we started a new series of interviews – "Przyjaciele zwiedzają" (Eng. "Friendly Visits"). This series is primarily aimed at showing exhibitions hosted in not-for-profit foundations or state institutions that have been cut short, or sometimes never opened, because of the pandemic. We show them through the eyes of their creators – artists and curators. Together, we structure the interviews like quasi-tours, interspersing written answers with as many visual materials as possible. In the past, we have been rather focused on conducting projects in Warsaw – "Przyjaciele zwiedzają" is an initiative, whose secondary purpose was to allow us to step out of the city and bring attention to Polish contemporary art shown elsewhere. Even though art institutions have now reopened, we will continue the project to fulfil that goal and raise awareness amongst our Warsaw-based members about exhibitions outside of the capital.
Working primarily through social media such as Facebook or Instagram and growing our presence there, has allowed us not only to stay in touch with our members but also find new audiences, who might be interested in finding out more about contemporary art or supporting artists and the Museum of Modern Art in Warsaw. Over the past year our social media following has grown by about 1500 followers. Although we have not had the opportunity to measure this growing engagement during live events, in 2021 we will continue all three of those initiatives online and hope that soon we will be able to organise similar community-building events live.
***
Helena Czernecka
Friends of the Museum of Modern Art in Warsaw, Board Member
"Fundusz Szybkiego Reagowania" (Eng. "The Rapid Reaction Fund") was established by the Museum of Modern Art in Warsaw during the first lockdown in 2020. It was an attempt to support the artistic community affected by the economic crisis caused by the COVID-19 pandemic. The museum's curatorial team selected the works, and the funds were obtained from private donors. It was essential that the structure of the fund allow for a quick reaction, which this abbreviated purchasing system offered. Adding works by mainly contemporary female artists to the Museum's collection was an additional positive result of the endeavour. I hope the good practice of supporting artists and cultural institutions will become a tradition extending beyond times of crisis.
***
Museum of Modern Art in Warsaw is a public cultural institution brought into being in 2005. Since 2008, the Museum's headquarters is located on the ground and first floors of the residential building at ul. Pańska 3 across the street from the Palace of Culture and Science in central Warsaw. Apart from the Museum's offices, the site includes a multifunctional space, used for exhibitions or as an auditorium or cinema, depending on the current program. The Museum opened its new exhibition space (called "the Museum on the Vistula" to differentiate it from the Museum's headquarters located on Pańska St.) in the spring of 2017. The Museum on the Vistula is located in a pavilion designed by Austrian architect Adolf Krischanitz. The new Museum building is currently under construction on the northern side of Plac Defilad, on the west side of Marszałkowska street. It was designed by the New York City-based architecture studio Thomas Phifer and Partners. The four-story building will have a total area of ca. 20,000 sq m (ca. 213,000 sq ft), housing not only exhibition spaces but also educational areas for lectures and workshops, conservation and restoration workshops, a cinema, an auditorium, a café, and a museum shop.

Friends of the Museum of Modern Art in Warsaw is an association registered in 2009, shortly after the Museum's first building at Pańska 3 was opened. The Friends have directly supported selected purchases of artworks for the Museum's collection or supplemented the Museum's fund required by the Ministry of Culture and National Heritage. The association's first purchase is Andrzej Wróblewski's drawing "Muzeum" (eng. "Museum"). We have also aided financing the purchases of artworks by Zbigniew Libera, Goshka Macuga, Mirosław Bałka, Lynette Yiadom-Boakye and Mikołaj Sobczak. Working with "Friend of a Friend" Warsaw we have created the Friends' Art Fund, through which the association acquired works by Sean Mullins, David Flaugher and Shana Moulton. Together with the artists working with the Museum, the association also publishes and sells artists' editions thus fulfilling the statutory goals of enhancing understanding, interest, and education about modern art. The Friends of the Museum work towards creating a group of philanthropists, collectors, professionals and specialists around the Museum and facilitate an exchange of experiences and knowledge between collectors of contemporary art, advisers and other actors active on the arts market.
Imprint
See also