[EN/PL/DE] Magdalena Abakanowicz and Günther Uecker at Albertinum and MNWr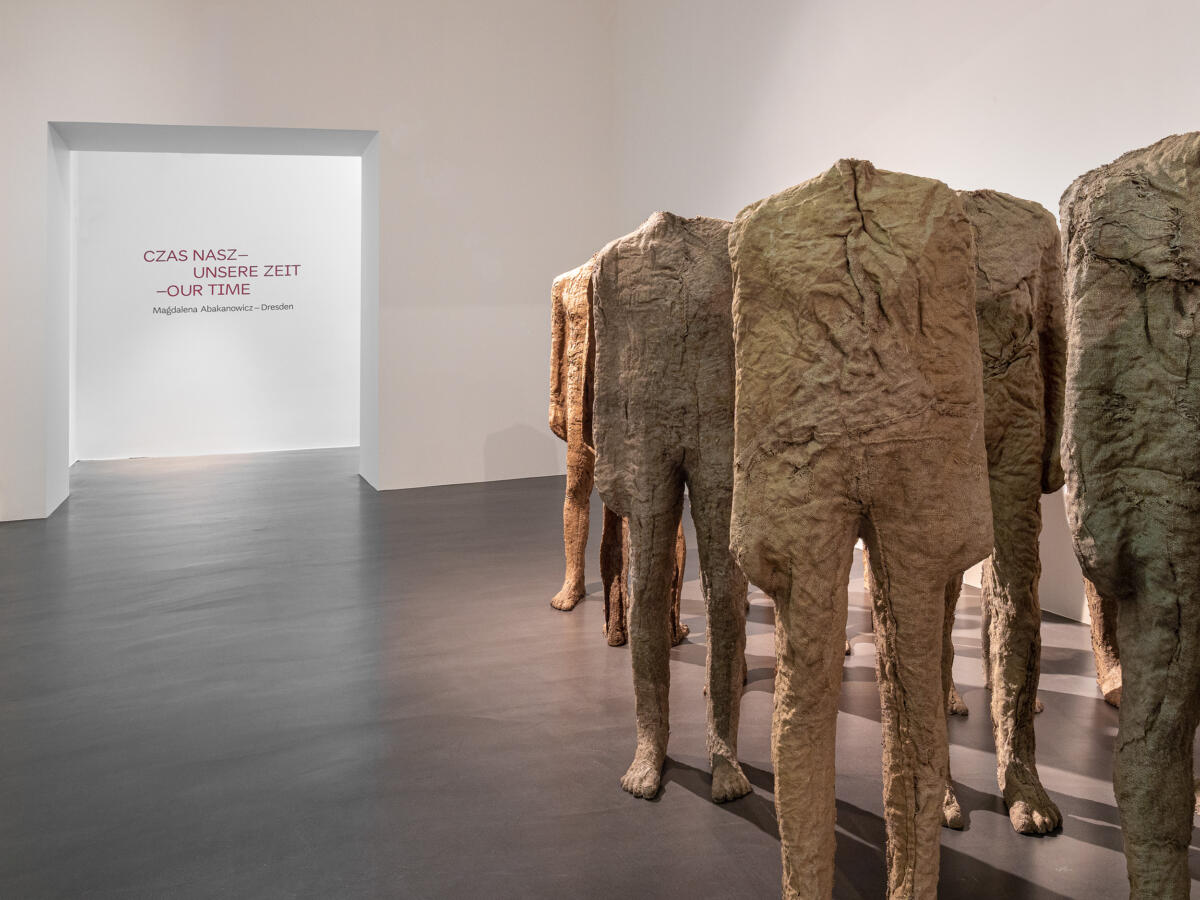 [EN]
The sculptural work of Magdalena Abakanowicz († 2017) and Günther Uecker – both born in 1930 – almost invariably examines existential questions. In addition to bringing together works by the two artists, the joint exhibition "CZAS NASZ — UNSERE ZEIT — OUR TIME" simultaneously unites the partner cities of Wrocław – home to the world's largest Abakanowicz collection – and Dresden, where a catalogue of works by Günther Uecker is being drawn up in cooperation with the Düsseldorf-based Uecker Archiv and with the support of the Franz Dieter und Michaela Kaldewei Kulturstiftung.
Whereas the first floor of the exhibition at the Albertinum will focus on textile sculptures by Abakanowicz taken from the holdings of the National Museum in Wrocław (MNWr), the MNWr itself will present an Uecker installation – a loan from the artist himself – in the Four Domes Pavilion from 25/10/2020 onwards.
Abakanowicz created "Tłum" ("Crowd") – a group comprising 26 figures – between 1986 and 1994. The motif of the group is that of a human figure reproduced to create an anonymised mass of headless beings robbed of their identity. Their lack of chronological context enables them to just as easily be interpreted as a symbol of non-violent mass protest as the insidious disintegration of a humanity condemned to powerlessness. "Crowd" will be supplemented by a second piece, "Klatka" ("Cage"), in which a headless figure is trapped in the eponymous structure.
Günther Uecker has chosen to use the exhibition at the Four Domes Pavilion in Wrocław to present a "Sandmühle" ("Sandmill") – a timeless installation that has continued to fascinate him ever since he created the first version in 1966. The work draws on themes dealt with by Uecker throughout his œuvre: The violation and oppression of humans by humans, their anguish and entanglements, their helplessness in the face of violence and the power of their destructive force.
[PL]
Magdalena Abakanowicz († 2017) i Günther Uecker – obydwoje rocznik 1930 – w swoich rzeźbionych pracach stale rozprawiają się z pytaniami o podłożu egzystencjonalnym. Wspólna wystawa "CZAS NASZ — UNSERE ZEIT — OUR TIME" gromadzi dzieła obydwu artystów i jednocześnie łączy partnerskie miasta Wrocław, w którym znajduje się największa na świecie kolekcja Abakanowicza, i Drezno, gdzie we współpracy z Uecker Archiv, Düsseldorf i przy wsparciu Franz Dieter und Michaela Kaldewei Kulturstiftung trwają prace nad projektem poświęconemu spisowi dzieł Günthera Ueckera.
Podczas gdy na 1 piętrze Albertinum pokazywane są tekstylne rzeźby Abakanowicza ze zbiorów Muzeum Narodowego we Wrocławiu (MNWr), samo MNWr w Pawilonie Czterech Kopuł od 25 października prezentuje instalację Ueckera wypożyczoną od samego artysty.
Grupę "Tłum" ("Menge"), składającą się z 26 figur, Abakanowicz stworzył między rokiem 1986 a 1994. Przedstawia motyw powtarzającej się ludzkiej figury jako anonimowej masy bezgłowych, pozbawionych swojej tożsamości postaci. Bez konkretnego odniesienia w czasie i uogólniając można ją uznać za pozbawiony przemocy masowy protest lub też pełzający rozpad ludzkości skazanej na bezsilność. "Tłum" uzupełnia drugie dzieło o tytule "Klatka" ("Käfig"), w którą złapana jest bezgłowa postać.
W Pawilonie Czterech Kopuł Günther Uecker pokaże "Młynek do piasku" ("Sandmühle") – ponadczasową instalację, którą zajmuje się nieprzerwanie od 1966 do dzisiaj. Praca porusza tematy, którym Uecker poświęca się w swoim OEuvre: Ranienie i uciskanie człowieka przez człowieka, jego cierpienia, uwikłanie i bezradność wobec przemocy, ale także moc jego niszczącej siły.
[DE]
Magdalena Abakanowicz († 2017) und Günther Uecker – beide Jahrgang 1930 – setzen sich in ihren skulpturalen Arbeiten immer wieder mit existenziellen Fragen auseinander. Die Ausstellungskooperation "CZAS NASZ — UNSERE ZEIT — OUR TIME'" bringt Werke beider Künstler zusammen und verbindet gleichzeitig die Partnerstädte Wrocław, wo sich die weltweit größte Abakanowicz-Sammlung befindet, und Dresden, wo in Zusammenarbeit mit dem Uecker Archiv, Düsseldorf und mit Unterstützung der Franz Dieter und Michaela Kaldewei Kulturstiftung an einem Werkverzeichnis-Projekt zu Günther Uecker gearbeitet wird.
Während im 1. Obergeschoss des Albertinum textile Skulpturen von Abakanowicz aus den Beständen des Nationalmuseums in Wrocław (MNWr) gezeigt werden, präsentiert das MNWr im Vier-Kuppel-Pavillon ab dem 25. Oktober eine Installation von Uecker als Leihgabe des Künstlers selbst.
Die Gruppe "Tłum" ("Menge"), bestehend aus 26 Figuren, hat Abakanowicz zwischen 1986 und 1994 geschaffen. Sie zeigt das Motiv der sich wiederholenden menschlichen Figur als eine anonymisierte Masse von kopflosen, ihrer Identität beraubten Gestalten. Ohne konkreten Zeitbezug können sie verallgemeinernd für einen gewaltfreien Massenprotest stehen oder aber auch für die schleichende Zersetzung einer zur Ohnmacht verurteilten Menschheit. Ergänzt wird "Menge" durch ein zweites Werk mit dem Titel "Klatka" ("Käfig"), in dem eine kopflose Figur gefangen ist.
Im Vier-Kuppel-Pavillon in Breslau wird Günther Uecker eine "Sandmühle" zeigen – eine überzeitliche Installation, die ihn seit 1966 bis heute immer wieder beschäftigt. Die Arbeit greift Themen auf, mit denen sich Uecker in seinem Œuvre befasst: Die Verletzungen und Unterdrückung des Menschen durch den Menschen, dessen Qualen, Verstrickungen und dessen Hilflosigkeit angesichts von Gewalt, aber ebenso die Stärke seiner Zerstörungskraft.
Imprint
See also