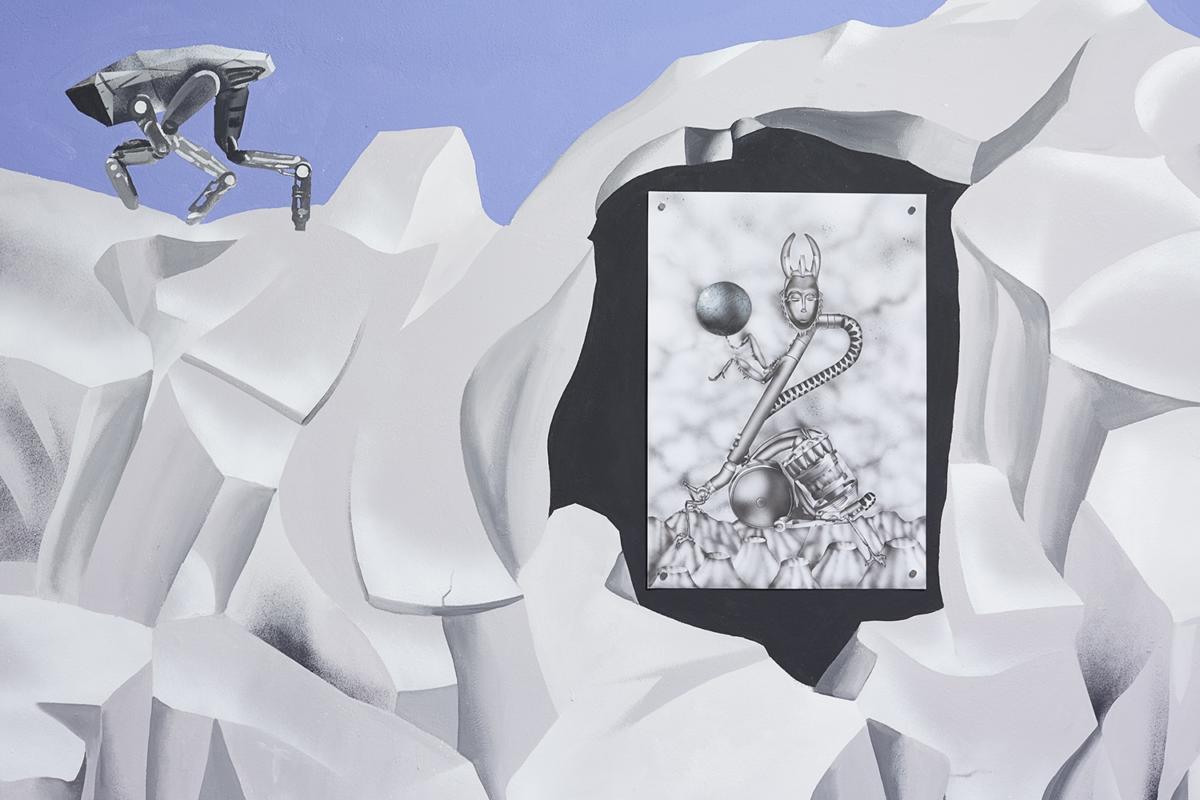 At lítost gallery in Prague, a new exhibition foregrounds seemingly disparate objects and gives them new meanings by tying together issues of ecological destruction, science-fiction, technology and speculative futures.
Prague, Czech Republic—A cluster of circular cement objects laced with steel and sound responsive lights, pulverized Plasma screens reduced to dust, a mural of mechanical insect warriors battling with pilgrims on a mountain, abstractions that point towards a cybernetic post-gender future. Together, these objects make up Extra-Planetary Commitment, an exhibition relating to, or perhaps immanent of, networks of individual, artistic and molecular responses to ecological perception and degradation.
Curated by Àngels Díaz Miralda Tena, the exhibition brings together an assortment of dystopian delicacies that together reveal a sum greater than its individual parts.
The exhibition foregrounds a new prospectus for art in response to a wide range of issues from cybernetics to post-gender and quasi sci-fi futures.
In Julia Varela's 'Mehr Fantasie' (2017-2018), we encounter plasma screens the artist has reduced to dust. In a rectangular surface placed on the floor of the gallery, the work accelerates the destruction of consumer electronics and by extension narratives around toxic waste via the phosphorous gas discharges produced by the ultraviolet radiation of the mercury vapor the screens use to emit images. In a certain respects, Varela's installation can be seen akin to the work of conceptualist master Ilya Kabakov, whose provocative works often referenced dust, dirt and garbage, or what he called a "library of associations," which often revealed how, in spite of our desire to archive and preserve, the detritus of art, like the detritus of matter, is unavoidable.
Tangentially, Evita Vasiljeva's freestanding sculptures lay bare the detritus of industrial decay, forms which the artist uses to concoct machine-like assemblages that respond to the surrounding gallery environment. In the two circular concrete objects in 'Hormones' (2017), Vasiljeva places custom cast iron supported concrete forms on the floor of the gallery, connected to sound-detection software that alters the colour of the attached lights. Strewn around it, several plastic fasteners that, when stepped on, create sounds that alter the noise sensitive lights.
The conceptual airbrusher extraordinaire, Botond Keresztesi, has installed in the gallery a mural that references the 13th century frescoes of Giotto in his depictions of Saint Francis of Assisi. In 'Miss Universe' (2019), however, what we encounter is a rocky, mountainous terrain, blocky in various shades of grey, upon which two religious pilgrims clothed in what appear to be 13th century style dress are surrounded by goats. Approaching them are various predator drones and a machine-like insect. Keresztesi subverts and replaces the religious message contained within Giotto's early frescoes and replaces the religious reference with what appears to be a critique of technological progress and modernity, questioning the troubling trajectory of technological singularity, but in a way that doesn't purport to offer any easy solutions. Keresztesi has a knack for verbal and visual puns, for connecting ostensibly dissimilar things and giving them new meanings, whether it be Robocop or Tupac (subjects in some of his earlier works), Keresztesi's works often connect popular and art historical themes and subjects, threading them together with elements of internet culture today, signalling what I read as sense of dystopian digital decay.
On the walls of the gallery, five works by Ad Minoliti develop abstract and figurative references, recalling the exploratory forms of the expressionist master Wassily Kandinsky. Made in black pen and coloured pencil on paper, Minoliti's works instead asks us to confront the current transformational dynamism that is taking place towards a post-gender future, albeit here we encounter abstract figures. Her works reminded me of the last line in Donna Haraway's seminal "Cyborg Manifesto" from 1985, in which she writes: "I'd rather be a cyborg than a goddess anyway," metaphorical to notions of post-gender identity, Minoliti's works seem to reject rigid binaries by instead encouraging consortiums of a post-human future.
So too the exhibition foregrounds a new prospectus for art in response to a wide range of issues from cybernetics to post-gender and quasi sci-fi futures, levelling an extra-planetary response to the most burning, pressing and crustating issues of today, tomorrow and yesterday.
Imprint
See also