Artist Feature: Tekla Aleksieva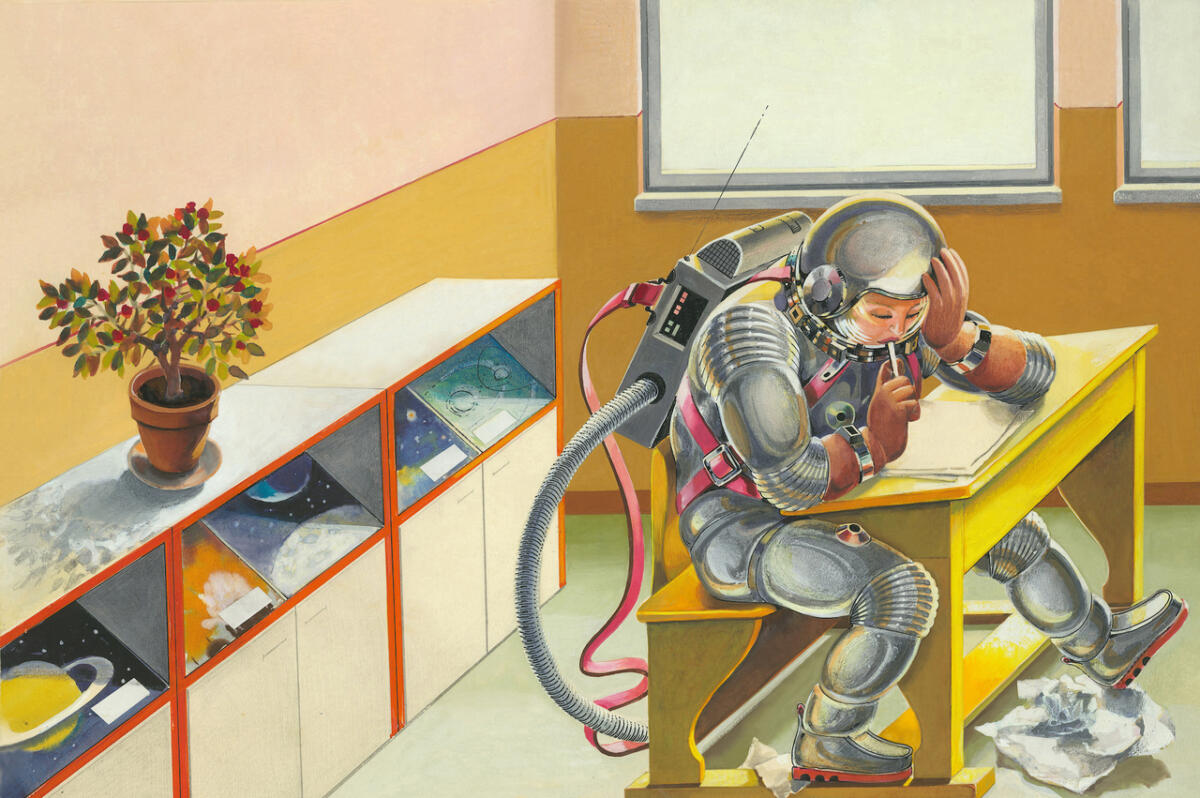 The team at BLOK would like to express their deepest thanks to the Artist and Vesselina Sarieva and Gerry Minkova from SARIEVA gallery in Plovdiv, Bulgaria for their generous help and allowing us to publish the works by Tekla Aleksieva. The original drawings for the book covers presented in BLOK were first shown in the exhibition "THE GALAXIES OF TEKLA. Drawings for book covers 1979-1989" held in SARIEV gallery in 2019. 
Tekla Wilhelm Aleksieva was born on 2 November 1944 in Sofia. She graduated from the National art academy "N. Pavlovich", Sofia, Department of Monumental-decorative painting, with Prof. Gocho Bogdanov. She worked in the field of painting, tapestry, monumental murals and illustration, making stamps, tapestries, and animated films. The paintings she created are few in number, but today have become iconic and are the property of Sofia City Art Gallery and other collections. Since 1974 she has participated in a number of general art exhibitions in Bulgaria and abroad, in which she shows a vivid development and affinity for the urban theme and its modern, photorealistic transformation.
She became known for the original covers she created between 1979 and 1989 for the books in the science fiction series "Galactica Library" of the Georgi Bakalov Publishing House from Varna. In addition to the series of covers for "Galactica Library", Tekla Aleksieva has contributed to science fiction in Bulgaria by participating in initiatives of the science fiction clubs in Bulgaria and the Club of the Bulgarian fiction artists "Vassil Ivanov" – exhibitions of science fiction art.
In the 1980s, Tekla Aleksieva also illustrated the covers of the "Eco" series and the library Bulgaria. She also worked on the design of textbooks – including an experimental textbook of "Kibea" Publishing House: "Spiritual Guides of Bulgaria" (in collaboration with artist Boyan Filchev and Hristo Hadzhitanev) – designed calendars and more. In 1996, Tekla Aleksieva implemented a postage stamp project with the image of Baba Marta, which, according to critics, is the first attempt to convey her mythological, rather than folkloric, image.
She has won awards at illustration exhibitions in Bulgaria, and in 1985, the Bulgarian National Television screened a film about her (with screenwriter and host Stefan Tihchev).
Although she has an incredible popularity and presence in the media environment in Bulgaria and a number of fans, Tekla Aleksieva had no solo exhibitions nor gallery representation in her home country and abroad until 2019. "The Galaxies of Tekla " at SARIEV gallery was the first analytical presentation of her work.
Tekla Aleksieva is a member of the Union of Bulgarian Artists.

You can watch a short interview with the artist (prepared by Vesselina Sarieva and Kalin Serapionov) by following this link.
Imprint
| | |
| --- | --- |
| Artist | Tekla Aleksieva |
| Exhibition | The Galaxies of Tekla, Drawings for book covers 1979-1989 |
| Place / venue | SARIEV Gallery |
| Dates | November 2 – December 27, 2019 |
| Index | SARIEV Gallery Tekla Aleksieva |
See also