Un/Inhabitable – Garðar Eyjólfsson with Hana Špendlíková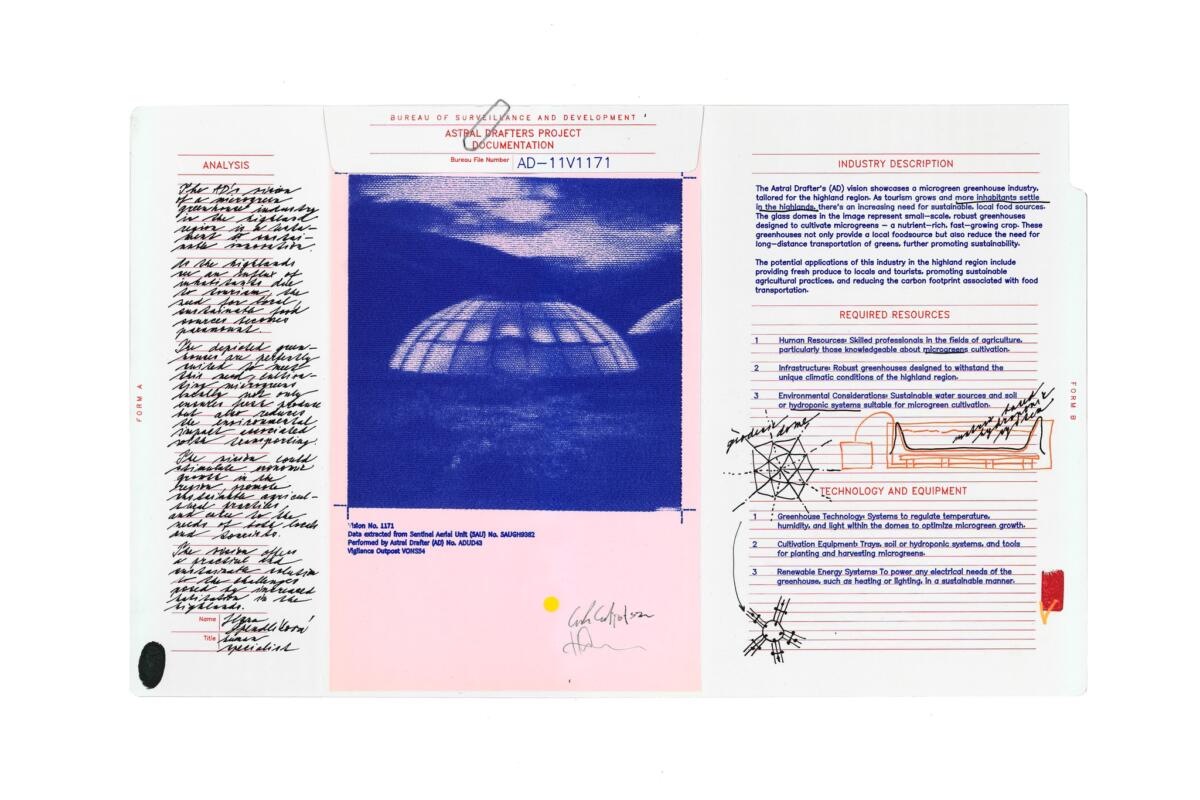 In another world or on an alternative timeline, a government has erected watchtowers in the Icelandic highlands. Legions of drones are sent out from these towers, sweeping the land to scan, sense and analyse the environment. Upon their return, the drones feed their data into a system with artificial intelligence which turns the ones and zeros into concepts. Like an oracle, it makes predictions for humans to best utilise their landscapes for future industries. A drawing machine tirelessly prints out these innovations on scrolls of paper – suitable sites to erect a carbon catcher and storage, a piece of sustainable architecture for ecotourism, or a hydroelectric dam, all proposals ready for approval or denial. Artefacts, that were later discovered from this enterprise, consist of an archive of sketches filed in dossiers and documentation of the finding in the form of an unknown explorer's logbook.
In Icelandic designer Garðar Eyjólfsson's latest project Un/Inhabitable, Eyjólfsson has used design fiction, architecture and artificial intelligence, to explore a vaguely familiar yet alternative reality. This work is not meant to predict the future but to make us engage in dialogue and reflect on how we adapt and evolve in relation to the environment and technology. At the same time, it comments on narratives that are shaping the design industry today, such as innovation and sustainability. To realise Un/Inhabitable, Eyjólfsson has collaborated with the Czech architect Hana Špendlíková. Together they set up an elaborate work process with the written word, AI systems and a digital drawing machine. The result is a collection of textual predictions for future industries and images of buildings in landscapes. Exhibited and sold through Gus Gallery in Stockholm is a limited-edition logbook and 30 "dossiers" with art prints.
"You can argue that we view the world today through a very singular lens, capitalism. That it is the only narrative that trumps everything else and because of that, there is less and less room for other perspectives. So, we need more platforms to critically discuss design and this becomes very visible with the emergence of artificial intelligence." – Quote from Garðar Eyjólfsson.
Garðar Eyjólfsson (b.1981 Iceland) holds a B.A (Honours) degree in Product Design from Central Saint Martins, London (2009) and a M.A (Cum Laude) Contextual Design from Design Academy Eindhoven (2011). Since founding Studio Eyjolfsson in 2012 he has frequently focused on the refinement and use of local resources in product design, while conducting research which revolves around the area of design fiction. In his work, Eyjólfsson mixes contextual, critical and narrative research as a means of exploring and translating zeitgeist topics. He utilises a variety of mediums to manifest his voice, ranging from artefacts, scenography, curation, fiction, video, performance, dialog and writing. Eyjólfsson's studio projects, as well as strong engagement in academia, greatly contributes to shaping the identity of the Icelandic design scene, as well as helping the global design community to open new doors to unexplored worlds.
Hana Špendlíková (b.1993 Czech Republic), holds a B.A in Architecture and Urbanism from Czech Technical University, Prague (2018) and an M.A in Critical and Speculative Design from Iceland University of the Arts, Reykjavík (2023). Educated in architecture, design and environmental studies, Špendlíková combines architectural precision with a speculative lens to explore nature-culture relations. Her work addresses environmental questions with a unique approach informed by philosophical thought. Špendlíková's multi-layered research is channelled through various media, often set in fictional frameworks using spatial narration and scenography.
Gus Gallery is an international design gallery in Stockholm initiated in 2023 by curator Gustaf Kjellin. Its purpose is to develop, document and exhibit designs that give new perspectives on our present and future. The gallery is currently situated in a converted earth cellar in Norra Djurgården with support from The Robert Weil Family Foundation.
Imprint
See also