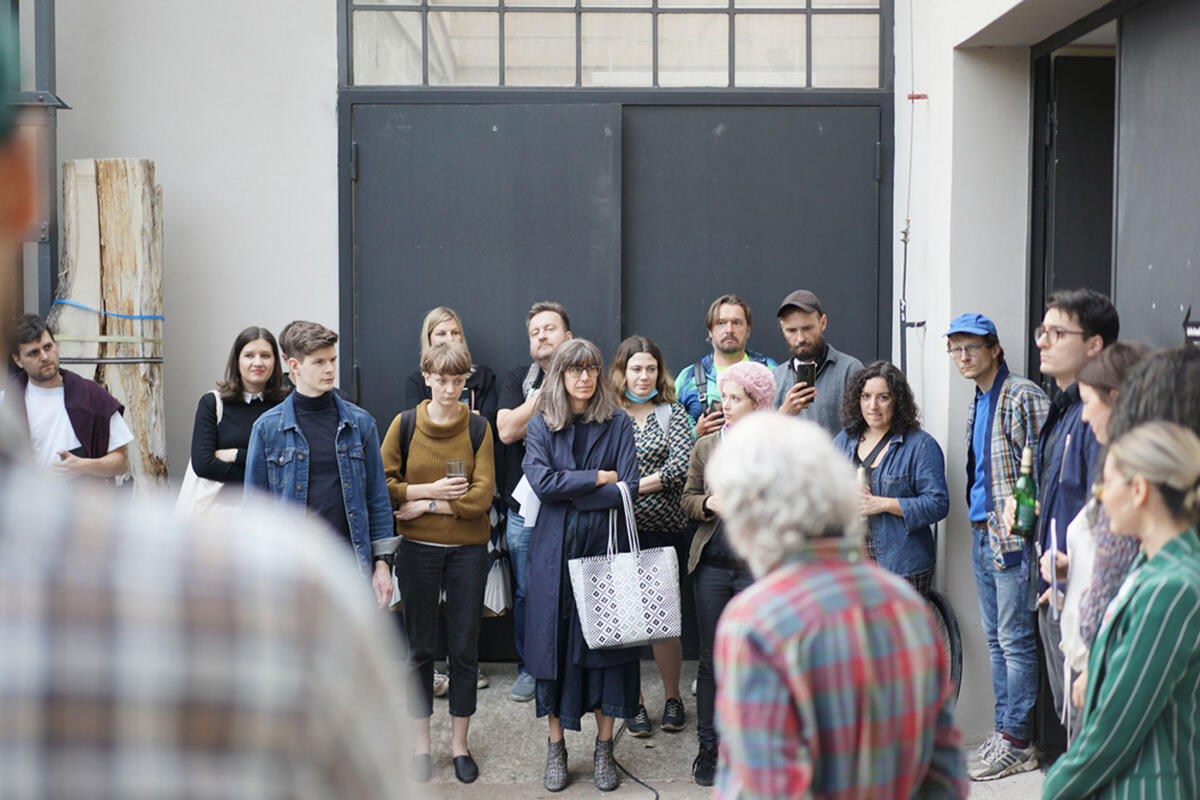 This Q&A column focuses on the indeterminate borders between off-/project-/artist-run spaces and the people that keep them going [#Off Space Q&A]
It is always a question whether is Studio PRÁM a building an art group or a gallery. It is probably a combination of everything mixed up all together.
Studio PRÁM as a building is a former laundry in the sub-urban area of Vysočany in Prague. The space itself was newly reconstructed, has a good artistic vibe, a lot of sun light and consist of two separated floors, which predetermine the purpose of it all. There is the main residential floor with six studios for permanent residents and one studio for a temporary resident. On the other floor is the gallery space and a bar.
Studio PRÁM is an art group of 11 artists – painters, sculptors, ceramist and designer. They do an annual exhibition every year to celebrate the year which have passed. They also try to exhibit somewhere out of their home gallery. This art group picks up the exhibition and residential projects from the open call.
Studio PRÁM as a gallery holds a programme consisting of art exhibitions made by young artists and students of art and foreign artists in residential programme. Every year there is an open call for exhibitions and residents to apply.
***
Was it a good idea?
Sure. On one hand we learn how to live and work together. On the other hand the Studio PRÁM space is open for people from outside. Young artists are getting an opportunity to prepare an exhibition, show their work with almost a free hand. Foreign artists are welcomed in here and have the opportunity to get to know the czech art scene, live in Prague and enjoy the time of focusing on their work away from their home.
Who has held you up?
The biggest thank goes to the owner of the building, which provide us a space and let us do and focus on whatever we want.
Are you a link or a node?
Isn`t that a same thing?
What do you need?
Like any other non profit institution we would need a bit of a financial support. To have resources for more courageous art installations, for catalogues, for transportation, for better gallery lightning, for… many things.
Digital or physical?
Definitely physical. PRÁM permanent residents work mostly with physical stuff. Digital is just the way to show off the work we do. To let the people know about the exhibitions we held or artist we invite to PRÁM Studio.
What do you measure?
We measure the height of the gallery space and how big are the niches in our gallery space again and again. We measure how much likes we get on Instagram, and if it effects something or not. We measure how many people comes to the opening, which brings the question how much popular the artist is and how many friends he/she has.
What are the known unknowns?
No idea.
What time is it?
Probably the best time of our lives, because we have the opportunity to use that special space.
Is it an animal, vegetable, or mineral?
It is all of above combined together.
Why now?
Because there is no tomorrow. There is just now and today and tonight.
And what about the unknown unknowns?
No chance to find them out.
Are you prepared?
We are only prepared for changes, which may come.
What were you given and what did you take?
We were given the most beautiful space we could imagine to work, to invite foreign residents, to make exhibitions.
We take the opportunity to do it.
Is it enough?
Yes, it is.
Imprint
See also