'One Day' Action by Public Movement in Białystok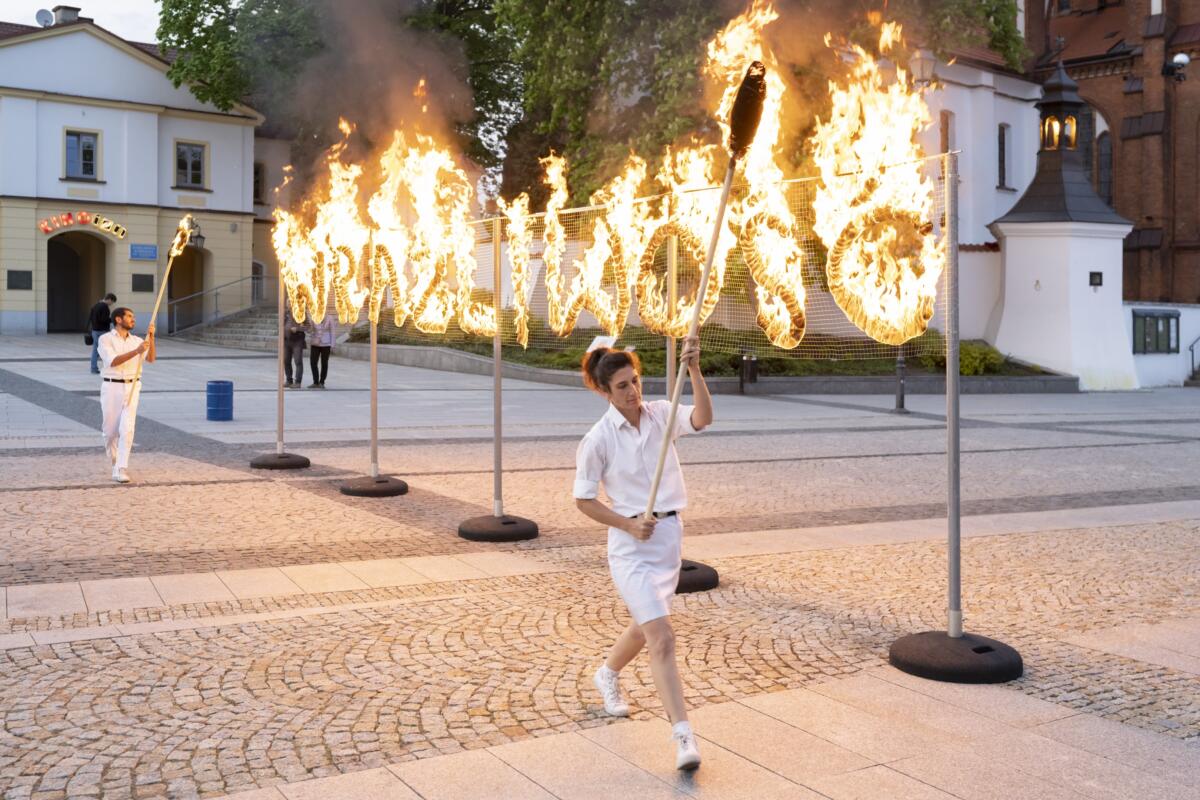 13 May 2022; Białystok, Poland
A new fire inscription of the word 'Wrażliwość' (Vulnerability) was introduced to the epic Monument of the Heroes. A group of people exercised choreographies of resistance and solidarity as they conducted a role-play of policemen and protesters. A living sculpture made of human bodies was moving in slow motion, depicting the ever-changing images of our social history. 60 kilos of soil brought from the Białowieża Forest was placed in the heart of Białystok city. A large public gathering of people was training evacuation, carrying each other's weight, protecting and controlling the body of a stranger.
On May 13th, 2022, Public Movement presented a full-day action in Białystok. It consisted of a 12 hours series of performances, interventions, and demonstrations, that activated the historical axis of the city center. The Russian invasion of Ukraine, the opening of the Polish borders, and the new refugee condition might be an opportunity to imagine a new social and political order in Poland. Białystok's recent polar struggles over values of conservativity, resonate with the conflicting narratives of remembrance, and the use of violence as a means of oppression. Public space, with all it contains and excludes, is a reflection of the society residing in it. In One Day, Białystok was performing an alternative political self in the streets; an arena of ever-changing ideologies and contradictory voices. A series of performances emphasized and activated the fracture embodied in the city and introduced new sites for commemoration and exercise of citizenship.
Co-conceptual by: Nir Shauloff and Dana Yahalomi
Public Movement Members: Maayan Choresh, Avshalom Latucha, Gali Libraider, Meshi Olinky, Yaniv Segal
Music: Yoni SIlver
Public Movement Studio Manager: Yaelle Ben-Ami
Thank you: Lihi Levy, Katarzyna Sztop-Rutkowska, Katarzyna Czeczot, Ośrodek Badań nad Migracjami Uniwersytetu Warszawskiego (Kamila Fiałkowska, Ignacy Jóźwiak), Natalia Judzińska (Instytutu Slawistyki PAN), Marta Pietrusińska (Wydział Socjologii Uniwersytetu Warszawskiego), Dariusz Szada-Borzyszkowski, Paweł Stankiewicz, Klub Przewodników Turystycznych PTTK w Białymstoku (Ewa Witkowska, Izabela Szymańska)
Curator: Katarzyna Różniak
Emergency Routine (2019) is a commission by Public Art Agency Sweden.
Coordination: Arsenal Gallery Team.
The action is part of Gdy słońce jest nisko – cienie są długie/ When The Sun Is Low – The Shadows Are Long/ Калі сонца нізка – цені доўгія – the project by Arsenal Gallery in Białystok GfZK – Museum of Contemporary Art Leipzig Goethe-Institut Warsaw supported by the Foundation for Polish-German Cooperation, Martin Roth Initiative
Imprint
See also