Linings – Vytenis Burokas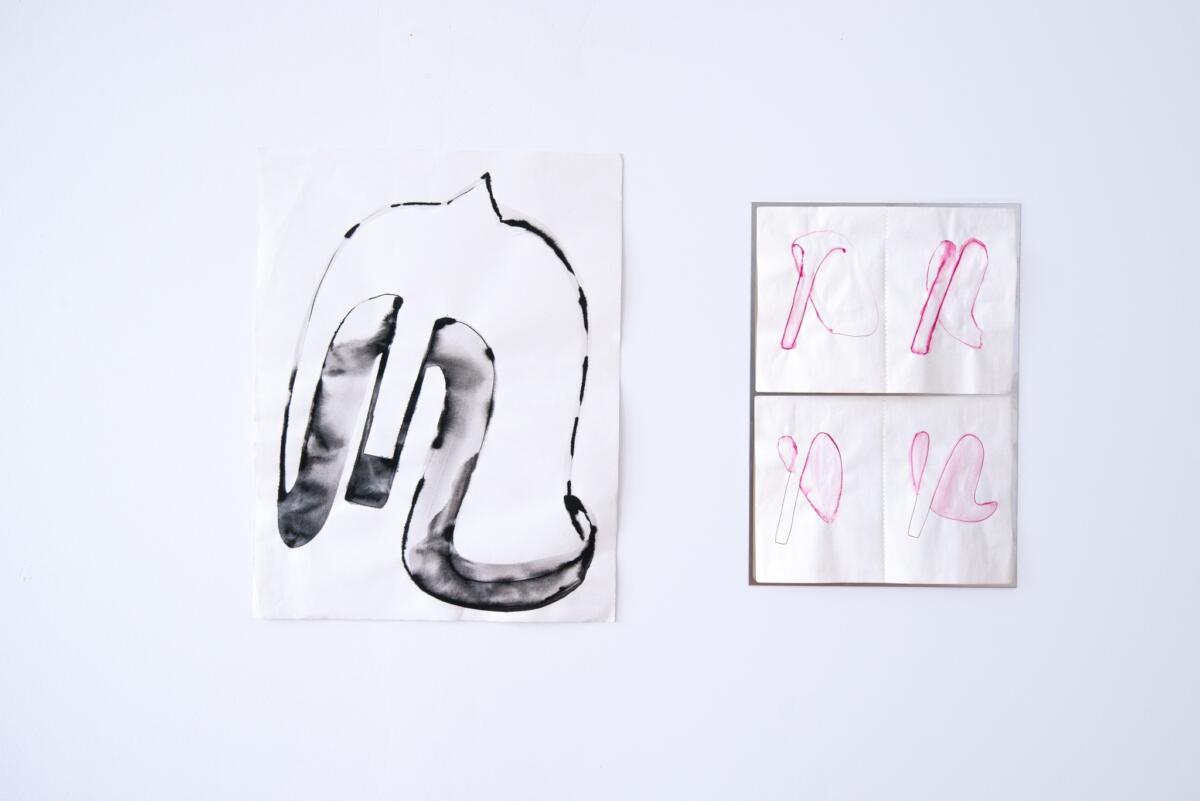 Linings, the first solo exhibition of Vytenis Burokas at Drifts Gallery, consists of previously unexhibited drawings produced between 2019 and 2023 as well as prints and sculptural objects created for this show. The exhibition continues the narrative that unfolds throughout the author's work, telling about the meaning and importance of form-creating gestures in today's order of object, image and symbol production. In the exhibition, this narrative leads the viewer by combining various fragments from the history of art, fashion, and animation.
Linings are materials-mediators—they soften the contact between two objects or bodies and, by determining the conditions of friction, define what is seen as the inside and the outside. But in this show, linings are something else. They can be pictured as a medium created by the plastic dynamics and the uncanny tension between the works presented, where the images, tossed around by constant repetition, never reach their final form. Each work is a preparatory sketch for the next one, and a stain in one drawing can become a facial feature or a life line in the palm of another. Linings is a space in plural, charged with the promise of an inevitable touch within the physical closeness of bodies; here, insides and outsides are not yet determined, while the eros and the thanatos are still connected by an eternal et cetera.
In the exhibition, the usual main character of Burokas' artistic practice is represented by an excessive autonomy of his attributes—hairstyles, shoes, drinks. References to Andy Warhol's early work and Sergei Eisenstein's notes on Walt Disney's working methods place the artworks in a broader context. Both the expositional equipment and the exhibition space connect with the works exhibited in a kind of "conspiration": as if repeating the contours of an already existing drawing in imprecise lines, they mock the conventions of artwork and exhibition production, the magic of the artist's hand creating ex nihilo, and the importance of artworks in today's consumeristic economy.
Vytenis Burokas has completed BA, MA, and art pedagogy studies in Contemporary Sculpture at the Vilnius Academy of Arts. Between 2013 and 2014, he took part in the Rupert educational programme. The artist's works have been displayed in both group and personal exhibitions, including Tracing the Outlines of Ukrainian History: Louder (Radvila Palace Museum of Art, Vilnius, 2022), The Order of The Spur: These Boots Are Made for Walking (apiece, Vilnius, 2022), Growing Out? Growing Up? Contemporary Art Collecting in the Baltics (Zuzeum, Riga, 2022), Avoidance (Futura, Prague, 2021), Wanderings of Draught (Editorial, Vilnius, 2020), The Sea Monster, The Bear (lítost, Prague, 2020), Sanatorium (Contemporary Art Centre, Vilnius, 2019), Play within the Walls of Academy (MOCAK, Krakow, 2018).
Translation: Alexandra Bondarev
Imprint
See also