Heinrich Dunst, Jiří Kovanda – Three Names at SVIT Gallery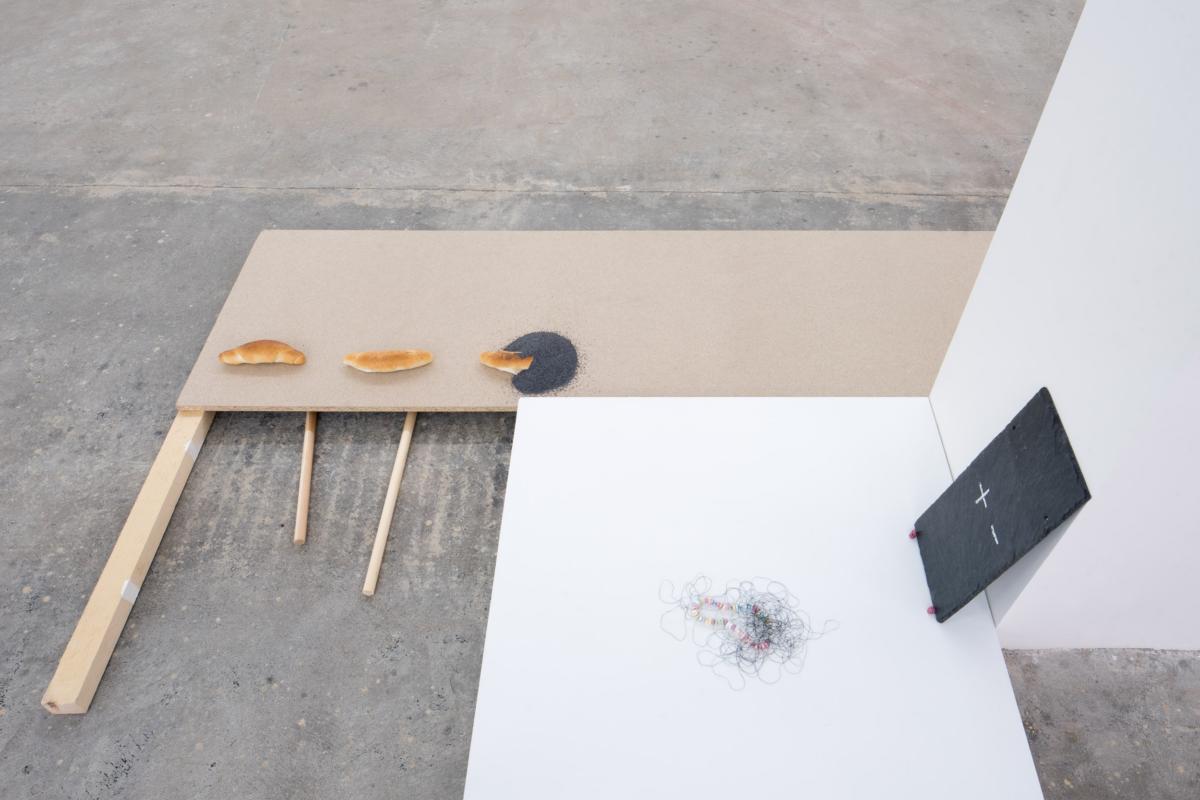 + –
Index
seeing
reading
Name for
word
Volume of a flower
Je to obyčejná věc, je to levný, má se to jíst a je nepatřičný z toho dělat něco jinýho, a má to falickej tvar, i když původně jsem používal housky.
A
I'm just the medium, he said and bursted into laughter.
S
Lacking a proper spatial definition.
R A
Closed volumes, struggling with the format.
Dunst.
dunst.
He is staying inside of the medium of collage.
Ty jména sou tam zakletý..
A as an absence, B as…, C as a collision, D as Dunst.
It's always the absence which interests me. Three. Could be even four. Four.
R S
H
Forging a bond between the subjectivity of selection and the industrial production of the form.
h
A
K
Eva, Jarmila, Eva, Míša, …
An image?
A reference? A signifier?
Of what? For what?
A subjective gesture as take-over:
Of what?
Of industrial production?
Of a commodified logo?
Of an anonymous delirium?
Within which limits? Within which production?
Transparency?
A fiction?
… ja přeci nejsem intelektuál.
Accidental meeting, it's character stays solid in older forms, recombined, even though just slightly. Not enough space for an open mutual dialog, yet the forms are talking to each other independently. Relations are spreading through the space, surfaces are forming physical volumes. S was not a desirable form. H is supposedly conceived just randomly. It's not a letter, it's a composition of elements dealing with a specific formal problem. Space is adding cinematic qualities, movement, frame by frame, without any strict boundary.
Jana, Eva, Eva, Vlaďka, Petra, Barbora …
///
Heinrich Dunst was born in 1955 in Hallein (Salzburg, Austria), He lives and works in Vienna. He creates spatial interventions and performances that navigate the gap between what can be seen and what can be said, the untranslatability of one form into another, and the contextual nature of spatial presentations. Dunst's conceptual approach is rooted both in the work of artists like Marcel Broodthaers who scrutinize the systems underlying the perception of words and images, and in the Viennese scene of the 1980s and its characteristic ambition to extend abstract painting into the exhibition space. He lends these complex issues fresh interest by developing forms into correlations and pointedly questioning the seemingly unequivocal meaning of the elements through variation, superimposition, and changes of direction.
Jiří Kovanda (1953) has been one of the outstanding conceptual artists of the Czech art scene. He organised his first performances in public environments in Prague in the mid-1970's. His minimal actions, all based on a detailed scenario, were all recorded through photography in black and white and instruction leaflets. In the eye of the artist, the work of art is made up of these documents, these performances having no other aim than the traces that are recorded. In his performances, those mundane actions appear slightly offkey, allowing us, through this combination of apparent simplicity and unbalance, to grasp at the individual and what remains real and human in a society under surveillance. After 1978, Kovanda staged minimalist and poetical interventions still recorded through a photograph and a text while the artist vanished completely from his interventions which deal with the very notion of traces. In the 1980's, Kovanda turned to painting before abandoning all artistic practices. His work was rediscovered only recently and Kovanda has been active again creating installations, paintings and performances as discrete still and poetical in which he strives to find beauty in everyday life and to map out a space where the individual can actually exist.
Imprint
See also