[EN/PL] 'The Ultimate Song' by Paweł Althamer & Artur Żmijewski at MOCAK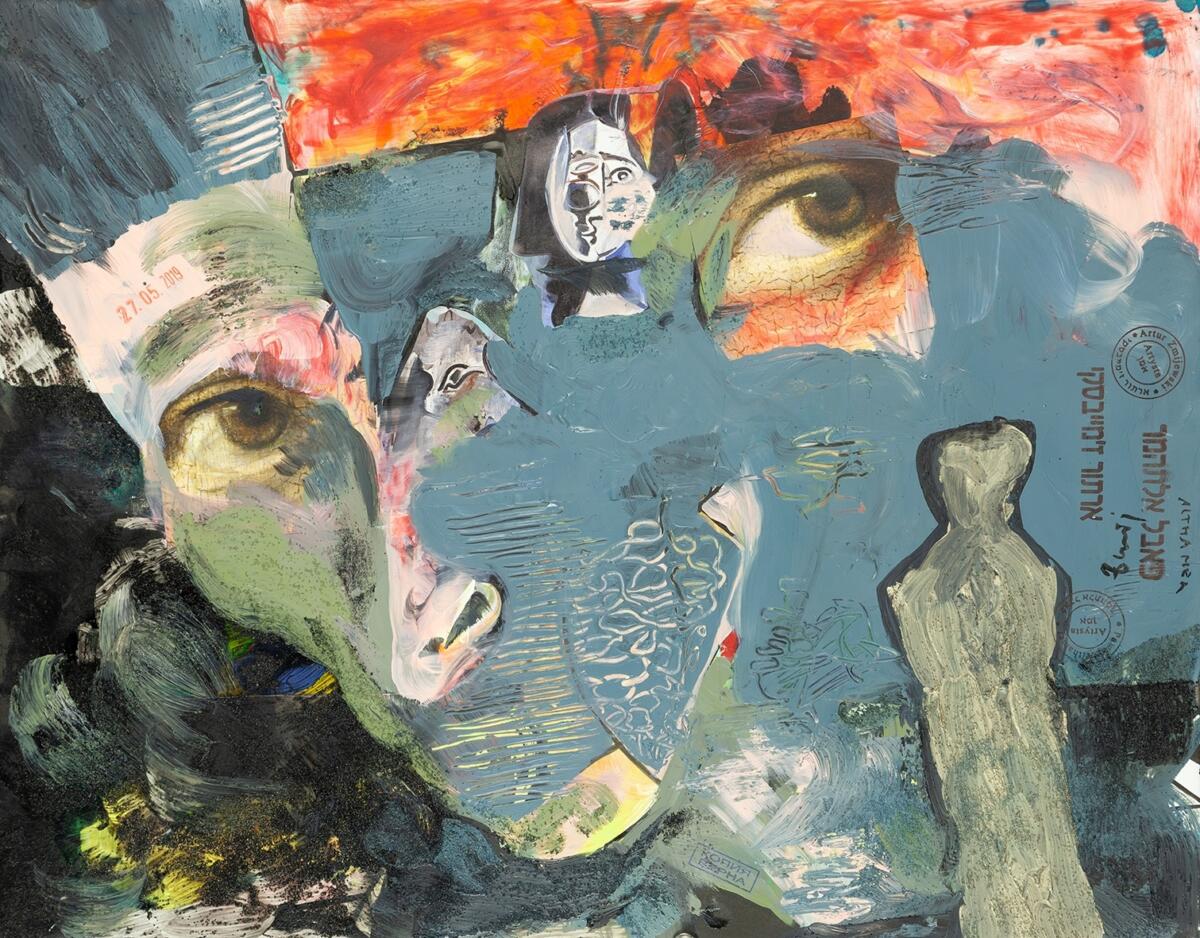 [EN]
text: Adam Mazur
[………………………………………
……………………………………….]
Paweł Althamer and Artur Żmijewski feel uncomfortable with the label 'classic art criticism'. Like all other artists, they go through their ups and downs, evolve and progress, evading critical and curatorial expectations. In the Ultimate Song, we find few of the forms that audiences have come to expect from them during the years of strife in the area of critical art. This is a new chapter. New sensitivity. The small-scale, multi-layered works are delicate, plastic. They have a distinct texture, colour, composition – more than that, they are beautiful. They demand attention. Politics has been replaced by poetry, didacticism – by contemplation. This is a new take on Rancière's delineation of the visible. The new works, now on paper, have changed the interpretation of former actions, revealing motifs other than political or social. The lyrical subject has firmly marked its presence against the popular consensus that 'ein politisches Lied ist ein garstiges Lied' (a political song is a nasty song).
The artists, who graduated from Grzegorz Kowalski's studio in the Academy of Fine Arts in Warsaw, dedicated to the idea of Oskar Hansen's Open Form, made their debut in the 1990s and have been part of the canon of Polish and world art ever since. They have remained in touch as friends since their student days, working closely and putting on exhibitions together. Until 2016 they also made films and carried out projects together. On a tour and artistic residency in Japan, they embarked on making works on paper, using photographic paper, ink and stencils. At first, they invited other artists to join in the drawing and painting. In 2017, however, they changed their mind, when they decided to create between them a series of art works inspired by works of famous poets. Subtle watercolours and drawings were replaced by collages with rough texture and dense composition. Joint sessions took place during trips out of town and residencies, for example in the Centre for Creative Activities in Ustka and the Galerie výtvarného umění in Cheb. The exhibition and publication published by the Museum of Contemporary Art in Krakow MOCAK crowns this work and gives it its final shape.
The selection of poetry made by Althamer and Żmijewski is intuitive and romantic, inspired mainly by Żmijewski's readings. Most of the poems will certainly come as a surprise to critics who follow the artists' work. Some of these are strikingly poignant, such as the poem which Achmatova wrote on September 28, 1941 on a plane from Leningrad to Moscow:
Птицы смерти в зените стоят.
Кто идет выручать Ленинград?

Не шумите вокруг — он дышит,
Он живой еще, он все слышит:[1]
The poems have inspired the images but they are not part and parcel of them. The images are not illustrations for the poems. They are evocative, triggering emotions in the reader. On taking a closer look at the collages and other works in recent years by both artists, and particularly Żmijewski, one cannot fail to notice a retreat from the trend they had developed through the 1990s which came to the fore in the first decade of the present century – engaged and political art, aiming at an immediate impact. The Ultimate Song provides an opportunity to perhaps redefine the work of both artists. The artists have abandoned immediacy and pragmatic impact in favour of authenticity and intimacy. The change is probably a result of the fact that the artists have changed rather than that they have succumbed to pressure from critics who had bitterly complained, taking a dim view of Althamer and Żmijewski engaging in activities that were too near the knuckle, brutal, oppressive or politically incorrect.
In the Polish translation of Akhmatova's poem there is, in the middle, a dotted line: 
[………………………………………
……………………………………….]
In the original, the missing fragment read:
Как на влажном балтийском дне
Сыновья его стонут во сне[2]
Poetry has always been present in Althamer and Żmijewski's art, playing a part of which we have been unaware. In the Ultimate Song, we can no longer overlook it. It seeps out from beneath the layers of paint, ink, stencils and drawings. When we look at the collages and read the poems, every detail commands our attention, as does each meaningful fragment. At the same time we have a feeling that all of it taken together is not that important. Althamer and Żmijewski favour modern but non-avant-garde poetry, mainly from the 20th century. They are inspired by Bukowski, Oskar and Czesław Miłosz, Staff, Celan, Grochowiak, and Wojaczek. War, the Shoah, suffering and pain are featured but none of these predominate. There is no politics at all and an absence of incitement to social unrest or glorifying revolution. Instead there is description, testimony and reflection.
Как из недр его вопли: «Хлеба!»
До седьмого доходят неба…
Но безжалостна эта твердь.
И глядит из всех окон — смерть.
И стоит везде на часах
И уйти не пускает страх[3].
The poems play the role of images and simultaneously evoke images. Inextricably linked, they create new experiences and emotions. In turn, the collages tend towards abstraction, moving away from the tradition of political art or agitprop. Here we have surrealism and dada, with a pinch of pop art, in works that are closer to the compositions of Hannah Höch than to those of John Heartfield. In fact, we should not refer to individual images but rather to a certain kind of art, which does not, however, constitute a separate trend because it has been created with no rules, driven by artistic inspiration. The pursuit of association has not been elucidated, but what shines through it is a renewed trust in art. The Ultimate Song is a collage constructed with layers made of snippets from books that have been destroyed in the process – they range from erotic and pornographic publications by Taschen through nature and anatomy albums to historic and science atlases. There are also books on art. Leni Riefenstahl meets Albrecht Dürer and Pablo Picasso – just as Paweł Althamer meets Artur Żmijewski.
In his Foreword to Jacques Rancière's The Politics of Aesthetics, published in Poland in 2007, Artur Żmijewski reflected on the relationship between art and politics, searching in the philosopher's text for any 'silver bullet' that might prove useful. One of the paragraphs deals with the relationship between image and text, from the dialectic point of view. 'According to Rancière, image is mute. It can only tell us something when it is being talked about, when it has been caught in the net of discourse, or for example when it is a collage – not until the overlapping layers of the texts and visual fragments have combined into talking 'images, or relationships between visuality and meaning.'[4]
An artistic book – such as Ultimate Song – skilfully devised by the artists and the graphic designer Rafał Sosin – puts these layers into play. Althamer and Żmijewski's art – devoid of immediate utilitarian purpose – is performative and effective on contact with not so much the audience, as with each individual reader. Today, just as in Akhmatova's time, an era dominated by 'big politics' – when poetry and art are a minority interest, all that is left is to write poems on the plane. Or, looking down on the burning Leningrad, trying to salvage anything one can from one's individual experience.
Let me finish with thanks for all those without whom this exhibition and book would not have been possible. Thanks to Edyta Wolska from the Baltic Gallery of Contemporary Art in Słupsk for the residency in Ustka, Marcel Fišer from the Galerie výtvarného umění in Cheb, Andrzej Przywara from the Foksal Gallery Foundation in Warsaw for supporting the production of the works and, last but not least, to Maria Anna Potocka, director, philosopher and curator, and for us, above all, an outstanding literary scholar and patron, with a keen interest in art and poetry.
---
[1] See the English translation of the poem on p. # in present publication.
[2] A. Akhmatova, ***, in: eadem, Ya Nauchila Zhenshchin Govoritˊ, comp. and comment by A. Dmitrijew, Yexmo, Moskva 2009.
[3] Ibidem.
[4] A. Żmijewski, Foreword, in: J. Rancière, Estetyka jako polityka, trans. J. Kutyła and P. Mościcki, Wydawnictwo Krytyki Politycznej, Warszawa 2007, p. #.
[PL]
tekst: Adam Mazur
[………………………………………
……………………………………….]
Paweł Althamer i Artur Żmijewski źle się czują z etykietką klasyków sztuki krytycznej. Ci artyści – jak wszyscy inni – przechodzą kryzysy, rozwijają i zmieniają się, wymijając oczekiwania krytyków i kuratorów. W Pieśni ostatecznej niewiele jest form, do których przyzwyczaili publiczność przez lata walki na polu sztuki krytycznej. To już inny rozdział i nowa wrażliwość. Wielowarstwowe prace o niewielkich formatach są delikatne i plastyczne. Mają wyraźną fakturę, barwę, kompozycję, a do tego są piękne. Wymagają uważności. Polityka ustępuje miejsca poezji, dydaktyka – kontemplacji. Na nowo dokonuje się Rancière'owskie dzielenie postrzegalnego. Nowe prace na papierze zmieniają interpretację wcześniejszych działań, odkrywając inne niż polityczne i społeczne motywacje. Podmiot liryczny wyraźnie zaznacza swą obecność wbrew popularnej opinii: politisches Lied ist ein garstiges Lied[1].
Artyści, absolwenci pracowni Grzegorza Kowalskiego, oddani idei Formy Otwartej Oskara Hansena, debiutowali w latach 90. Od tamtego czasu wpisują się w kanon sztuki polskiej i światowej. Od ukończenia studiów w Akademii Sztuk Pięknych w Warszawie pozostają w kontakcie, przyjaźnią się, wystawiają i współpracują. Do roku 2016 tworzyli razem filmy i prace warsztatowe. Podczas wspólnego wyjazdu i rezydencji w Japonii rozpoczęli cykl prac na papierze, używając delikatnych papierów graficznych, tuszu i stempli. Początkowo do wspólnego rysowania i malowania zapraszali innych artystów. Zmieniło się to w 2017 roku, kiedy Althamer ze Żmijewskim uznali, że chcą stworzyć osobny cykl inspirowany dziełami nieżyjących poetów. Zastosowali inną technikę. Delikatne akwarele i rysunki ustąpiły miejsca kolażom o chropawej fakturze i gęstej kompozycji. Wspólne sesje odbywały się podczas wypadów za miasto oraz kolejnych rezydencji (w Centrum Aktywności Twórczej w Ustce i Galerie výtvarného umění w Chebie). Wystawa oraz publikacja wydana przez Muzeum Sztuki Współczesnej w Krakowie MOCAK wieńczą tę pracę i nadają jej ostateczny kształt.
Dokonany wspólnie przez Pawła i Artura wybór poezji jest intuicyjny i romantyczny, inspirowany przede wszystkim lekturami Żmijewskiego. Większość wierszy dla krytyków śledzących twórczość artystów będzie na pewno zaskoczeniem. Niektóre z utworów są zaskakująco patetyczne, chociażby wiersz Achmatowej, napisany 28 września 1941 roku w samolocie z Leningradu do Moskwy:
Птицы смерти в зените стоят.
Кто идет выручать Ленинград?

Не шумите вокруг — он дышит,
Он живой еще, он все слышит:[2]
Wiersze są inspiracją dla obrazów, ale nie są do nich przywiązane. Obrazy nie ilustrują poezji, natomiast oddziałują na emocje czytelnika. Przyglądając się poszczególnym kolażom i sztuce ostatnich lat – szczególnie Żmijewskiego – trudno nie dostrzec odwrotu od rozwijanej w latach 90., a przede wszystkim w pierwszej dekadzie XXI wieku, koncepcji sztuki politycznej, skutecznej i doraźnej. Pieśń ostateczna pozwala przemyśleć na nowo tamtą, chyba już nieaktualną definicję ich twórczości. Artyści odrzucili oczywistość i skuteczność na rzecz autentyczności i bliskości. Jest to bardziej wynik wewnętrznej przemiany niż rezultat presji ze strony krytyków skarżących się na zbyt dosłowne, brutalne, przemocowe i niepoprawne politycznie działania Althamera i Żmijewskiego. W polskim przekładzie w nawiasie w środku wiersza znalazło się wykropkowanie:
[………………………………………
……………………………………….]
Fragment ten w oryginale brzmi następująco:
Как на влажном балтийском дне
Сыновья его стонут во сне[3]
Poezja w sztuce Althamera i Żmijewskiego była obecna zawsze i odgrywała rolę, o której nie mieliśmy pojęcia. W Pieśni ostatecznej nie można już jej nie widzieć. Wyłazi spod warstwy farby, tuszu, stempli i rysunków. Oglądając kolaże, czytając wiersze, nie możemy oderwać się od żadnego detalu, nie możemy opuścić żadnego znaczącego fragmentu, i jednocześnie czujemy, że wszystko razem wzięte nie jest wcale ważne. Althamera i Żmijewskiego zajmuje poezja nieawangardowa, ale nowoczesna, głównie XX-wieczna. Inspirują się między innymi Bukowskim, Miłoszami (Oskarem i Czesławem), Staffem, Celanem, Grochowiakiem, Wojaczkiem. Pojawiają się wojna, Shoah, cierpienie i ból, ale żaden z tych wątków nie dominuje. Zupełnie nie ma polityki. Brakuje wezwań do zrywu czy opiewania rewolucji. Zamiast tego są opis, świadectwo i refleksja.
Как из недр его вопли: «Хлеба!»
До седьмого доходят неба…
Но безжалостна эта твердь.
И глядит из всех окон — смерть.
И стоит везде на часах
И уйти не пускает страх[4].
Wiersze odgrywają rolę obrazów i równocześnie przywołują obrazy. Nierozerwalnie powiązane ze sobą, tworzą nowe przeżycia i emocje. Kolaże z kolei skłaniają się do abstrakcji, oddalając się od tradycji sztuki politycznej czy agitacyjnej. To surrealizm i dadaizm z domieszką pop-artu. Bliżej im do kompozycji Hannah Höch niż do prac Johna Heartfielda. Należy jednak mówić nie o określonych obrazach, lecz o pewnym ich rodzaju, który nie tworzy osobnej szkoły ponieważ powstaje bez reguł, z nakazu twórczego natchnienia. Gonitwa skojarzeń nie zostaje wyjaśniona, ale przebija przez nią odnowiona ufność w sztukę. Pieśń ostateczna jest kolażem zbudowanym z warstw i fragmentów wyciętych ze zniszczonych w tym celu książek – począwszy od erotycznych i pornograficznych publikacji Taschena przez albumy przyrodoznawcze i anatomiczne po atlasy historyczne i naukowe. Są tu również książki o sztuce. Leni Riefenstahl spotyka się z Albrechtem Dürerem i Pablem Picassem – tak samo jak Paweł Althamer spotyka się z Arturem Żmijewskim. 
We wstępie do wydanej w 2007 roku książki Jacques'a Rancière'a Estetyka jako polityka Artur Żmijewski zastanawiał się nad relacją sztuki i polityki, poszukując w tekście filozofa "srebrnych kul", które mogłyby służyć sprawie. Jeden z akapitów artysta poświęcił relacji obrazu i tekstu, ujmując temat dialektycznie. "Obraz, jak twierdzi Rancière, jest niemy. Mówi nam coś dopiero wtedy, gdy się o nim mówi, gdy zostaje złapany w siatkę dyskursu, gdy jest na przykład kolażem – dopiero nakładające się na siebie pasaże tekstów i fragmentów wizualności tworzą mówiące »obrazy, czyli związki między widzialnością a znaczeniem«"[5].
Książka artystyczna, jaką jest Pieśń ostateczna – umiejętnie zakomponowana przez artystów i grafika, Rafała Sosina – to gra tymi właśnie nawarstwieniami. Sztuka Althamera i Żmijewskiego –pozbawiona doraźnej użyteczności – jest performatywna i skuteczna w kontakcie nie tyle z publicznością, ile z każdym czytelnikiem i każdą czytelniczką osobno. Dziś – podobnie jak w czasach Achmatowej, zdominowanych przez wielką politykę – kiedy poezja i sztuka niewielu obchodzą, pozostaje pisanie wierszy w samolocie. Oraz patrzenie na płonący za oknem Leningrad i ratowanie tego, co się da wynieść z doświadczenia jednostkowego.
Na koniec podziękowania dla osób, bez których nie powstałyby ta książka i wystawa. Dla Edyty Wolskiej z Bałtyckiej Galerii Sztuki Współczesnej w Słupsku za rezydencję w Ustce, Marcela Fišera z Galerie výtvarného umění w Chebie, Andrzeja Przywary z Fundacji Galerii Foksal w Warszawie za wsparcie produkcji prac i – last but not least – dla Marii Anny Potockiej, dyrektora, filozofa i kuratora, a dla nas przede wszystkim wybitnego literaturoznawcy i mecenasa, żywo zainteresowanego sztuką i poezją.
---
[1] Pieśń polityczna jest szkaradną pieśnią (niem.).
[2] Zob. polski przekład tego utworu – s. # w niniejszej publikacji.
[3] A. Achmatowa, ***, w: tejże, Ja naucziła żenszczin goworitˊ, sost. i komient. A. Dmitrijew, Jeksmo, Moskwa 2009.
[4] Tamże.
[5] A. Żmijewski, przedmowa w: J. Rancière, Estetyka jako polityka, przeł. J. Kutyła i P. Mościcki, Wydawnictwo Krytyki Politycznej, Warszawa 2007, s. #.
Imprint
See also