[EN/PL] Tatjana Danneberg 
at Galeria Dawid Radziszewski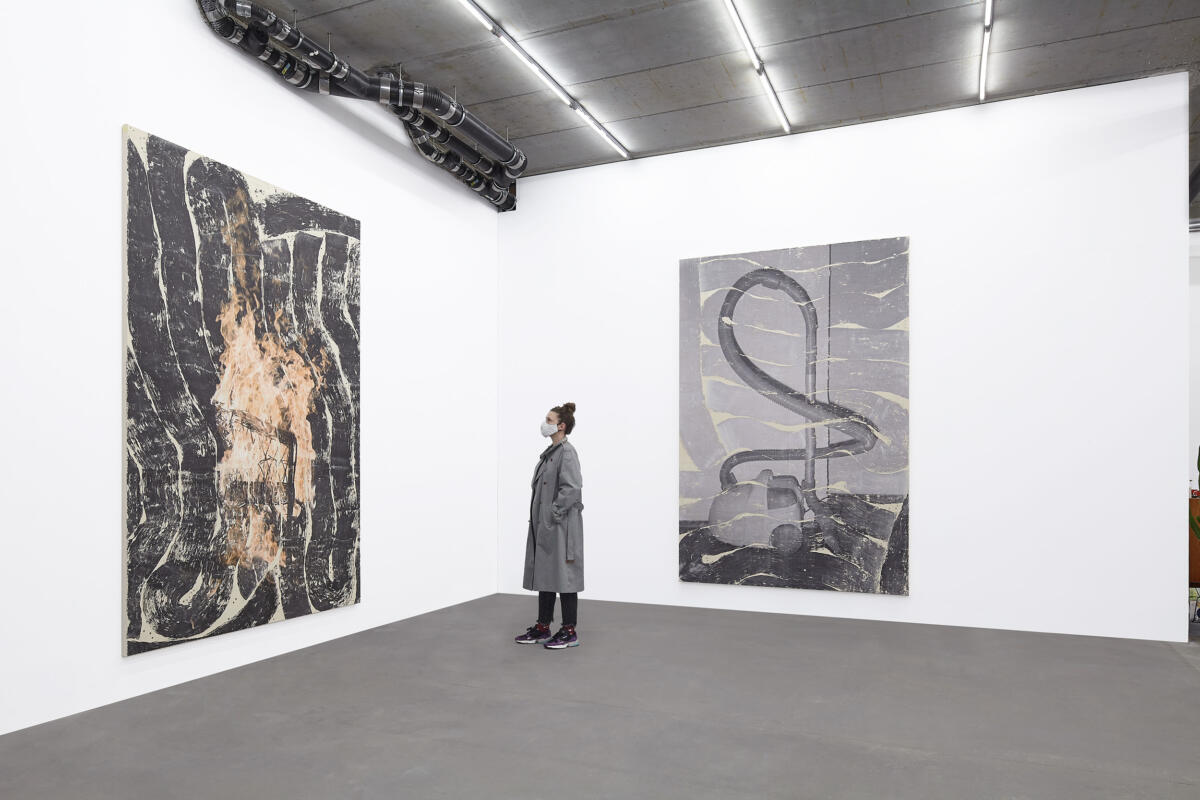 [EN]
Tatjana Danneberg uses photographs as the basis for her works. But not photos randomly chosen from her iPhone roll. They are made intentionally, sometimes with an analog camera, maybe lo-fi aesthetics. She captures blurred memories, caught in between important events. Days on which nothing really happened; places you don't even remember visiting. Tatjana's camera remains most active among moments frozen in time.
The motifs are casual. Drying rack, vacuum cleaner – the size of a car, monumental, as if it painted itself, lipstick held in hand, flippers. A wicker chair no one needed, set on fire in a garden. Nothing nostalgic or sentimental.
Danneberg scales up the photos and prints them on transfer foil which she then paints in gesso. Once it's dried she wets it again to stick it to the canvas. The final shape of the painting will be known once the foil is removed.
What is left is a fragmentary image made out of her recorded non-memories, tracked by strokes left by the glue binder. As if the brush knew exactly what to paint. But it was guided through the canvas by the artist's body, its strength and stamina, her height, the width of her arms. Brushstroke by brushstroke, rhythmically, she composes her paintings in an intuitive choreography.
[PL]
Prace Tatjany Danneberg powstają przy użyciu fotografii. Nie są to zdjęcia losowo wybrane z rolki iPhona. Zrobione są intencjonalnie, czasem analogowym aparatem, czasami w estetyce lo-fi. Na zdjęciach utrwalone są nieostre wspomnienia – nic konkretnego, raczej chwile pomiędzy jakimiś innymi ważnymi wydarzeniami. Dni, w których nic się nie zdarzyło, miejsca, w których nie pamiętasz, że byłaś. Pośród tych zastygłych momentów, aparat Tatjany jest ruchliwy.
Motywy są zwykle niezobowiązujące. Suszarka na pranie, odkurzacz przeskalowany do rozmiarów auta, monumentalny, jakby sam siebie namalował, dłoń trzymająca szminkę, płetwy. Jest też niepotrzebne, wiklinowe krzesło, które płonie w ogrodzie. Nic co mogłoby wzbudzić specjalną nostalgię.
Danneberg powiększa zdjęcia i drukuje je na folii transferowej, którą gruntuje podkładem malarskim. Wyschnięte arkusze ponownie namacza i przenosi na płótno. Ostateczny kształt obrazu poznaje dopiero po odklejeniu folii.
Ze zdjęć i nie-wspomnień pozostanie tylko fragmentaryczna część, wytyczona gestem malarskim, zgodnie ze śladami pędzla jakie zostawił po sobie nałożony grunt. Jakby pędzel sam wiedział co ma namalować. Ale jego drogę na wielkim płótnie wyznacza ciało artystki, jej sprawność fizyczna, wysokość i szerokość ramion. Ruch po ruchu, rytmicznie, wytycza ona kompozycję obrazu według intuicyjnej choreografii.
Imprint
See also