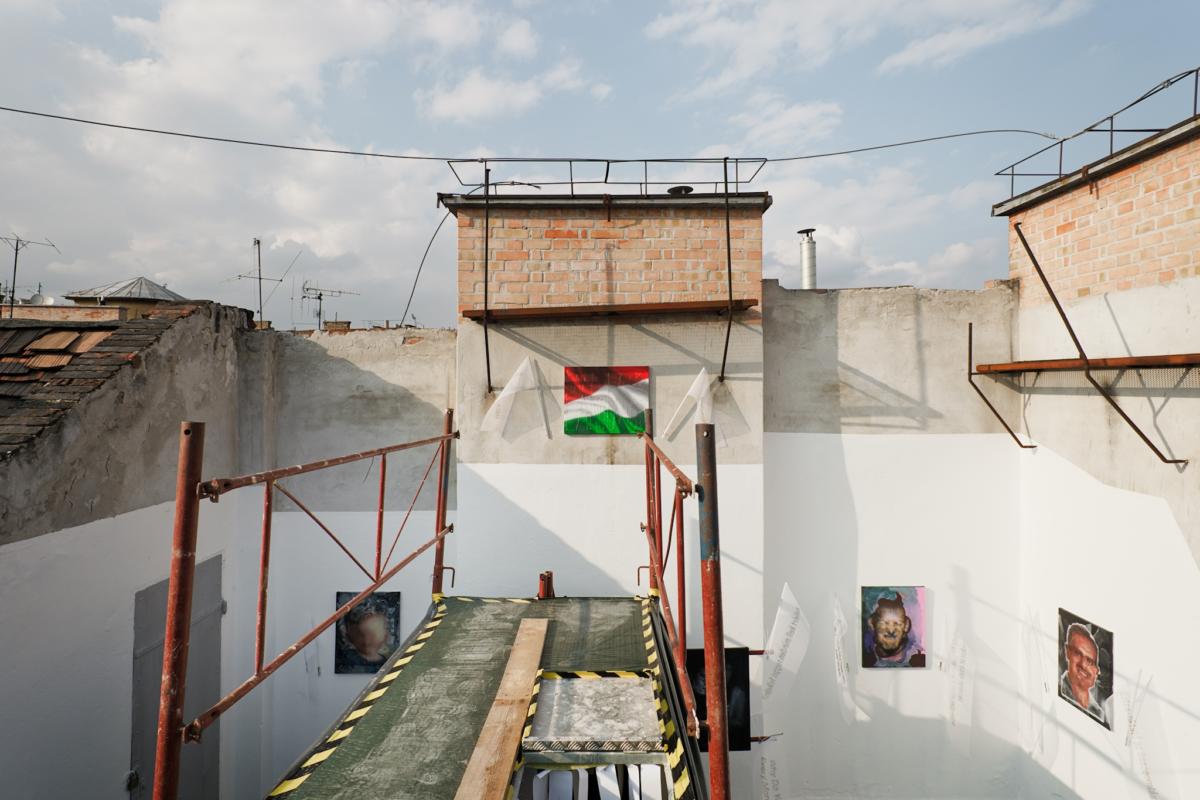 János Brückner's "Stupid Things" exhibition greets stupidity with an open heart and mind, thirteen paintings, one mask, and a bunker a bunker full of manifestations of stupidity
"If repeated enough, every stupidity seems true."
(Sas István)
During my childhood, stupid was just as much a forbidden word as damn or hell within the household. I never used it on the playground as the word functioned as ammunition. With time, the meaning morphed and became obscured. Stupid became synonymous with the things that people didn't understand. Stupid became individuals, things, and concepts that society no longer wanted to deal with. How can a word hold that much weight? Especially, enough to strip the credibility away from anything leaving it exposed, naked and humiliated.
As I began to think about "stupid", I realized that it is always a step away from becoming serious but who gets to decide? Hungarian artist, János Brückner's, in collaboration with Everybody Needs Art (ENA) welcomes this inquiry. Brückner's Stupid Things exhibition greets stupidity with an open heart and mind, thirteen paintings, one mask, and a bunker a bunker full of manifestations of stupidity.
For preparation, I conducted my own meditations on stupidity. A simple google search transformed into an instantaneous mantra. What classifies something as stupid?
stupid synonym
stupid young heart
stupid questions
stupid quotes
stupid meaning
stupid is as stupid does
stupid in german
stupid girl
stupid deep lyrics
stupid deutsch
This thought coursed through my head the entire minute that the elevator rose and fled right as it planted itself at the floor of the ENA's viewing space. The journey itself transports you into this other world. A short promenade alongside a row of flats gave way to a courtyard with trees recently touched by spring and birds singing –potential prophecy of the moments to come. Ornithomancy, an ancient roman practice that used bird's songs and flight for divination, was once used with certainty and is now deemed ridiculous. How do serious things transform into silly? Is it as simple as scientific phase transitions, like when an ice cube melts into a puddle?
In this roofless room at the top of a house close to the Danube River in Budapest, there is a high chance of getting lost between what is stupid and what is serious, what is light and what is heavy. However, there are at least two important differences between my labyrinth, and the countless escape-rooms within this Eastern European city: Stupid Things are for free, and nobody locks you into the strict and dualistic categorization of stupid and reasonable. – János Brückner
Through the guise of Stupid Things, Brückner asks the audience to engage in a dialogue about the intersection of seriousness and stupidity. Without judgement, he approaches the topic with curiosity mixed with a playful air. Calling upon artists who he claims as his masters, he channels their energies in order to invite others into the conversation. This is done through the works themselves, the titles serving as social commentaries on absurdities that actually exist.
I continued up a set of cream colored steps and immediately made first contact with the constructed world. Two partially transparent mosquito net flags, one with the title written in Hungarian and the other in English, were perched on the wall on each side of the first painting, Well Not. The presentation initially reminded me of the display style of medieval royal portraits – two wall mounted sconces illuminating the most important figures. In this case, two unnamed pixelated children, a girl and boy, float within a sea of a Bauhaus color spectrum. Frozen mid action, their eyes suggest continued movement as their eyes smile towards the sky above them.Their bodies shift between groupings of small particles and airy strokes that bleed into the multi-toned background – a sublimation of silliness.
Ornithomancy, an ancient roman practice that used bird's songs and flight for divination, was once used with certainty and is now deemed ridiculous. How do serious things transform into silly?
Well not was my initial dose of stupidity but placing the painting in that category didn't resonate for me. Not that I was an expert on the subject matter, yet my mind already hosts over two decades of collected algorithms which it uses daily to discern what is dumb or not. At this point, I reached the realization that I had already started overthinking. The usual logic and theory dense deconstruction approaches would not apply here. I didn't have to look for stupidity, it had found me. This wasn't about prescribing the meaning of the works but allowing them to just be.
"All mistakes were made by me", a quote from the artist fixed on a blank white wall, typed on a sheet of white A4 paper. This note, as well as the objects, is part of the multiple dimensionality of the conversation. Titles ask why do we take things so seriously when they are clearly outrageous? Eyecandy which shows a portrait with the words "you like this" written horizontally across the face nods to social media culture. Home continues the social deconstruction as "Weird Language" is painted across the Hungarian flag.
Many of the paintings, especially Nostalgy and Uncle Josh has Brought the Panties, activate a sense of Hypnagogia. They could even be referred to as manifestations of "hypnagogic hallucinations", the experience of transitioning from wakefulness to sleep: the melting of fantasy and reality. The merging of realities references back to the initial task– to make seemingly disparate ideas, silly and serious, exist in one frame. Brückner succeeds in doing this as he brings composite people to life in Let Me Fart in My Own Toilet as Loud as I Can! and I Think I Shat Myself.
Beyond the paintings, an onyx colored tarp surrounded the artist built bunker. The form itself epitomized the absurd.  At the entrance, a black cloth, folded several times, acts as the doorway– a thin membrane into the liminal. The interior of the bunker is covered in yellow foam. Not the kind for insulation but for moving. The type of material you use when you are packing something precious, which is exactly what Brückner placed in the space, his inspirational valuables.
Pieces of white paper with the images and words of Brückner's master, Szent Varecza, hang from the ceiling, the words themselves directed towards the floor, like leaves falling down. As the wind blows, a breeze comes and the pages flutter towards the light flooding down from the bunker's open shaft. Almost like they would take flight but can't – they are secured there, with safety pins. Below them, a pyramid made of paper stones are cemented into the flesh of the bunker using false pearl tailor pins. Each pin knits the narrative of Taródi István, a man who built a personal castle with his own hands.
Within Stupid Things, Brückner was effortlessly able to do what most would struggle with–summon the senseless in a serious manner. After listening to Pet Shop Boys – Give stupidity a chance, I decided to chat with Brückner to further immerse myself in this new way of sensing.
What is your definition of stupid?
Something fundamentally human, beautiful, valuable is manifested in exactly stupid things. A moment that freely and easily discards useful, well-learnt, tried and tested acts of wisdom, carelessly accepting the clear and sure failure. An honest, simple, unvarnished action. A determined mistake. A snafu. A fragile and awkward moment.
During my childhood, the dirtiest word we could use at home was 'stupid'. Therefore, even though it is quite a grey word for me, still holds some kind of taste for resistance.
When was the first time you encountered the term stupid? How did you feel?
During my childhood, the dirtiest word we could use at home was 'stupid'. Therefore, even though it is quite a grey word for me, still holds some kind of taste for resistance. Saying the word 'stupid' and doing stupid both feels good to me.
What role does silliness/stupidity play in your life, surroundings and interactions?
Helps me to find lightness in life through laughing. Also Helps to see 'depth' in looking at the activities of people refusing the rule of the rational mind (see the inspirational masters of the exhibition).
Who are your chosen masters in stupidness? Why did you choose them? What foundation have they laid for you?
Szent Varecza, Taródi István, ÓMARA, John Kilduff. They simply had a very strong effect and imprint on me. They hold space for non-rational, non-conventional, free, funny or sad, and honest artistic approach of doing things, of living life. Even though there is a tradition in Russian literature (and of course in so many other cultural heritage) for the "holy crazy/silly" figure, it wasn't the archetype that inspired me rather these actual persons with their lives.
How did you arrive at this concept? How did it manifest?
So after the exhibitions 'Variable Ancestry' and 'Extreme Presence' I wanted to do something lighter, something funny and silly. These examined into a depth of personal stories, of reclaiming them and the possibilities of connecting this to certain communities. I had the idea for an exhibition for 'Stupid Things', and i felt that the time has come. It came together with starting to work in the new atelier in Weissensee: I walk around on this semi-empty, post-communist neighborhood with its stores and people and landscapes, and titles – stupid things – come to my mind. Then I also wanted to talk about stupid things from another aspect, so therefore I decided to incorporate some of these masters.
What can people learn from "Stupid Things"?
I don't know if there is anything to learn but definitely a lot to experience. There is inside an outside at the same time on this exhibition, intimate moments with Szent Varecza and Taródi through some hommage works in a bunker, there is a mask and there are my stupid images. There is a diversity of things that are stupid from different angles and they hold different meanings and emotions – but lightness at the same time.
Imprint
| | |
| --- | --- |
| Artist | János Brückner |
| Exhibition | Stupid Things |
| Place / venue | ENA Viewing Space, Budapest |
| Dates | 6 April – 17 May 2019 |
| Curated by | Péter Bencze |
| Photos | Aron Weber |
| Index | ENA Viewing Space János Brückner Mia Harrison |
See also