'Unforeseen Forces of Occulture (U.F.O.)'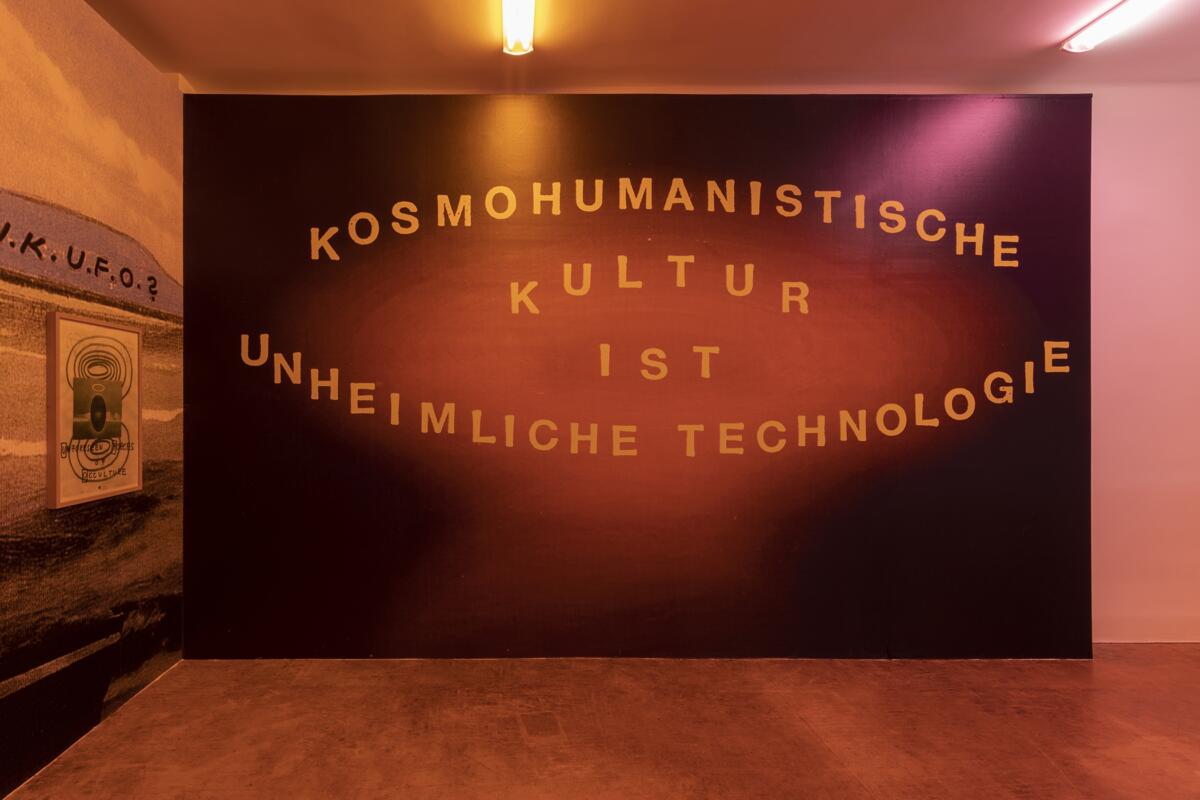 T+U (Technologie und das Unheimliche) is a Berlin-Budapest-Elsewhere-based publishing project  and cross-disciplinary movement, originally initiated by Mark Fridvalszki, Zsolt Miklósvölgyi, and  Márió Z. Nemes. T+U focuses on the cultural phenomena that arise from the confrontation between  the conditio humana and technology, highlighting related issues and projects. With this mission in  mind, T+U mediates between cultural technologies within the context of post-digitality and tries to  infiltrate para-academic thinking with artistic strategies. In collaboration with the JKS collective  (Július Koller Society) a new exhibition has been set up in Nová Cvernovka, a part of a series that  features sci-fi phantasms absorbed into an acid hypercollage against a psychedelic backdrop. 
It is a type of cosmic attempt that can only be envisioned on a balcony of a typical Soviet-style  prefabricated high-rise in Dúbravka, an endeavor to enter into a conversation with otherworldly  creatures as if trying to challenge a rival to a friendly game of table tennis where the future of  cosmo-humanist history is at stake. It is a type of envisioning, where all familiar landscapes,  whether the Tatra mountains or Lake Balaton, can all of a sudden turn into an eerie scenery of close  encounters of the third kind. It is a type of osmosis where plastic and plasma merge into one to  create a new breed of a righteous cosmic society. It is a type of an occult laboratory in which the  prime matter of the cosmo-humanist alchemist reaches the speed of light. It is a type of xenotopia  wherein a new Eastern European intergalactic agent is born, a type of agent that considers itself a  humanist but no longer human; a type of agent that considers itself to be a socialist, and yet has  always orbited in cosmic spheres. It is a type of agent that has always believed that communism  could only be reformed in an intergalactic wedding when the cloud of smoke from the cosmic  chimney (fourneau cosmique) transmutes the nation's gold into a new body. This is a type of gold  that fills up the universe with light it radiates. It is a type of anti-happening that results in the  cultivation of transmutation in everyday practice whereby everything we touch turns into gold. It is  a type of mystery of the Capital by which the artist ultimately transforms itself into gold and pure  speed. It is a type of cosmo-humanist artist who can only prevail by submerging itself in the realm  of frightening technologies. It is a type of gold production that allows the anti-happening to radiate  as technological lux throughout the ether of the unknown universe. 
Július Koller himself tended to listen very carefully to the sounds of this precious light every night,  trying to write it down, since he firmly believed that in it any indecipherable code of the unknown  universe can be transformed back into gold. We aim to follow this insatiable desire of Koller's for a  mind-altering extra-planetary rendezvous with the Unforeseen Forces of Occulture (U.F.O.), both in and beyond the context of this exhibition. To do so, we daily take part in Kollerian rituals of  transforming plastic into ufonautic gold which in turn unpredictably transforms us into clairvoyants, dwarfs, cosmo-patriots, prophets, or tennis players. We can play with interplanetary resonances on  electromagnetic waves to make the now vibrating doctrines of national myths sing the aerodynamic  anthems of the future. We have directed the vast antennas of massive brainwashing at a new  generation of ufonauts who can decipher the genes of the future and metabolize them with their  digestive futurological saliva. Today, the destruction of the Bermuda triangle's imperial power by  the acidity of cosmic uncertainty opens the way to a new Atlantis. This is the founding collective of  the universal parliament of intergalactic justice.
Imprint
See also