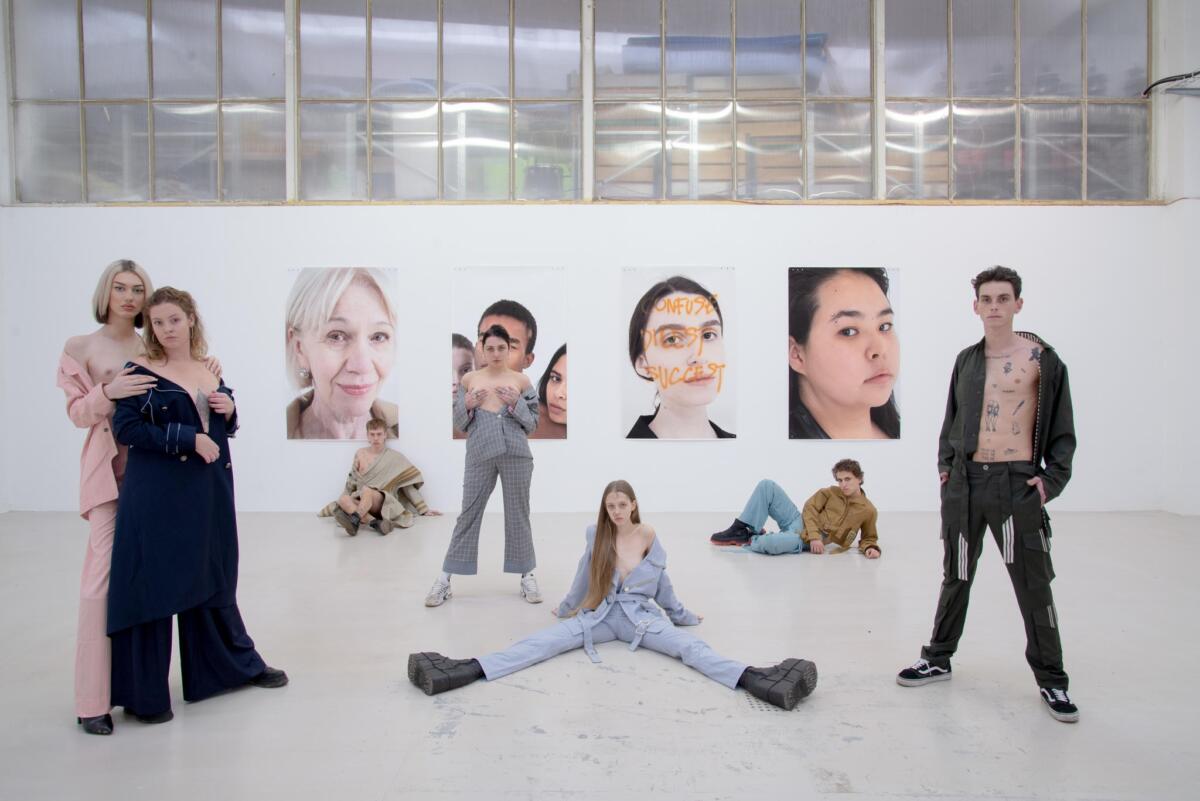 In November, the INDUSTRA ART Gallery in Brno (Czech Republic) presented an online exhibition of large-format photographs with an overlap into painting, graphics and performative art – BODYSHOTS22. Together with performers, members of the non-modeling agency New Aliens Agency and its founder Jakub Ra, Anna Königová discussed the topics of gender, activism and life on the border of the modeling and art world.
***
Anna Königová: From social networks, television and the media, I sometimes feel that it offers a view of gender issues as if it was from the other side of a hostile camp. Do you perceive any barrier – the classic world versus yours, which is largely made up of the New Aliens Agency?
Rozaly: Personally, it was important for me to belong to a group where everyone is open and doesn't look at you that way: You're the weird one, you don't belong here. The environment in the agency is really open. It helped me a lot to open up to the world.
Jakub: That's why we at the agency constantly strive to promote diversity, thanks to which we perceive the diversity of the people who make up the New Aliens Agency and who surround us.
Eva: I openly said a year ago that I was Eva. People had seen before that I was doing make-up, but I felt that I was constantly hiding from something, from the truth. As I said it, suddenly other people's glances stopped being uncomfortable for me. I'm not the make-up boy walking down the street anymore. I'm glad I'm alive. I live my normal life. I feel relieved and I know it should be.
Naty: I have the strongest memory of the very beginning, when I started working as a model for the New Aliens Agency. It completely changed my view and thinking. I went into it with the fact that I have an aversion to what I look like, I hate my body (I fought with it for several years) and the view of the people in the agency changed all that.
Rozaly: Like Naty, when I joined the agency, I hated my body and went through various stages of hatred for my own body. At the agency, I realized it was terrible stupidity.
And was it the fault of the surroundings, or did you feel it so internally?
Adéla: I think it was both. Suddenly I saw all sorts of personalities, types of characters and I realized that I was what I should be.
From the very name of the BODYSHOTS22 exhibition, I feel that you are so-called "on blast" everyone can lean on you, you are waiting for a punch, even if you are anonymous portraits of people hanging on the wall.
Jakub: It's very important to accept your body, because in modeling you have to accept at least part of it, because once you don't accept it, you can't work with it. A good photographer feels it, if a person is inward harmony, he can pose, look natural, he feels relaxed and that the person enjoys it, he has a lot of energy.
Aren't we more talking about the pose? Suddenly you become someone else, you dress in new clothes, you put on make-up, you change your identity.
Jakub: It can also be a pose, but I see it more as a change of identity, which can help you find what you didn't know before.
Adéla: When I'm on a photo shoot, for example, I have no inhibitions at all and I don't mind being without a bra, but when I have to meet someone new outside the circle of my colleagues in the agency, I'm suddenly ashamed of my body and have trouble making contact with someone.
Jakub: That's also a topic we're constantly working on. In modeling, some are extremely satisfied with each other, but when they move to the level of personal life, they solve it completely differently. For example, I still have a problem with my body in some situations and mostly in my personal life. When I meet someone new, I have a lot of questions about whether I like that person. But as soon as I'm at the photo shoot, I know that the client chose me because he likes me and, on the contrary, I gain self-confidence.
Rozaly: For me, for example, it works in such a way that it helps me to feel how I feel in my personal life. I take all the feelings I have when taking photos or when I'm on the catwalk and transfer them to my own life.
Matěj: I'm very similar in this. As I walk down the street, I imagine I'm walking down the catwalk. If someone is looking at me and maybe is looking stupidly, then I want to indicate that it is me and you. I wore it hard. But now I say to myself that I am actually presenting myself, in the form in which I feel best. And if the neighborhood doesn't accept me through, it's not really my fault. I don't do anything violent, I show myself and I see no reason why people should judge me. Rather, I want to show them that it's okay like this.
The modeling agency exhibits unretouched photographs at the BODYSHOTS22 exhibition. The visitor can see all the imperfections. Why?
Jakub: We want to show what we look like, reality. For me, retouching photos is an old paradigm that modeling agencies unfortunately still practice. They do not add unretouched photographs to the model portfolios to make them attractive to clients. Of course, if we send the book to foreign agencies, we also give retouched photos. But an exhibition with its own context does not deserve retouched portraits.
When the visitor looks at the exhibition, he sees portraits of unknown people, but after watching the exhibition, someone would almost object that someone "normal" is missing.
Jakub: After all, the photos show almost naked figures. We show ours natural form. I wouldn't say if we had exaggerated styling, then I can understand that. But we see almost pure beings living their lives, and if someone judges at the expense of what the people in the photos look like, it's wrong.
Rendy: We're still human and the picture of this According to many "normal people", as presented by the media is misleading. It does not show reality.
In my opinion, the Gallery of Contemporary Art should be a place similar to your agency. A space where you can freely express your essence through a work of art. The visitor would feel from the exhibition and from the photos that everyone carries their own story, but we are all the same.
Jakub: The photos are made that way. The viewer should focus as much as possible on the portraits themselves, so we chose a neutral background, light, and at the same time we photographed at angles that should draw the viewer into the penetrating views of the personas.
Do you perceive increased interest from galleries in you and gender issues over the years?
Matěj: Because we are an agency that focuses on modeling and at the same time we try to be an artistic platform, it's hard. We are too strange for the modeling world, because we are not commercial and for the artistic sphere we are a modeling agency. Why it should be presented in art. So at present we are in such a middle ground between art and modeling that it is often difficult for us to function 100% in one of the given spheres, because we are difficult to grasp for both parties.
Rozaly: It seems to me that we also got to that limit recently, because in the beginning we created a lot of performances and people didn't know New Aliens as a commercial modeling agency.
Jaspit: In my opinion, people often tend to various camps and so-called boxes. People from the art world don't want to admit that art can be done by someone who goes to a show and vice versa.
Jakub: From abroad, for example, we can talk about Vanessa Beecroft, who works with a modeling team, or Anne Imhof, who has models from world agencies in her performances, and her girlfriend went to fashion shows for Balenciaga or Vetements several times.
It seems to me that when we talk about issues of self-perception, a certain corporeality, that we have now entered such an activist carousel. We need to stand up for someone, we have to define ourselves, we have to call it real names.
Jaspit: For me, the best form of activism is that "you live it" for yourself. I have a lot of acquaintances who fight for their rights, and for everything to the extent that they can attack others because they accuse them of not fighting for it in exactly the same way.
Jakub: In my opinion, activism is that one has to work mainly with oneself.
Matej: If you want to present that being queer is okay, just do it, show it, don't be ashamed of it and live it. I think it's a much better way than the state somewhere in the square with the sign I AM QUEER! Maybe someone would stop, take a picture of me, but in my opinion the value of activism is elsewhere, in natural presentation of life.
The name of the exhibition Bodyshots22 encodes the year 2022, what are your plans with the agency for the future?
Jakub: We will try to expand more abroad. Now we have plan to focus mainly on Asia. I must also not forget to work with Helsinki Fashion Week. There we want to develop digital models and everything related to digital fashion.
Imprint
See also