'The Beginning is the End is the Beginning' by Edgars Gluhovs at Careva Contemporary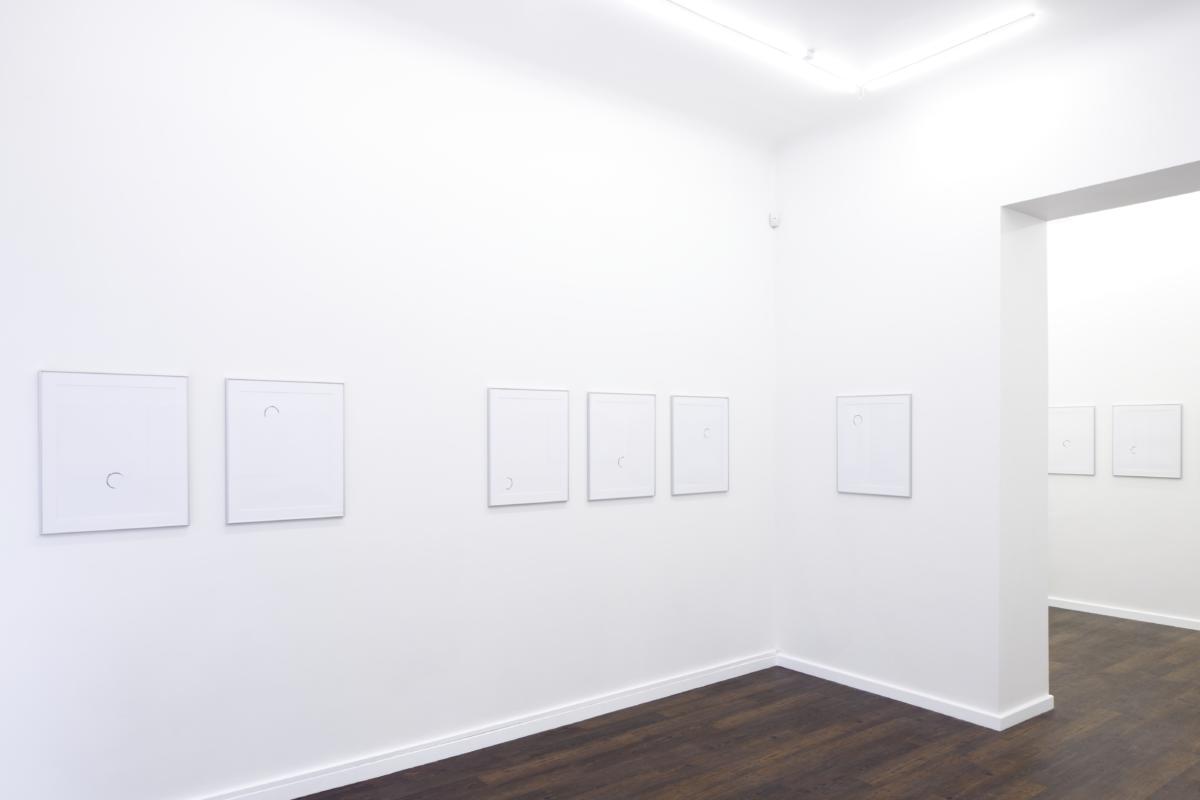 A stamp is a means to reproduce something almost indefinitely through repetition. The medium of the stamp tends to symbolize approval, green-lighting, verification, leaving of a definitive mark. The stamp-marks on otherwise empty sheets of white paper in the pieces shown here do not work that way.
The works in this presentation consist of an ink-stamp reproduction of a marble ouroboros motif – a snake eating its own tail – to be found in the Santa Maria del Popolo church in Rome, the "eternal city".
On the subject of the ouroboros one can google the following:
"Originating in Ancient Egyptian iconography, the ouroboros entered western tradition via Greek magical tradition and was adopted as a symbol in Gnosticism and Hermeticism, and most notably in alchemy. Via medieval alchemical tradition, the symbol entered Renaissance magic and modern symbolism, often taken to symbolize introspection, the eternal return or cyclicality, especially in the sense of something constantly re-creating itself. It also represents the infinite cycle of nature's endless creation and destruction, life and death."
And also this :
"Swiss psychologist Carl Jung saw the ouroboros as an archetype and the basic mandala of alchemy:
«In the age-old image of the ouroboros lies the thought of devouring oneself and turning oneself into a circulatory process, for it was clear to the more astute alchemists that the prima materia of the art was man himself. The ouroboros is a dramatic symbol for the integration and assimilation of the opposite, i.e. of the shadow. This 'feed-back' process is at the same time a symbol of immortality, since it is said of the ouroboros that he slays himself and brings himself to life, fertilizes himself and gives birth to himself»."
The only variation from one picture to another is the tilt of the wrist made when applying the stamp, and its position on the paper.
This tilt interrupts the ouroboros symbol, sometimes merely hinting at it. Its fragments end up scattered across the series and start to look a little bit like reproductions of a mark left by a glass on a napkin.
Kind regards, Edgars Gluhovs
P.S. The gesture, the tilt of the wrist and the glass motif also, by the way, recur in Edgars Gluhovs' series of photographs "Burgunderszene" (2016). Like most of the works up until now, they are understood to be not definitive statements but rather works open to the possibility of being continuously re-evaluatated, re-stated and fed into new pieces.
Imprint
See also