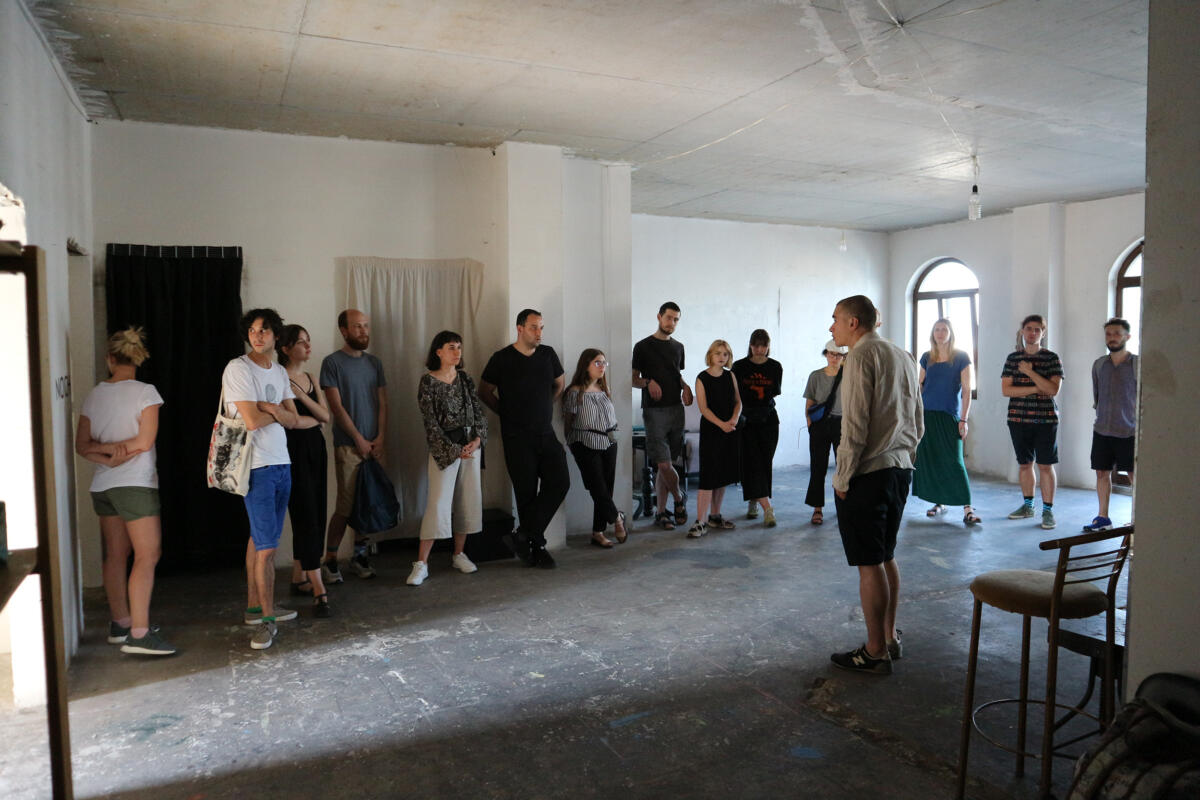 This Q&A column focuses on the indeterminate borders between off-/project-/artist-run spaces and the people that keep them going [#Off Space Q&A]
Noch is an initiative of artist Alexandra Kadzevich and writer and psychotherapist Garry Krayevets, that focuses on short-term artist studies and explorations. The topics of these studies covers under-investigated phenomena, philosophical schools, and the unforeseen moments, patterns and outcomes that have yet to be. The result of each study is a one-day exhibition, in their venue that has a view of the port of Odesa.
Noch emerged from the studio of Kadzevich in June 2018, out of an idea to create a space for 24 hour exhibitions; a situation which could be shared with others with no intervention from anyone but the artist. We are focused on intertwining the international and local art-scenes, and expanding the Odesa artistic field through meetings, artist-talks, and group discussions.
We also support artists through our residency program that focuses on both global and local social issues. The title of our space — Noch — is a latin transliteration for the word "night" in Russian, which can also be read as "more" in German.
We've held over thirty exhibitions by both Ukranian and foreign artists in the almost 3 year span of our existence. In this time, Noch has grown to become an important and influential cultural spot for the city of Odesa.
http://www.noch.space/
https://www.instagram.com/noch.artspace/
https://www.facebook.com/nochspace
***
Was it a good idea?
It was a very important and timely idea! In the context of Odesa contemporary art, it became necessary to create a format of just such a free space, which gives rise to a dialogue between the participants in the artistic process and makes it more open for artists than usual.
Who has held you up?
Artists, community
Are you a link or a node?
We're a field.
What do you need?
For now, we have it all.
Digital or physical?
We love hosting artists in our physical space, at present it sounds like a luxury. Everything else will always be available until the display is turned off.
What do you measure?
"People nearby" and other innovations.
What are the known unknowns?
We are not involved in any academic discourse…
What time is it?
Endless night.
Is it an animal, vegetable, or mineral?
We are petroleum.
Why now?
Crisis. The crisis of interaction, the crisis of the community within which communication is built. Because the social brings the possibility to develop the individual.
And what about the unknown unknowns?
We have flights without a schedule.
Are you prepared?
Always.
What were you given and what did you take?
Taken – Experience, problems, style
Given – Interest, the path, meeting
Is it enough?
Not enough. If we look into the endless starry sky then, I think, we will definitely want more…
Imprint
See also