[EN/LT] 'Microorganisms & Their Hosts' by Mindaugas Gapševičius at Atletika Gallery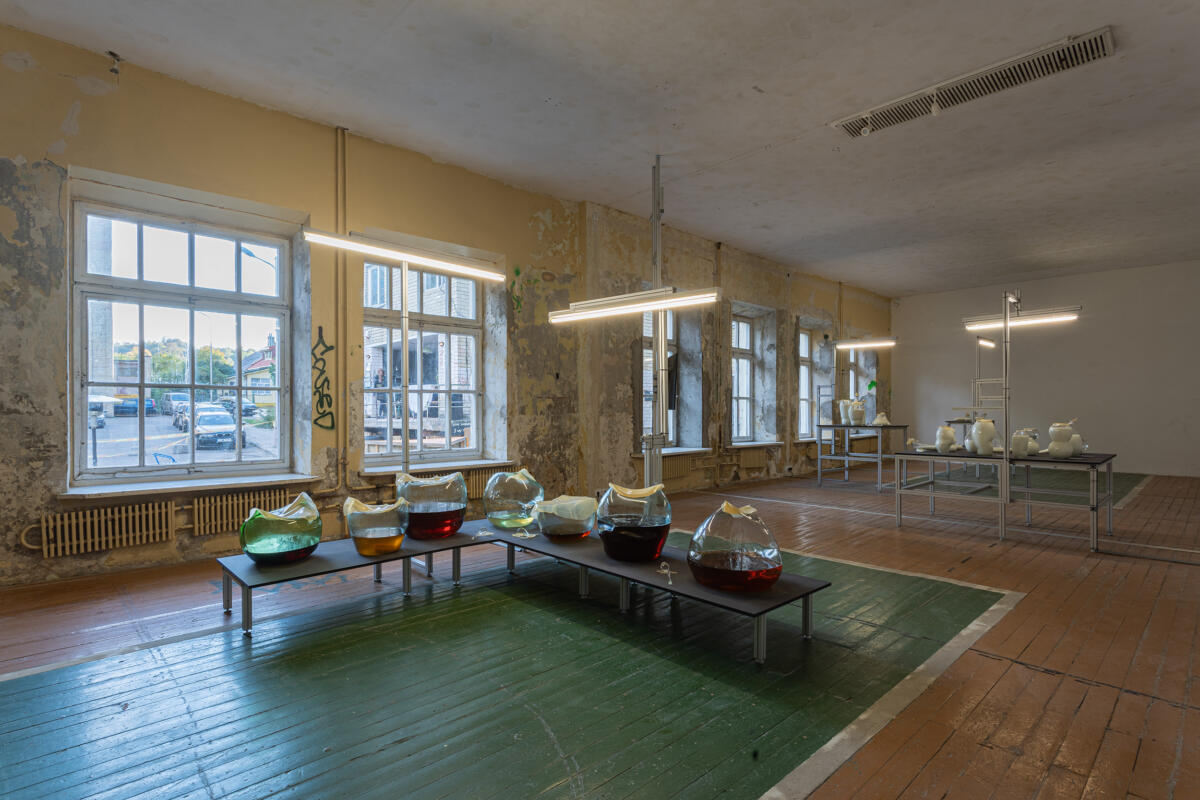 [EN]
"Microorganisms & Their Hosts" is a solo exhibition by Mindaugas Gapševičius, created in collaboration with microorganisms and professionals from various fields, such as scientist Auksė Gaižauskaitė (microbiology), artists Antanas Gerlikas (glass), Laura Kaminskaitė (exhibition design and glass), curator Valentinas Klimašauskas and others.
The main question behind this exhibition and workshop titled "How to personalise yogurt?" is how our aesthetic perception is affected by the products we ingest. The exhibition focuses on a project that looks at how selected microorganisms (in this case – macroorganisms (bacteria) Lactobacillus spp., Streptococcus spp., Leuconostoc spp.) affect our biota –– the populations of various microorganisms living in the gut. Biota contribute to the overall well-being of the human body and, as the exhibition considers, aesthetic perception.
The audience plays a very important part in this processual project: by consuming products saturated with microorganisms during the exhibition, the audience members will be able to alter their microbiota and their experiences, and to observe them. When asked what might constitute an artwork in such an exhibition, the artist Gapševičius replied that, aside from the artefacts created, the interactive medium between human beings and microorganisms is what might be considered the main work of art. Time and experience are both very important elements in this project, which makes it related to such art movements and styles as Fluxus and relational aesthetics as well as the increasingly popular amateur maker culture – it is no longer unusual to produce your own fermented products at home, such as sourdough starter or fermented teas.
According to Gapševičius, other important factors alongside the influence of microbiota on our aesthetic perception are the audience's direct participation in the project, the incorporation of their experiences into the artistic value of the work, and the dissemination of the ever-changing notion of art. The more the audience becomes involved in the development of new experiences through art-related experiences, the more actualised the contemporary art discourse will be.
Microbiologist Auksė Gaižauskaitė helped isolate certain chosen microorganisms for the project. According to her, the properties of probiotics, better known to the public as the 'good' bacteria, have been under research for many years. In more recent studies, scientists have even uncovered that gut bacteria can indirectly contribute to our emotional well-being and mood management. By purposefully consuming certain foods containing probiotic bacteria we could attempt to regulate the amount of probiotics in our bodies by ourselves. However, the scientist warns us that these processes are not as simple as they might sound and that we should approach them with care.
[LV]
"Mikroorganizmai ir jų šeimininkai" yra personalinė Mindaugo Gapševičiaus paroda, kuriama bendradarbiaujant tiek su mikroorganizmais, tiek su skirtingų sričių profesionalais, pavyzdžiui, su mokslininke Aukse Gaižauskaite (mikrobiologija), menininkais Antanu Gerliku (stiklas) ir Laura Kaminskaite (parodos dizainas ir stiklas), kuratoriumi Valentinu Klimašausku ir kitais.
Pagrindinė parodos ir prieš ją vyksiančių kūrybinių dirbtuvių "Kaip suasmeninti jogurtą?" tema – estetinio patyrimo priklausomybė nuo suvartotų produktų. Šioje parodoje tyrinėjama, kaip tam tikri produktai (šios parodos atveju – konkretūs mikroorganizmai (bakterijos): Lactobacillus spp., Streptococcus spp., Leuconostoc spp.) veikia mūsų mikrobiotą – žarnyne gyvenančių įvairių mikroorganizmų populiacijas, prisidedančias prie bendros žmogaus organizmo gerovės ir galimai darančias įtaką estetiniam patyrimui.
Šis projektas yra procesualus, o auditorija – labai svarbi jo dalis: vartodami mikroorganizmų prisotintus produktus, žiūrovai parodos metu turės galimybę keisti savo mikrobiotą, potyrius, juos stebėti. Į klausimą, kas tokiu atveju yra šios parodos kūrinys, menininkas M. Gapševičius atsako, kad jei nekreiptume dėmesio į sukurtus artefaktus, meniniu kūriniu galėtų būti laikoma interaktyvi terpė tarp žmonių ir mikroorganizmų. Laikas ir patyrimas taip pat yra svarbūs šio projekto elementai ir gali būti siejami tiek su tokiais meniniais judėjimais ir stiliais kaip Fluxus ar reliacinė estetika, tiek su šiuo metu itin populiaria mėgėjų gamintojų kultūra – gana įprasta namuose gamintis fermentuotus pieno produktus, duonos raugą ar fermentuotą arbatą.
Anot M. Gapševičiaus, be mikrobiotos įtakos estetiniam suvokimui, šiam projektui svarbus ir tiesioginis žiūrovo įsitraukimas į projektą, naujų žiūrovo patirčių įtraukimas į meninę kūrinio vertę ir vis kintančios meno sampratos sklaida. Kuo labiau žiūrovas įsitrauks į naujų patirčių vystymą su menu susijusiose veiklose, tuo labiau aktualizuosis ir šiuolaikinio meno diskursas.
Mikrobiologė A. Gaižauskaitė šiame projekte padėjo izoliuoti tam tikrus pasirinktus mikroorganizmus. Anot jos, probiotikų, visuomenėje žinomų kaip "gerųjų bakterijų", savybės tiriamos jau daug metų. Gana neseniai atliktuose tyrimuose mokslininkai atskleidė, jog žarnyno bakterijos gali netiesiogiai prisidėti ir prie žmogaus emocinės savijautos, nuotaikos valdymo. Tikslingai vartodami tam tikrus maisto produktus, turinčius probiotinių bakterijų, galime bandyti savarankiškai reguliuoti probiotikų kiekį organizme. Tačiau mokslininkė perspėja, jog šie procesai nėra tokie paprasti kaip atrodo, tad viską turėtume vertinti atsargiai.
Imprint
See also