'imMoblized. Focus on the emerging art scene in Poland' at Fondation Hippocrène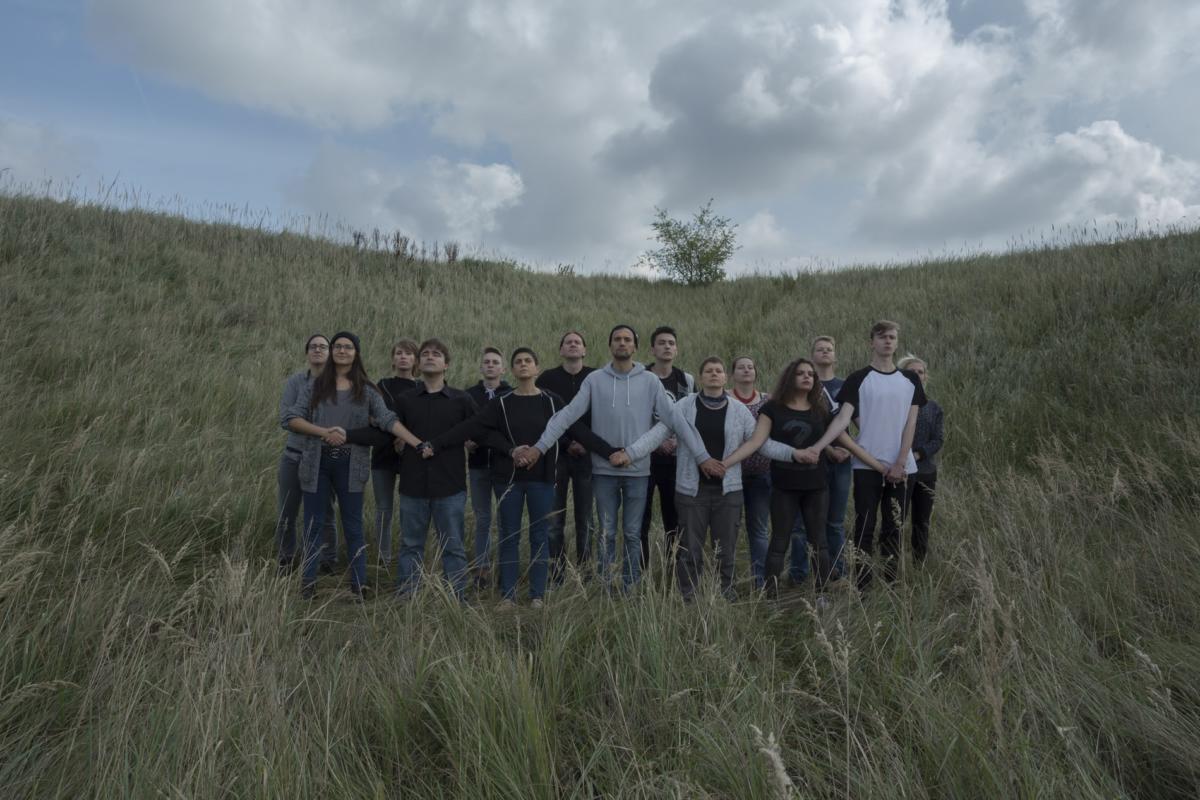 "Things we ought to do systematically, from time to time in the building you live in:
– go and call on your neighbours; look at what there is on the communal wall, for example; confirm, or belie, the homotopology of the accommodation. See what use they have made of it;
– notice how unfamiliar things may come to seem as a result of taking staircase B instead of staircase A, or of going up to the fifth floor when you live on the second;
– try to imagine what a collective existence might be based on, within the confines of this same building. (…)
– look upwards."
Georges Perec, Species of Spaces /p>
imMobilized is a group show featuring the works of thirteen artists of Polish origin. Ten of them responded to an open call addressed to artists who question the idea of progress in Polish contemporary society in the context of socio-political current events. Several topics have emerged recurrently.
The invited artists question the relationship between the body acting in a group / the solitary body, authority / resistance, private space / public space, …
The human body is present through these multiple works. The individual in a group acting under the authority of the higher power develops a feeling of loss and the need to return to collectivity in a society which is more and more centered on itself. In choreographed training exercises, the individual obeys a pattern, a thought, a common idea. The action of coming together, which usually reflects a force, can become a sign of weakness and passivity.
The body interacts in a space with other bodies. In a digitized world where human relations are more and more virtual, the body loses its bearings and seeks a new place. When we talk about the body, we must not forget to talk about the space in which it interacts, lives, positions itself, takes its place and moves. Architecture is its field of action, and its creation.
Some of the artworks here deal with architecture as a symbol or a witness of history.
We are facing buildings emptied of all human presence, but loaded or even overloaded with a meaning directly related to society, to the people. Architectural complexes play the role of carrying a message and become the witnesses of a change, a fall of an idea or a period.
Between the private space of an apartment to the public space of a hotel or government seats, the body's relationship to these spaces changes and is not indifferent. The two spaces cannot be deduced from the nature of the regime in place, the border between them is difficult to trace and is often questioned and jostled. Traditional civil rights from the public domain (freedom of expression, free elections) can be instrumentalised allowing penetration into the private space.
As in "Species of Spaces" by Georges Perec the field of vision gradually widens in a topological inventory going from the intimate to the collective: the room, the apartment, the building, the street, the district, the city, the desert, the country, Europe and the world.
These works speak about our relationship to space and especially about ourselves, in our relationship to spaces, borders, our environment, our city, other cities, our country, the world …
Karolina Kazmierska, co-curator
Imprint
| | |
| --- | --- |
| Artist | Jagna Ciuchta, Róża Duda & Michał Soja, Oktawian Jurczykowski, Izabela Łęska, Agnieszka Mastalerz & Michał Szaranowicz, Liliana Piskorska, Dominik Ritszel , Ewa Surowiec, Iwona Teodorczuk-Możdżyńska, Yan & Anna Tomaszewski |
| Exhibition | imMoblized. Focus on the emerging art scene in Poland |
| Place / venue | Fondation Hippocrène, Paris |
| Dates | April 20 - May 13, 2018 |
| Curated by | Giulia Armanini, Sandra Ghegeliu, Karolina Kazmierska, Martin Phéline |
| Website | b-east.eu/ |
| Index | Agnieszka Mastalerz & Michał Szaranowicz Dominik Ritszel Ewa Surowiec Fondation Hippocrène Iwona Teodorczuk-Możdżyńska Izabela Łęska Jagna Ciuchta Liliana Piskorska Oktawian Jurczykowski Róża Duda & Michał Soja Yan & Anna Tomaszewski |
See also