'Flat Library' by Zinaïda Tchelidze at World Trade Center, Brussels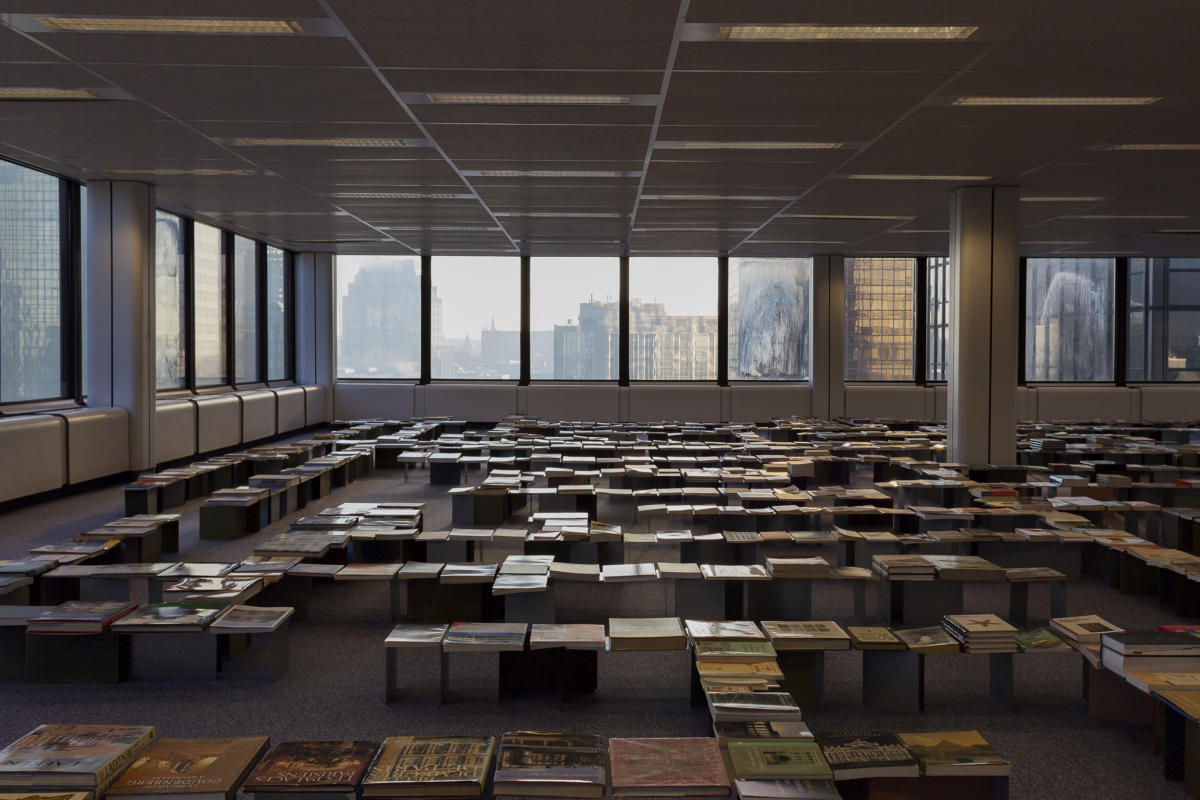 Their covers wreathed with light wading in through the buildings. Shimmering facades resembling the covers displaced one beside another. Piles of paper carefully compiled. Placed side by side on low metallic pedestals, growing away from the floor, extending to just below the windows. With subtle streaks of sunlight against the bluish carpeting, casting lines across your shoes as you approach. You're searching for the place where these things merge, to grasp their shape. To see the whole, as with a photo captured from only to be viewed from up close.
The books were carefully transported to and then dislocated throughout the space over the past few weeks. They span from reports on yesterday's fashions in urban planning or photo albums recalling skyscrapers and vanishing art nouveau icons, encompassing guidebooks on entrepreneurship or neoliberal lifestyles and biographies of real estate leaders with photos, texts, fonts and colours coming together and then coming apart. About 2,500 books altogether. These are the archives of Christian Lasserre, an academic researcher, lecturer and advisor in the domains of Real Estate and Economics, who foresaw those office buildings could eventually be replaced or repurposed. The artist was asked how she sees them in this space. She responded by cataloguing them carefully and connecting each one with another in a specific manner like an algorithm, which results in a path writhing and doubling as if the books created and then followed their own paths through the telling of different stories. Work makes work— she adds.
You're getting closer to see it. What you are looking at is not books, not only books. What anchors your attention is the architectural surrounding of towers, easily seen from the 10th floor windows. This is perhaps one of the most evident aspects of the installation, in the sense that it attaches with space and spreads around at ease. The artist uses 'cloud' as a metaphor of relations between acts and processes as they do not have a fixed beginning nor an end. Their presence is undeniable but they their materiality is rather stipulated. They are structures condensed by imperceptible and yet indivisible particles. Shrinking with the possibility of extending, their shape continuously changes at a fast or slow pace. Easy to access, at one's fingertips, touched by the towers in the area, with their tops trembling on windy days or leaving trails on the glass.
The installation merges and contains through acts and processes that have no fixed beginning nor an end. Contained in the space between, imperceptible and yet indivisible, is the story of infinite possibility punctuated by repetitive failures. Shrinking with the possibility of extending, the shapes continuously change at a fast or slow pace.
Like the city herself, there is no way to see the whole installation at once as she stretches out in different directions and its look changes when you try to walk around, through, in between and within all that she contains. The library's components can be modified and grow according to the method proposed by the artist, linking different aspirations, creating mental and physical support for different ideas, their mutations, and finally their paradoxical dialogues. Repetitive and freely extended is the list of books.
Flat Library by Zinaïda Tchelidze will soon be disassembled and assembled again in another space. It is presented as a temporary spatial experience complimenting one of the empty spaces of Tower 1 of the World Trade Center, completed as part of the business district known as Brussels North. At the moment the site is undergoing redevelopment in stages so that these spaces can be used for different purposes. Beyond office spaces. The towers have gradually been emptied in recent months and the access to many floors has been blocked. Two weeks from now, the building will be completely emptied, and the transformation will begin.
Romuald Demidenko
Imprint
| | |
| --- | --- |
| Artist | Zinaïda Tchelidze |
| Exhibition | Flat Library |
| Place / venue | World Trade Center, Brussels |
| Dates | 13—19 December 2018 |
| Curated by | Romuald Demidenko |
| Website | www.re-us.be |
| Index | Zinaïda Tchelidze |
See also