[EN/SI] 'August' by Ivana Bajec at Ravnikar Gallery Space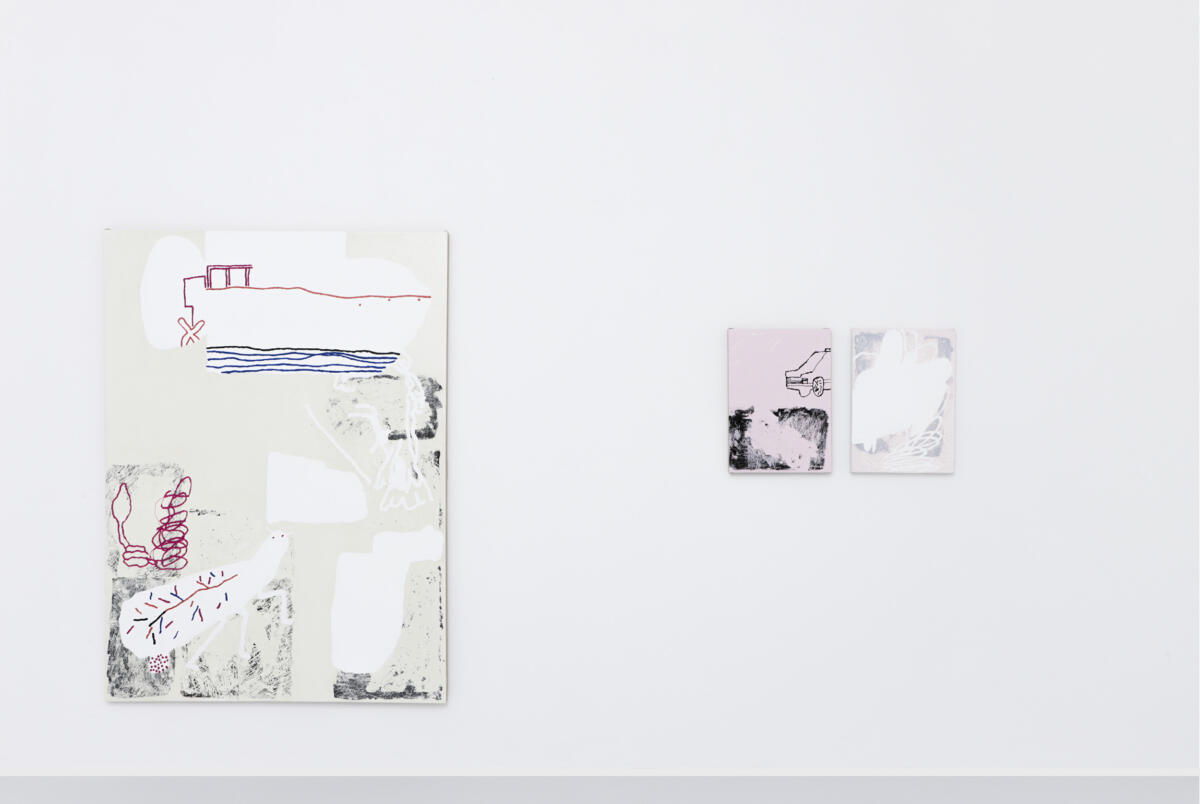 [EN]
Ivana Bajec, an artist of the younger generation, presents herself for the first time in the RAVNIKAR GALLERY SPACE with the solo exhibition August. In an ambitious painting production prepared precisely for her première presentation, she continues, on the one hand, a now rather convincing art practice that involves a – partly planned, partly intuitive – sequencing of impressions, insights and feelings from everyday life. In this manner, the canvases take on the effect of the artist's visual diary; like any diary, it is intimate and introspective, and at the same time there is a clearly traceable thread running through it, namely the memory of the exciting and intoxicating, moving and ultimately melancholy bygone summer. On the other hand, the artist also tackles fresh, more refined and considered strokes, which seem to contradict her otherwise characteristic spontaneous and playful artistic expression. The analogy of the artworks as a visual diary inevitably reveals that this is a carefully thought-out attempt to document memories, an attempt to capture various fragments, bits of events and feelings from this unique episode of a summer idyll.
Despite the dreamy, self-revelatory touch, the most important guideline in the process of creating the artworks remains the desire for fun, which permeates the artist's witty and sometimes provocative visual language free from any pressure of social commentary. Despite the individual recognisable figurative elements, her so-called visual diary can be read without a legend. The individual paintings are a jigsaw puzzle of abstraction and elusive images that create a pleasant visual disorder and are characterised by their soft and warm colour schemes. The visual world of Ivana Bajec is a paradise by the sea, where you can feel the inevitable melancholy atmosphere with which the artist captured the essence of the August nights when summer is in its last stages. She vividly conjures up before our eyes the sensual qualities of summer, which, due to their plasticity, evoke both a nostalgic and a physical reaction: the exhausting heat, grains of salt on the skin, a rugged feeling of dry grass and stones underfoot, suffocating cigarette smoke in heavy, humid air, the smell of hot concrete, simultaneously sum up the fantasy and the mournfulness of summer. Without the good dose of self-irony, the paintings may have only reflected the clichéd images of a turbulent love story, but thanks to the imaginative balance of witty sentimentality, they are meditative, sensitive and above all a fleeting and fading glimpse of an intimacy between two people.
Ivana Bajec (1990) works in drawing, printmaking and painting. She graduated in Painting from ALUO – Academy of Fine Arts and Design, where she also completed her postgraduate studies in Painting. She has participated in numerous group and solo exhibitions in Slovenia, Croatia, Romania and Germany. In art, she highly values improvisation, novelty, experiment. As she says, it is hard to create something new for the world, so she insists on playing with and testing out things that are new to her. She is currently preparing a series of drawings for her upcoming exhibition at Hiša kulture in Pivka, due to open in 2021.
[SI]
Ivana Bajec, umetnica mlajše generacije, se v RAVNIKAR GALLERY SPACE prvič predstavlja s samostojno razstavo Avgust. V velikopotezni slikarski produkciji, pripravljeni prav za premierno predstavitev, po eni strani nadaljuje z zdaj že dodobra prepričljivo umetniško prakso, ki vključuje – mesto načrtno, mestoma intuitivno – nizanje vtisov, utrinkov in občutkov iz vsakdanjega življenja. Slikarska platna tako učinkujejo kot umetničin slikovni dnevnik; kot vsak dnevnik je tudi ta intimen in introspektiven, hkrati pa je v njem moč razbrati jasno sledljivo rdečo nit, to je spomin na razburljivo in vznemirljivo, ganljivo in naposled melanholično minulo poletje. Tako se umetnica po drugi strani loteva tudi svežih, bolj izpiljenih in premišljenih potez, ki se navidez zdijo v nasprotju z zanjo sicer značilnim spontanim in igrivim likovnim izrazom. Prispodoba umetniških del kot slikovnega dnevnika neizbežno razkriva, da gre za skrbno premišljen poskus dokumentacije spominov, poskus zabeleženja različnih fragmentov, drobcev dogodkov in občutenj iz te enkratne epizode poletne idile.
Glavno vodilo v procesu ustvarjanja umetniških del kljub sanjavi osebnoizpovedni noti ostaja želja po zabavi, ki prežema umetničin duhovit in mestoma provokativen likovni jezik, osvobojen pritiska družbenega komentarja. Kljub individualnim prepoznavnim figuralnim elementom njen t. i. slikovni dnevnik beremo brez legende. Posamična slikarska dela so sestavljanka abstrakcije in izmuzljivih podob, ki tvorijo prijeten vizualni nered, zaznamujejo pa jih nežne in tople barvne sheme. Vizualni svet Ivane Bajec je obmorski paradiž, v katerem  je moč zaznati tudi neizogibno melanholično vzdušje, s katerim je umetnica ujela esenco avgustovskih noči, ko je poletje v zadnjih izdihljajih. Pred oči nam z živostjo prikliče čutne karakteristike poletja, ki zaradi njihove plastičnosti izzovejo tako nostalgično kot fizično reakcijo: utrujajoča vročina, solna zrna na koži, raskav občutek suhe trave in kamenja pod nogami, zadušljivost cigaretnega dima v težki sopari, vonj razbeljenega betona, strnejo fantazijo in sočasno otožnost poletja. Brez dobre mere samoironije bi slikarska dela lahko zgolj zrcalila klišejske podobe burne ljubezenske zgodbe, a so zahvaljujoč domiselni uravnoteženosti duhovite sentimentalnosti meditativen, dražljiv, predvsem pa bežen in bledeč vpogled v intimo med dvema osebama.
Ivana Bajec (1990) je dejavna na področjih risbe, grafične umetnosti in slikarstva. Diplomirala je iz slikarstva na ALUO – Akademija za likovno umetnost in oblikovanje, kjer je zaključila tudi podiplomski študij slikarstva. Sodelovala je na številnih skupinskih in samostojnih razstavah v Sloveniji, na Hrvaškem, v Romuniji ter v Nemčiji. V umetnosti visoko vrednoti improvizacijo, novost, eksperiment. Kot pravi, težko je ustvariti nekaj novega za svet, zato vztraja pri poigravanju in preizkušanju stvari, ki so nove zanjo. Trenutno pripravlja serijo risb za prihajajočo razstavo, ki se bo v letu 2021 odprla v Hiši kulture v Pivki.
Imprint
See also