[EN/PL] 'May Flames Pave the Way for You' at Arsenal Gallery in Białystok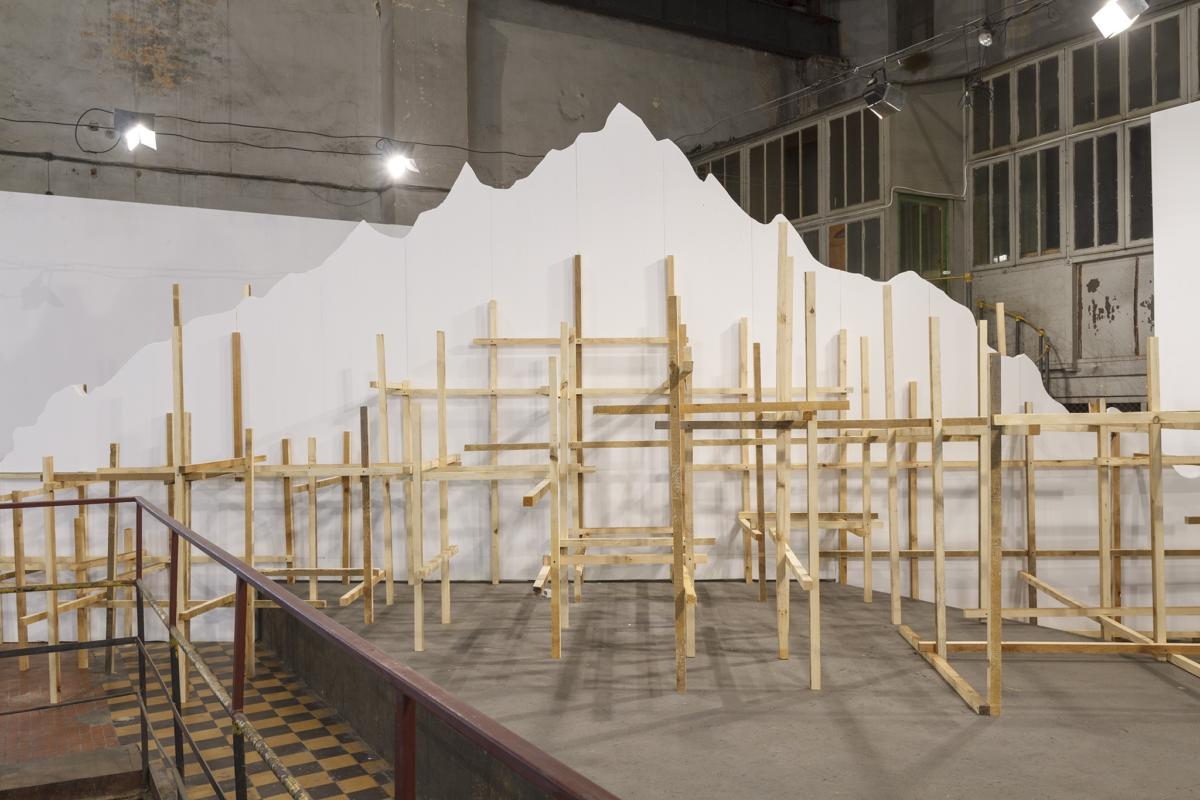 [EN]
text: Aneta Szyłak
The Kurdish art scene has been developing in particularly strenuous political and economic conditions. The long-term pressure of neo-liberal economy, the as yet futile dreams of an autonomous state, the innumerable international Kurdish diaspora, and the characteristic shortage of any conceptual watershed experience on the scene have all had significant impact on social life and crucial artistic attitudes.
The title of the exhibition – "May Flames Pave the Way for You" – references the case of artists burning paintings in the streets of the Iraqi city of Sulaymaniyah* in the 1990s, a time when many artists of the older generation had already left the country while the younger generation sensed a depletion in the formerly used language of art, given the geopolitical positioning of a state troubled with war and insurgence. The dramatic demonstration became an announcement of an artistic breakthrough, as it were, comprising a breakaway from continuing modernist tradition, quest for inspiration in daily life practice, and use of the visual vernacular.
Emotional transformation associated with experiencing history and the varying paths of individual memory, coupled with changes brought by the Iraq War to daily life and the society are a major component of the exhibition. While developing a new language of art in a country ravaged by war and the social experience of struggling for economic survival is particularly difficult, it did produce a number of vital works and introduce a number of major characters to the art scene. Exhibition-related research spanned many years from the year 2007 onwards, i.a. thanks to workshops delivered in the Iraqi part of Kurdistan by Polish curator Aneta Szyłak and Hiwa K, an internationally renowned Kurdish artist residing in Berlin; the majority of artists showing their works at this exhibition were active participants of these workshops.
Artists invited to join the exhibition are in their thirties and forties; most have had the opportunity of studying abroad, chiefly in Germany, the United Kingdom, or Scandinavia. Some have returned and are teaching at art schools, while others remained in the diaspora. Invitees include the following: Hiwa K (Berlin), Sherko Abbas (Manchester), Kani Kamil (Manchester), Shirwan Fatih (Sulaymaniyah), Rebeen Hamarafiq (Sulaymaniyah), Rozhgar Mustafa (Sulaymaniyah), Sakar Sleman (Sulaymaniyah), Walid Siti (London), Halgurd A. Baram (Sulaymaniyah).
The exhibition comprises a number of multimedia installations, objects, sculptures and drawings, all of which will fill the space of Białystok's Arsenal Gallery with multi-dimensional, emotional narrative carrying an extraordinary cultural and political message.
* We are using the name 'Sulaymaniyah'. The official index of Polish geographical names published by the Head Office of Geodesy and Cartography (2019 edition) lists the city as 'As-Sulajmanijja'; transcribed from the Arabic, it is considered offensive by the Kurds. The city's name in Kurdish reads 'Silêmanî'.
[PL]
tekst: Aneta Szyłak
Kurdyjska scena artystyczna rozwija się w szczególnie trudnych warunkach politycznych i ekonomicznych. Trwająca od dłuższego czasu presja neoliberalnej ekonomii, niezrealizowane marzenia o własnym państwie, liczna międzynarodowa diaspora kurdyjska oraz charakteryzujący tę scenę brak doświadczenia przełomu konceptualnego mają znaczący wpływ na życie społeczne i istotne postawy artystyczne.
Tytuł wystawy – "Niech poprzedza cię płomień" – odnosi się do historii spalenia przez artystów prac malarskich na ulicy irackiego miasta Sulejmania* w latach 90., gdy wielu twórców starszego pokolenia opuściło już kraj, a młodsza generacja przeczuwała wyczerpanie się dotychczasowego języka sztuki wobec geopolitycznego usytuowania kraju, targanego wojnami i powstaniami. Ta dramatyczna manifestacja była poniekąd zapowiedzią przełomu artystycznego polegającego zerwaniu z kontynuacją tradycji modernistycznej, szukaniu inspiracji w praktykach życia codziennego i posługiwaniu się wernakularnym językiem wizualnym.
Ważnym elementem wystawy jest transformacja emocjonalna związana z przeżywaniem historii i zmiennymi ścieżkami pamięci indywidualnej oraz zmiany obyczajowe i społeczne po II wojnie w Zatoce Perskiej. Wypracowywanie nowego języka sztuki w kraju przeoranym wojnami i doświadczeniami walki społeczeństwa o przetrwanie ekonomiczne jest szczególnie trudne, ale przyniosło szereg bardzo ważnych prac i postaci sceny artystycznej. Badania do wystawy trwały wiele lat, począwszy od 2007 roku, m.in. dzięki warsztatom prowadzonym w irackiej części Kurdystanu przez polską kuratorkę Anetę Szyłak i międzynarodowo rozpoznanego artystę kurdyjskiego mieszkającego w Berlinie Hiwę K – w których większość uczestników niniejszej wystawy brała aktywny udział.
Artyści zaproszeni do wystawy należą do pokolenia trzydziesto- i czterdziestolatków, w większości mieli możliwość studiowania za granicą, głównie w Niemczech, Wielkiej Brytanii czy Skandynawii. Część z nich wróciła z zagranicy i uczy w szkołach artystycznych, część pozostała w diasporze. W gronie zaproszonych artystów znajdują się: Hiwa K (Berlin), Sherko Abbas (Manchester), Kani Kamil (Manchester), Shirwan Fatih (Sulejmania), Rebeen Hamarafiq (Sulejmania), Rozhgar Mustafa (Sulejmania), Sakar Sleman (Sulejmania), Walid Siti (Londyn), Halgurd A. Baram (Sulejmania).
Na wystawę składa się szereg instalacji multimedialnych, obiekty, prace rzeźbiarskie i rysunkowe, które wypełnią przestrzeń białostockiej Galerii Arsenał elektrownia wielowymiarową, emocjonalną narracją o wyjątkowym przekazie kulturowym i politycznym.
* Posługujemy się nazwą 'Sulejmania', ponieważ podawany przez "Urzędowy wykaz polskich nazw geograficznych świata" (wyd. Główny Urząd Geodezji i Kartografii, Warszawa 2019, online: http://ksng.gugik.gov.pl/pliki/wykaz_polskich_nazw_geograficznych_2019.pdf) zapis 'As-Sulajmanijja' ma pochodzenie arabskie, przez co jest odbierany przez Kurdów jako obraźliwy. Kurdyjski zapis nazwy miasta to 'Slêmanî'.
Imprint
See also