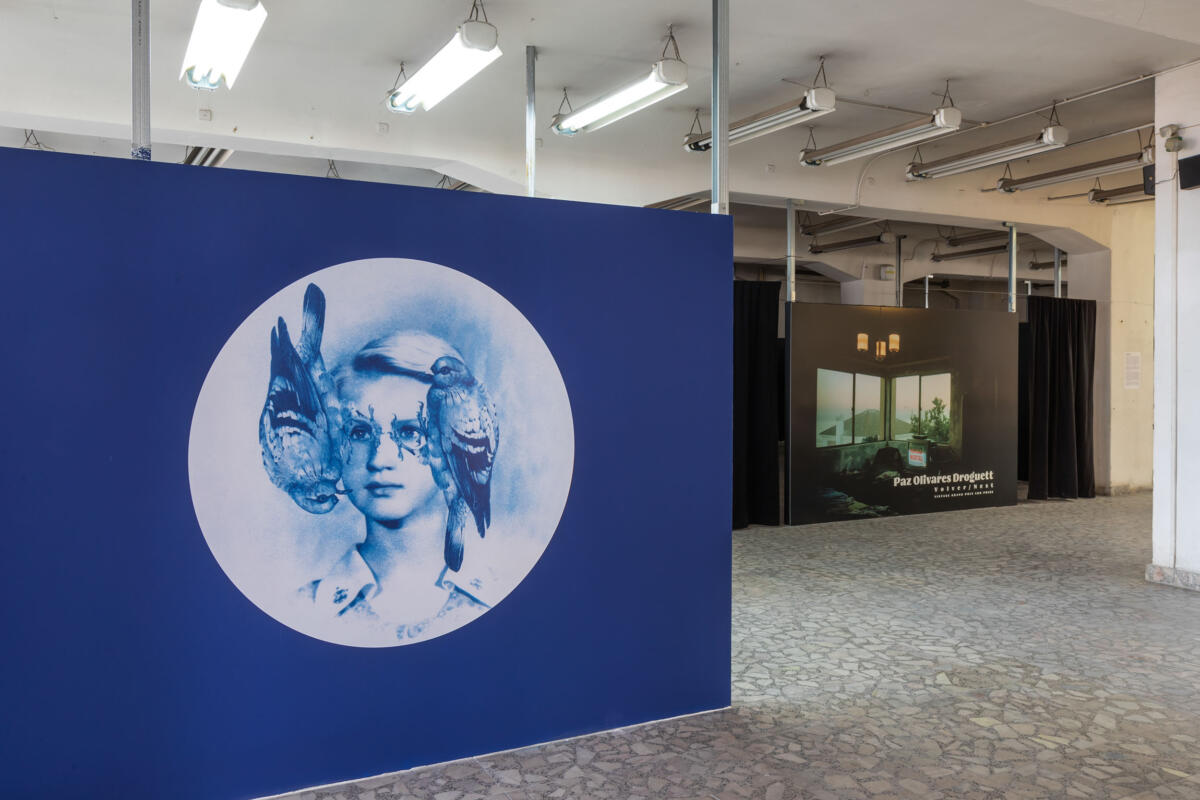 [EN]
What separates the Vintage Festival from other photo events in Poland and abroad?
The International Festival of Analog Photography Lovers—the Vintage Photo Festival—is an annual photo festival that was founded in 2015, born out of a passion for analog photography and a belief that analog photography is now experiencing a renaissance. Despite the great revolution and evolution in digital photography, we are now seeing a return or maybe even a rebirth, of traditional analog photography. Film cameras have become fashionable again, as evidenced by the observations of photographic film producers like Kodak, which in recent years has resumed the production of several types of negative films that had previously been taken off the market. Younger and younger artists are now expressing themselves through the analog processes. The Vintage Photo Festival is the only event of its kind not only in Poland but around the world. It's a unique opportunity for access to exhibitions, meetings with authors, and technical workshops, all dedicated to these historic photographic techniques.
What is special about this years' edition?
The theme for the 6th edition of the Vintage Photo Festival is FREEDOM. The idea was initially connected to the 100th anniversary of the repatriation of Bydgoszcz to Poland. And then suddenly we were faced with COVID-19, not only was it a global crisis but also a reset for humankind. The freedoms we took for granted suddenly became restricted. We witnessed the closure and confinement of entire countries and continents, new limitations on the movement of the global village. These last months were the first real attempt to deal with these issues of freedom, which we need to reevaluate and consider under a new light. For these reasons, the exhibitions presented for this years' festival deal with FREEDOM in different contexts, as liberation from oppression as well as the isolation and physical restrictions inspired by the COVID-19 pandemic.
One of the artists who touches on this issue of the lockdown is Paz Olivares Droguett (born in 1986 in Valparaiso, Chile), who is a photographer and portraitist whose work focuses on intimacy. She was selected for the Women Photograph Workshop 2019 and is a member of the Migrar Photo Collective of Chile and Rudy a Latin American photo collective. California-based Han Cao's "Quarantine Collection" features hand-embroidered masks that are attached to photographs from the first half of the 20th c., which are then rephotographed. The masks can be lifted to see the faces of the individuals in the photographs. The collection is an important reminder that our ancestors have weathered similar storms and that we, too, will survive.
An important part of the festival is the Grand Prix, which of the awarded works is your favorite and why?
My favorite is the winning project "Thread and Light" by Chilean photographer Marcelo Aragonese, who creates textile interventions on analog photography. This series was created by printing analog photographs onto canvas using a sublimation technique. The canvases were then hand-embroidered and rephotographed for the final effect. These photos tell the story of a journey through different stages of life, evoking the feeling of a family photo album. They provide commentary on social issues in Chile related to poverty, migration, and other socioeconomic and environmental issues, many of which led to the protests that began in Chile at the end of 2019 which still continue today.
The festival is imbedded in the city. Why is Bydgoszcz so important to you?
The idea for the festival comes from the rich photographic traditions of Bydgoszcz, where FOTON, the country's second largest factory producing photographic materials, was based until the 90's. A vast majority of the workforce here were women. They inspired a post-war mythology of Polish photography, and were the largest producers of paper for both black and white and color photography. Two years ago, I published a book about them called "The Women of Foton". Bydgoszcz is my 'heimat' (hometown), I am connected to this city and this space, I'm interested in its history, especially that which is yet to be discovered.
In addition to contemporary works, an important part of your activity is discovering the history of photography, which includes the history of female photographers and photography in Bydgoszcz, can you talk more about it?
For the past few years, Fundacja Farbiarnia has been working with the people in Bydgoszcz in an attempt to preserve the old photographs of family archives. We have a few publications such as "Occupation: Photographer" or "Archi(w)tektura Henryk Nahorski." This year we started collecting photos from those who owned the first Leica cameras in Bydgoszcz. For the first time we can see how people looked and what life was like on the streets of Bydgoszcz, as immortalized in the photos. We can see how people looked during the interwar period, in the first years of their freedom. Elegant couples walking down Mostowa street at the end of the 20's, mothers with children in the mid 30's, the photos are incredible. We are fascinated by the elegance of a century ago. We also know that because of the Data Protection Act, such street photography is no longer possible. We are looking at relics of the past.
[PL]
Czym Vintage Festival wyróżnia się spośród wielu imprez fotograficznych w Polsce i zagranicą?
Międzynarodowy Festiwal Miłośników Fotografii Analogowej – Vintage Photo Festival – to cykliczne przedsięwzięcie zrodzone w 2015 roku z pasji do fotografii tradycyjnej oraz głębokiego przekonania o tym, że dawne techniki fotograficzne przeżywają dziś renesans. Pomimo wielkiej rewolucji i ewolucji w zakresie fotografii cyfrowej, możemy zauważyć powrót, czy wręcz odrodzenie tradycyjnej fotografii tak zwanej analogowej. Aparaty na klisze wracają do łask, co potwierdzają obserwacje producentów filmów fotograficznych, takich jak Kodak, który w ostatnich latach przywrócił produkcję kilku rodzajów filmów negatywowych wycofanych z rynku. Coraz młodsi twórcy swoim medium wyrazu czynią tak zwaną fotografię analogową. Vintage Photo Festival to jedyna taka okazja w Polsce, i pierwsza na świecie, aby w jednym miejscu i czasie mieć dostęp do tak wielu wystaw, spotkań autorskich i warsztatów fotograficznych poświęconych dawnym technikom fotograficznym.
Co specjalnego przygotowałaś na tegoroczną edycję?
Tematem przewodnim VI edycji Vintage Photo Festivalu jest WOLNOŚĆ. Pierwotnie myśl ta zrodziła się w związku z przypadającą w 2020 roku 100 rocznicą powrotu Bydgoszczy do Polski. Później, z zaskoczenia pojawił się COVID-19 – nie tylko globalny kryzys, ale spory reset dla ludzkości. Wolność, którą braliśmy za pewnik, nagle została nam mocno ograniczona. Byliśmy świadkami "zamknięcia" całych krajów i kontynentów dla przepływów osób, a więc ograniczenia jednej z podwalin globalnej wioski. Ostatnie miesiące są realną próbą zmierzenia się z wolnością, która wymaga przewartościowania, lub zrozumienia jej w nowym świetle. Z tego względu wystawy zaprezentowane w ramach tegorocznej edycji festiwalu poruszą temat WOLNOŚĆI w różnych kontekstach, zarówno jako wyzwolenia z niewoli, wolności osobistej, jak i tej związanej z izolacją, fizycznym zamknięciem, spowodowanym przez pandemię COVID-19.
Jedną z artystek, która porusza temat lockdownu jest Paz Olivares Droguett (urodzona w 1986 roku w Valparaíso, Chile). Fotografka i portrecistka, której prace koncentrują się na intymności. Została wybrana do Women Photograph Workshop 2019. Jest członkiem kolektywu Migrar Photo z Chile i Rudy, latynoamerykańskiego kolektywu fotograficznego.
Z kolei "Kolekcja Quarantine" mieszkającej w Kalifornii Han Cao zawiera ręcznie haftowane maski, które są przymocowane do starych fotografii z lat 1900-1940. Maski można podnieść, aby odsłonić całą twarz fotografowanej osoby. Kolekcja ma służyć jako przypomnienie, że minione pokolenia przetrwały już takie burze, jak te, i my też przetrwamy.
Ważną częścią festiwalu jest Grand Prix, która z nagrodzonych prac jest twoją ulubioną i dlaczego?
Moim faworytem jest zwycięski projekt w konkursie chilijskiego fotografa Marcelo Aragonese "Nici i światło". Łączy on fotografię analogową z ingerencją tekstylną. Cykl powstał poprzez nadrukowanie na płótnie techniką sublimacji analogowych fotografii. Następnie obrazy były ręcznie haftowane i obszywane tkaninami, które dodały koloru do czarno-białych fotografii. Opowiadają one o podróży przez różne etapy życia, przywołują rodzinne wspomnienia, a także są komentarzem do sytuacji społecznej w Chile, związanej z problemami takimi, jak ubóstwo, słabe warunki życia ludności, zacofanie, migracja, a także konflikty społeczno-ekonomiczne, polityczne i środowiskowe, które doprowadziły do wybuchu protestów społecznych, które rozpoczęły się pod koniec roku 2019 i które trwają również w 2020 roku. Złożona sytuacja, która dzieli chilijskie społeczeństwo, jest główną wskazówką do odkrycia bezpośredniego przekazu fotografii, mających na celu podkreślenie i stworzenie atmosfery, zawierającej znaczenie i koncepcję obrazu.
Festiwal mocno wpisuje się w przestrzeń miasta. Dlaczego Bydgoszcz jest tak ważna dla ciebie?
Cała Idea festiwalu oparta jest o bogate tradycje fotograficzne Bydgoszczy, gdzie jeszcze do lat 90. XX wieku działała druga co do wielkości w kraju fabryka produkująca materiały fotograficzne FOTON. W Bydgoskich Zakładach Fotochemicznych 'Foton" większość załogi stanowiły kobiety. Budowały powojenną legendę polskiej fotografii analogowej, sukces największego producenta papieru do fotografii czarno-białej i barwnej. Dwa lata temu wydałam o tym książkę pt. "Kobiety Fotonu". Bydgoszcz to mój "heimat". Czuję to miasto i jego przestrzeń, interesuje mnie jego historia, szczególnie ta, która jest jeszcze do odkrycia.
Oprócz prezentacji prac współczesnych ważną częścią twojej działalności jest odkrywanie historii fotografii, w tym historii kobiet fotografek i fotografii bydgoskiej, możesz o tym opowiedzieć?
Fundacja Farbiarnia już od kilku lat zajmuje się projektami, które angażują Bydgoszczan do odszukania zdjęć w rodzinnych archiwach. Na swoim koncie mamy takie publikacje jak "Zawód: fotografistka", czy "Archi(w)tektura Henryka Nahorskiego". W tym roku zbieraliśmy zdjęcia pierwszych bydgoskich lajkarzy, czyli właścicieli aparatów Leica, niewielkich, dalmierzowych aparatów, za pomocą których uwieczniono pierwsze lata wolności bydgoszczan na zdjęciach.
Na zdjęciach ulicznych z międzywojnia zobaczymy, jak wyglądali, ubierali się zwykli bydgoszczanie w pierwszych latach wolności. Eleganckie pary spacerujące ul. Mostową pod koniec lat 20., matki z dziećmi w centrum Bydgoszczy w połowie następnej dekady – takie kadry uwieczniali pierwsi bydgoscy lejkarze. – Te zdjęcia są niesamowite. Jesteśmy zafascynowali tym jak piękni ludzie chodzili sto lat temu po Bydgoszczy – przepiękne, zadbane kobiety, przystojni mężczyźni, ludzie uśmiechnięci. Mamy też świadomość, że taka fotografia uliczna już nigdy nie powstanie. Ustawa o ochronie danych spowodowała, że taki street photo właściwie dziś już nie istnieje.
Imprint
| | |
| --- | --- |
| Artist | Marcelo Aragonese, Katarzyna Kryńska, Paz Olivares Droguett, Camila Alvarez, Filippo Bardazzi, Ciro Battiloro, Iwona Germanek, Masha Svyatogor, Maxim Dondyuk, Karol Grygoruk, Han Cao |
| Exhibition | 6th Vintage Photo Festival 2020 |
| Place / venue | Bydgoszcz, Poland |
| Dates | 18 September – 3 October 2020 |
| Curated by | Katarzyna Gębarowska |
| Photos | Arkadiusz Wojtasiewicz |
| Website | www.vintagephotofestival.com |
| Index | Adam Mazur Camila Alvarez Ciro Battiloro Filippo Bardazzi Han Cao Iwona Germanek Karol Grygoruk Katarzyna Gębarowska Katarzyna Kryńska Marcelo Aragonese Masha Svyatogor Maxim Dondyuk Paz Olivares Droguett Vintage Photo Festival |
See also